Try this avocado shea butter hair mask for luscious hair!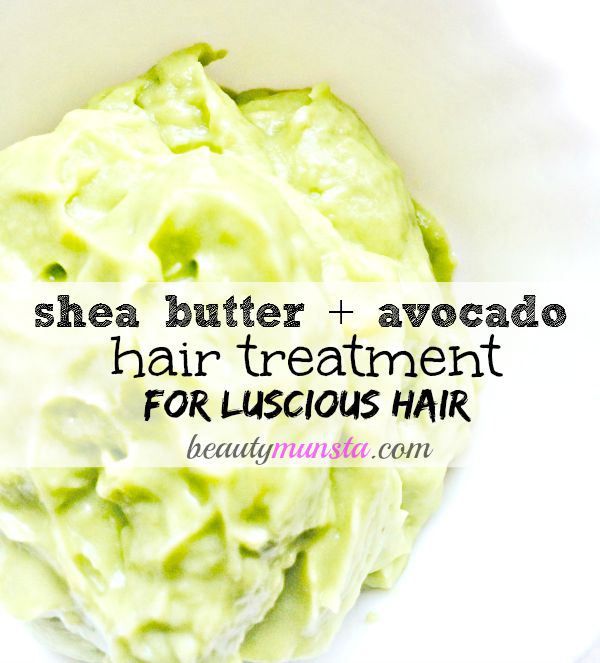 I simply love the avocado + shea butter combination for hair and I know you will too! This avocado shea butter hair mask is simply ultra moisturizing & nourishing and helps beautify unruly hair in no time! Especially good for damaged, color treated, brittle and weak hair, avocado and shea butter are both rich in fatty acids that are immensely beneficial for a healthy scalp and hair. I'm added one more special hair-boosting ingredient in this shea butter hair mask, which is: sweet almond oil.
Sweet almond oil is a lighter oil compared to olive oil, which makes it a great ingredient for this already rich shea butter hair mask. It also has lots of beauty benefits for hair, including promoting shiny hair, fighting hair breakage & damage, stimulating hair growth and sealing moisture in dry frizzy hair.
Benefits of Avocado for Hair
Ancient Egyptians were known to use avocados to condition their hair as well as promote hair growth. This buttery fruit is filled with fatty goodness that offers nourishing properties for the hair and scalp. It is also rich in Vitamin E which is important for a healthy scalp free from inflammation and infection. Slather some avocado puree on your locks for a deep nourishing hair treatment!
Benefits of Shea Butter for Hair
Shea Butter is full of good fatty acids and vitamins such as vitamin E and A that will repair, feed, and strengthen hair strands. The main beauty benefit of shea butter for hair is its ultra moisturizing properties – it acts as a sealant which locks moisture into dry hair cells. The high vitamin E content in shea butter  helps nourish & hydrate the hair follicles thereby promoting hair growth. Applying shea butter from root to tip helps strengthen hair, preventing breakage and damage.
How to Make an Avocado Shea Butter Hair Mask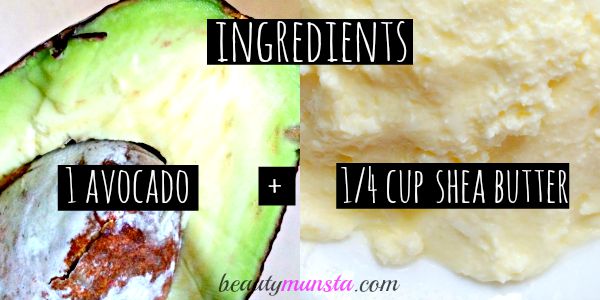 Ingredients
• 1 ripe avocado
• ¼ cup of raw shea butter (get it here)
• I tbsp of sweet almond oil *optional* (get it here)
Directions
Wash the avocado, cut it in half, remove the seed and scoop out the flesh into a blender. Blend it for about 2 to 4 minutes into a smooth puree. Add in the raw shea butter and sweet almond oil and blend again for another couple of minutes or until the solid shea butter has completely broken down. Ready! Transfer the avocado shea butter hair mask into a bowl.
My Tips
Always choose a ripe avocado for your hair masks and treatments. If you have an avocado that's almost too overripe, don't throw it! It'd be perfect for this shea butter hair mask recipe.
Make sure to blend your avocado alone first to get a smooth puree. If it has lumps, then it might be hard to rinse off of your hair afterward.
You can substitute the sweet almond oil with any other of your favourite oils. For thin/fine hair, it's better to choose light oils such as apricot kernel/safflower/grapeseed oil.
My Favorite Tried & Tested Shea Butter Recipes Ebook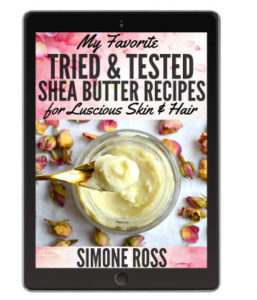 Do you love shea butter and want to make your own beauty products with it?! Check out this ebook "My Favorite Tried & Tested Shea Butter Recipes for Luscious Skin & Hair" for 30 awesome recipes, complete with step-by-step instructions, beautiful pictures and other valuable shea butter info!
All Natural Hair Care Guide with Essential Oils
Want to know more about essential oils for hair and how to make scalp & hair care recipes with essential oils? Check out our Complete Guide to Using Essential Oils for Scalp & Hair Care that talks about the magical properties, benefits & uses of essential oils for your scalp and hair with over 100 recipes to make your own chemical-free hair products for a healthy scalp and beautiful hair.
DIY Herbal Hair Oil Infusions Guide with Recipes
Want to make your own herbal hair oils? Check out our DIY Herbal Hair Oil Infusions eBook that contains an A-Z list of healing herbs and spices to infuse for hair, what base oil to choose for your hair type, methods of infusing your hair oils plus 20 exciting hair oil recipes for dry hair, heat damaged hair, hair growth, even gray hairs, scented hair and more!
Where to Get a Natural Shampoo
If you are going chemical-free on your hair, but want to save the time of making a homemade shampoo, this Maple Holistics Sage Shampoo is a game-changer. It contains powerful herbs such as sage: for dandruff & itchy scalp treatment, rosemary: for hair growth and prevention of hair loss and spikenard for dandruff treatment. It also has argan, jojoba and tea tree oils that all protect the scalp from germs, keep hair clean as well as hydrated and moisturized. This shampoo does not contain sulfates, so it will not lather the way you are used to, but you will quickly get used to it and notice the difference!