If your curls look dehydrated and are in need of some moisture, then it's time to mix up a few ingredients to create this homemade shea butter hair mask! You only need raw shea butter, argan oil, coconut oil, raw honey and eucalyptus/peppermint/any other essential oil of your choice. You can also substitute the argan and coconut oils with your oil of preference. I recommend a thick oil like olive oil for dry frizzy hair and lighter oils such as grapeseed oil, rose hip seed oil & sweet almond oil for thinner/finer hair. Feel free to add any other hair loving ingredients of your choice like aloe vera gel, rose water, etc!
What Makes Shea Butter So Good for Natural Hair? Find Out Below!
Ingredient Profile
➝ Argan Oil – Argan oil, extracted from the kernels of the argan tree which is native to Morrocco, has been called 'liquid gold' and even 'miracle oil' for its amazing properties and benefits. It's prized as a super effective hair oil that can be used to deep condition as well as treat damaged/overworked hair. It's rich in vitamin E and fatty acids that nourish the scalp and make hair silky soft. I've added a tbsp but feel free to add more/less depending on your hair type. If your natural hair is dry, consider adding more for extra moisture.
➝ Coconut Oil – Extracted from the dried meat of coconuts, coconut oil has long been used to nourish, moisturize and tame hair in South East Asia. In Ayurveda, coconut oil is extremely healing and contains hair boosting nutrients that offer a whole lot of benefits for hair including sealing in moisture, treating dandruff, eliminating itchy scalp & lice as well as promoting hair growth! Since it has a small molecular structure, coconut oil does not clog hair follicles and also doesn't weigh hair down.
➝ Raw Honey – Raw honey is one of my popular choices for hair masks, treatments and DIY hair products because it's filled with powerful antioxidants and nutrients that boost the health of the scalp and hair. Honey naturally cleanses hair, eliminating any stale oils, dead cells, grime and dirt and it's also a strong antiseptic agent which wards off germs and fungi that can cause scalp infection. Don't worry it being sticky in this shea butter hair mask because it won't be! In fact, it rinses off really well and makes your hair smell amazing!
➝ Eucalyptus Essential Oil – I've talked about the beauty benefits of eucalyptus essential oil here and how eucalyptus essential oil helps treat hair loss here. It has similar properties to peppermint essential oil, helps balance the pH of the scalp & hair, eliminates dandruff & itchy scalp and smells refreshing as well.
Homemade Shea Butter Hair Mask Recipe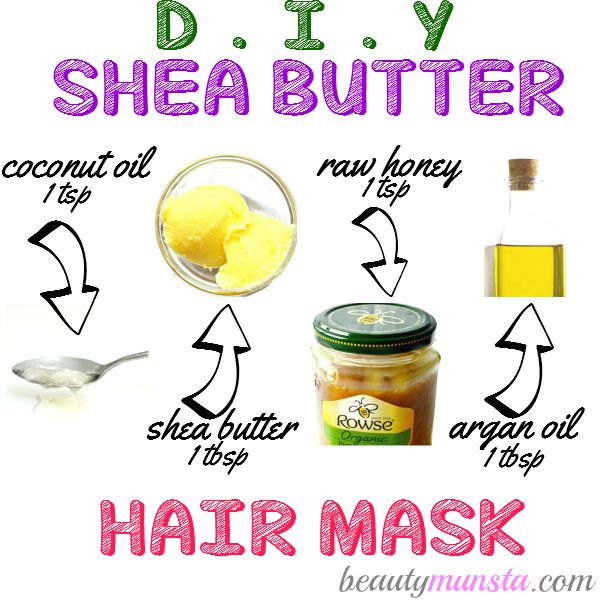 Ingredients
Directions
Scoop the shea butter in a pyrex cup/heat safe container.
Place the container in a pan filled with a few inches water.
Heat at a lot flame till the raw shea butter is softened not melted.
Turn off the heat and mix in the coconut oil and the rest of the ingredients with a clean spatula.
That's it! You'll end up with a creamy soft shea butter hair mask! All natural and homemade with no chemicals!
How to Apply the Shea Butter Hair Mask
Section your hair.
Dip a few fingers into the shea butter hair mask and start massaging it on your scalp.
Cover all areas of your scalp then move on to your hair strands.
Once done applying, tie up your hair in a bun/using a hair clip and cover with a shower cap or baggie to trap heat.
After an hour, wash off the hair mask with a sulfate-free shampoo and lots of water. Rinse thoroughly and you'll be pleased with your soft silky and shiny hair!
My Tips
►Don't know which essential oils blend well with shea butter? Click here to go to my shea butter and essential oils guide!
► Whip with a hand mixer/immersion blender for a creamier hair mask that's easier to apply.
► Add any other essential oils/herbs of your choice to make this shea butter hair mask more loveable! You could add aloe vera gel, green tea and even an egg for deep conditioned and healthy curls!
► Want a hair growth shea butter recipe? Click here for three of the best! Here's my favorite shea butter hair growth mix with coconut and castor oil!
♥ I love anything with avocado for hair! Check out my Avocado Shea Butter Hair Mask/ Treatment! ♥
My Favorite Tried & Tested Shea Butter Recipes Ebook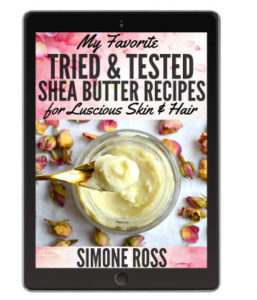 Do you love shea butter and want to make your own beauty products with it?! Check out this ebook "My Favorite Tried & Tested Shea Butter Recipes for Luscious Skin & Hair" for 30 awesome recipes, complete with step-by-step instructions, beautiful pictures and other valuable shea butter info!