A sweet scented homemade shea butter hair lotion is one of the best things you could ever make for your beautiful hair if you're a DIY naturalista! It takes just a little time and few ingredients. This shea butter hair lotion recipe doesn't include any type of chemicals so it's great for hair of all types. It's also not too greasy so it won't weigh your hair down. With a high speed food processor, it turned out just right with its silky smooth consistency. If you want it to be thicker, feel free to add more shea butter or oils.
Beautymunsta's Ingredient Profile
➝ Avocado Oil – Avocado oil, derived from the avocado fruit was originally extracted for its use in the beauty world. It's among the deeply penetrative oils and also has a rapid absorption rate in the skin and hair. Avocado oil is rich in healing vitamins such as vitamin A, B, C and E and nourishing fatty acids such as oleic and linoleic acid. Due to its mono-saturated fat and vitamin E content, it soothes and heals scalp inflammation, itchiness and redness. The fatty acid content also forms a protective lipid barrier over hair, warding off bacteria, pollutants and other impurities.
➝ Witch Hazel Hydrosol – One of the more popular hydrosols for hair care, witch hazel hydrosol is a distillate from the twigs of the witch hazel plant. It's a hair cleansing and antibacterial tonic which soothes itchy dry and inflamed scalps. It also hydrates dry hair and conditions damaged hair ends. Witch hazel hydrosol also stimulates hair growth by improving scalp circulation. It's also cooling and refreshing when used on its own as a hair spray!
➝ Raw Honey – I love adding honey to most of my diy skin and hair homemade products because it's full of nutritious skin and hair boosting goodness! Raw honey is rich in antioxidants, vitamins and minerals, some of which have not yet been profiled by scientists up to today! It's also a natural humectant, which means it traps moisture from the surroundings and plumps up dry and frizzy hair. Raw honey also helps condition and tame wild knotty hair.
➝ Vitamin E Oil – Vitamin E oil promotes hair growth, reduces hair loss, re-grows hair on bald spots and thinning edges, prevents breakage and split ends and also promotes shine and luster.
➝ Lavender Essential Oil – A great antiseptic, lavender essential oil also has soothing properties that calm itchiness, eliminates hair mustiness and breathes a whole new life into limp and lifeless hair! It also has a calming scent which blends well with geranium essential oil. Read more benefits of lavender essential oil for hair & more here.
➝ Geranium Essential Oil – Geranium essential oil has lots of beauty benefits for hair including: soothing scalp inflammation, fighting fungal infections and dandruff, reducing hair oiliness, conditioning the hair and also giving your hair a beautiful flowery feminine scent! Read more benefits of geranium essential oil here.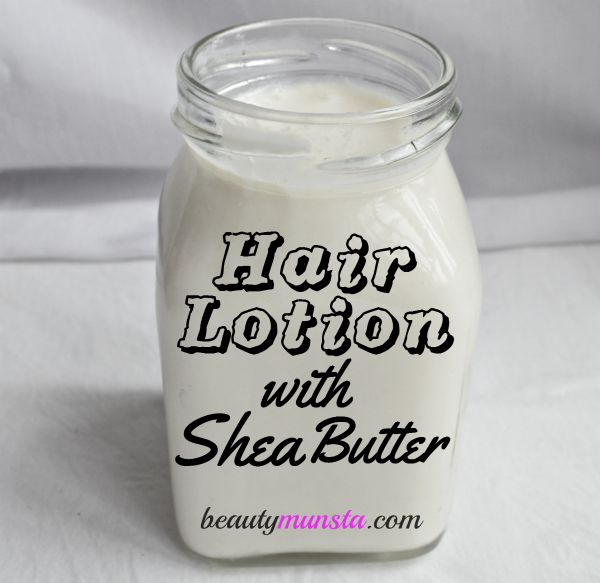 Ingredients
Directions
First add the shea butter, beeswax, avocado oil and vitamin E oil in a mason jar or heat safe container and keep it aside. Note: All the ingredients must be at room temperature before you begin.
In another mason jar/heat safe container, add the witch hazel hydrosol.
Make a double boiler by adding a few inches of water in a large pan. Heat the pan on low flame.
Place the two mason jars on the large pan and watch until the oil/wax mixture completely melts.
Once it melts, turn off the flame and quickly transfer it a high speed blender, close the lid (leaving the hole open) and start blending on high. Note: Your witch hazel hydrosol should be about the same temperature as the oil/wax mixture.
Slowly add the witch hazel hydrosol in a constant stream into the open hole of the food processor while it's blending the oil mixture on high. It will take about 3 to 5 minutes or more for everything to fully incorporate. Add in the honey and blend again for another 3 minutes till you get a creamy white mixture.
Transfer to a mason jar where the mixture will thicken up a bit. Stir in the essential oils. Make sure you do not put your hands in to scoop out the hair lotion because this will contaminate it. Just pour a little on your palm and apply or use a spoon.
Store in a clean and dry place.
My Tips
► You can use an immersion blender or a food processor instead of a blender. A Ninja Processor also works!
► Like most of my shea butter lotion recipes, I didn't use a preservative in this shea butter hair lotion since it is tap water-free any way. It will keep for about 5 months (or longer!), provided you keep it away from water and contamination. If you keep it in the fridge, it'll last longer.
► Use this shea butter hair lotion as a frizz-fighter, pre-styler, leave-in, de-tangler and more! It's so versatile – and you can even use it for your skin!
► Feel free to substitute witch hazel hydrosol with aloe vera juice, rose hydrosol or any other hydrosols. I haven't tried it out yet but you could use distilled water. If you're planning on using normal purified water, beware of it getting spoiled and moldy in just a few days – you must use a preservative if using water.
My Favorite Tried & Tested Shea Butter Recipes Ebook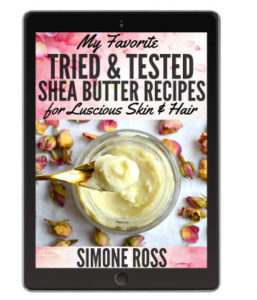 Do you love shea butter and want to make your own beauty products with it?! Check out this ebook "My Favorite Tried & Tested Shea Butter Recipes for Luscious Skin & Hair" for 30 awesome recipes, complete with step-by-step instructions, beautiful pictures and other valuable shea butter info!
Where to Get a Natural Shampoo
If you are going chemical-free on your hair, but want to save the time of making a homemade shampoo, this Maple Holistics Sage Shampoo is a game-changer. It contains powerful herbs such as sage: for dandruff & itchy scalp treatment, rosemary: for hair growth and prevention of hair loss and spikenard for dandruff treatment. It also has argan, jojoba and tea tree oils that all protect the scalp from germs, keep hair clean as well as hydrated and moisturized. This shampoo does not contain sulfates, so it will not lather the way you are used to, but you will quickly get used to it and notice the difference!
All Natural Hair Care Guide with Essential Oils
Want to know more about essential oils for hair and how to make scalp & hair care recipes with essential oils? Check out our Complete Guide to Using Essential Oils for Scalp & Hair Care that talks about the magical properties, benefits & uses of essential oils for your scalp and hair with over 100 recipes to make your own chemical-free hair products for a healthy scalp and beautiful hair.
DIY Herbal Hair Oil Infusions Guide with Recipes
Want to make your own herbal hair oils? Check out our DIY Herbal Hair Oil Infusions eBook that contains an A-Z list of healing herbs and spices to infuse for hair, what base oil to choose for your hair type, methods of infusing your hair oils plus 20 exciting hair oil recipes for dry hair, heat damaged hair, hair growth, even gray hairs, scented hair and more!