If you're looking for a simple diy hair cream recipe to keep the frizz away, or a no-hassle pre-styler or even a quick leave-in hair conditioner, then you've landed on the right page! This shea butter hair cream is super easy to make and if you're a natural hairista, then I'm sure you'll love it just as much as I do! When applying this shea butter hair cream, just get just a pea-sized (for thin fine hair) or dime-sized amount (for thick frizzy hair) and gently smooth it down your hair. Don't forget to massage a little all over your scalp because this recipe contains potent anti-dandruff and anti-fungal properties that will soothe, treat and protect dry itchy scalps from inflammation & irritation.
Note: If you're looking for a silky natural hair moisturizer, check out this amazingly simple DIY recipe.
Check out the ingredient profile to see the benefits of each ingredient we're going to use for hair:
Beautymunsta's Ingredient Profile
➝ Coconut Oil – Coconut oil has a small molecular structure, enabling it to easily penetrate the hair shaft and strands. It's rich in fatty acids that seal in moisture in the hair strands and lubricate dry and frizzy hair.
➝ Apricot Kernel Oil – Apricot kernel oil is rich in oleic and linoleic acids that are great hair nourishing nutrients and also wonderful emollients that keep hair healthy and moisturized. It also has a light consistency which won't weigh your hair down, making it a perfect hair oil for this non-greasy shea butter hair cream recipe.
➝ Aloe Vera Gel – Aloe vera gel is a great sealant which traps moisture into the hair strands, thereby hydrating dry and frizzy hair. It's also an astringent, which will reduce the overall greasiness of this hair cream. If you have dry hair, you might want to add a little less of it and more coconut oil to lubricate your strands.
➝ Rosemary Essential Oil – Popularly known for its memory enhancing properties, rosemary essential oil is one of the best essential oils for hair. It increases circulation to the scalp, thereby stimulating the hair follicles and promoting hair growth.
➝ Chamomile Essential Oil – Chamomile essential oil blends well with rosemary essential oil and is extremely good for hair too. It's extracted from chamomile flowers through steam distillation and is known for its potent antiseptic and anti-fungal properties that keep the scalp free from dandruff and infection. Although chamomile is known to lighten hair color and is mostly used for fair hair, since we'll be using just 2 drops of it, it won't affect your hair color. If you're still apprehensive, you can leave it out and use your preferred essential oil for hair instead.
DIY Shea Butter Hair Cream Recipe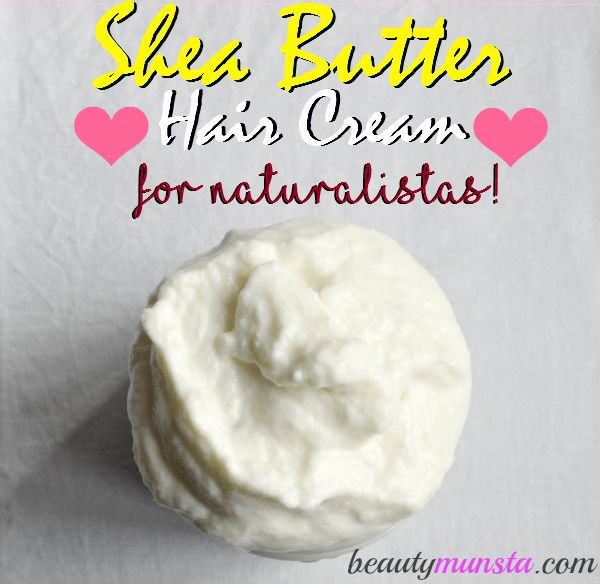 Ingredients
Directions
Melt the shea butter and coconut oil in a double boiler.
Pop the bowl containing the melted mixture in the refrigerator for about 10 to 15 minutes until it partly solidifies.
When the time is up, get it out and whip using a hand mixer until creamy. This will take about 3 minutes.
Add the apricot kernel oil and whip again till mixed.
Finally, add the pure aloe vera gel then blend first on high speed then low speed until fully incorporated. As you can see in the picture, I blended for a short while so I didn't get a very smooth consistency that you will end up with when you whip for at least 5 minutes, scraping down the sides frequently.
Done! You'll end up with a soft white mixture that looks really creamy!
Transfer to a mason jar. Store in a clean dry place. You can keep it in your bathroom cabinet to apply on your hair after a shower but make sure not to get any water into it.
My Tips
I used a lot of aloe vera gel and a little coconut oil because I didn't want my hair cream to be greasy and weigh my already slightly oily hair down. However, if you have dry or frizzy hair, adding less aloe vera gel and more coconut oil will do your hair good.
Please ensure to whip up the ingredients very well especially when you add the aloe vera gel so that you get a really smooth shea butter hair cream.
The essential oils for hair that I've used are very healing and rejuvenating to the hair, and also give the hair cream a pleasant scent, but they're totally optional in this homemade shea butter hair cream recipe. If you don't have them, you can substitute with an organic fragrance oil.
If you want a more flowery/feminine scent, you can use lavender/geranium essential oils instead! Remember, this is your hair cream so customize it however you want!
DIY Herbal Hair Oil Infusions Guide with Recipes
Want to make your own herbal hair oils? Check out our DIY Herbal Hair Oil Infusions eBook that contains an A-Z list of healing herbs and spices to infuse for hair, what base oil to choose for your hair type, methods of infusing your hair oils plus 20 exciting hair oil recipes for dry hair, heat damaged hair, hair growth, even gray hairs, scented hair and more!