Discover 10 gorgeous beauty benefits of geranium essential oil, one of the best essential oils EVER for beauty!
Having a flowery feminine scent, geranium essential oil is all about balance and stability. Its therapeutic benefits will soothe the soul, stabilize the mind and relax the body. It is great for solving female problems, including menstrual troubles, cellulite and breast congestion.
Geranium is native to South Africa but Egypt and Russia are its largest producing countries today. Geranium essential oil was first distilled in ancient Egypt and the Egyptians used it against cancerous tumors.
Here are 10 beauty benefits of geranium essential oil that can enable you to heal and soothe your skin and hair problems!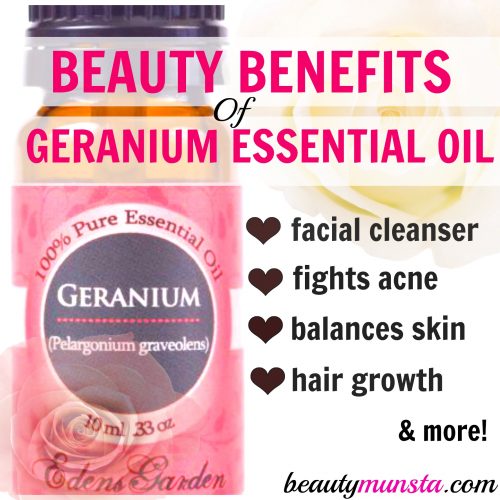 1. Acne-Buster
Geranium essential oil contains antiseptic, anti-fungal and antibacterial properties that kill off germs and bacteria responsible for acne. It also normalizes hormonal functions and secretions, guarding against hormonal acne. Use geranium essential oil in your daily night skin care routine by massaging it onto your face, diluted in a carrier oil to moisturize and keep the acne away.
2. Facial Cleanser
Geranium essential oil has soothing properties that calms down skin inflammation, relaxes your face muscles and promotes blood circulation. Its cleansing action helps purge toxins, dirt, grime and excess sebum and dead cells from deep within skin pores.
3. Nourishes Skin Cells
Geranium essential oil has a pleasant uplifting aroma that relaxes the mind and body. It has cytophylactic properties that fight off skin infections, help wounds heal faster and slough off dead cells from skin. Geranium essential  oil provides nutritive benefits to skin and has ultra-moisturizing properties that keep skin cells hydrated and excess oil-free.
► Geranium Lavender Cream : Soften 3 tbsp of raw shea butter in a double boiler. Once soft enough to mix with a spoon,  add in 5 drops of geranium essential oil and 5 drops of lavender essential oil. Store in a small container. Massage this mood lifting cream onto your face after cleansing.
4. Heals Skin Inflammations
The anti-inflammatory and skin soothing properties in geranium essential oil make it a powerful inflammation-fighting skin care ingredient. It calms skin rashes & acne inflammation and provides relief to inflammatory skin conditions like eczema and rosacea.
Skin Soother: Mix a few drops of geranium essential oil in a soothing carrier oil like avocado oil. Apply to affected areas to soothe and heal.
5. Effective in Lightening Scars & Blemishes
Geranium essential oil decreases scarring and gradually fades acne scars, blemishes, age spots and dark marks. To reduce the appearance of acne scars and blemishes, you must consistently follow a nightly skin care routine:
Overnight Treatment: Cleanse your face, pat dry with a soft towel. Using a q-tip, apply a drop of geranium essential oil only onto your scars and blemishes. Leave the treatment to work overnight.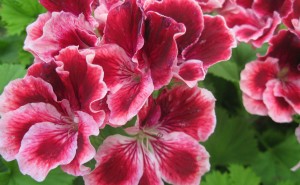 6. Hydrates Skin & Provides UV Protection
Geranium essential  oil solves dry cracked and flaky skin by lubricating and moisturizing skin. It pumps water into dry skin cells, promoting smooth and supple skin. Rich in antioxidants, geranium essential oil bolsters the skin's natural ability to ward off free radicals and harmful UV rays.
Moisturizer: Mix about 5 drops of geranium essential oil in 3 tbsp of raw shea butter. Store this in a small jar. Use in place of your moisturizer to keep skin hydrated and glowing!
7. Beautiful Hair
Use geranium essential oil to breathe new life into dull and limp hair! This sweet smelling essential oil contains antioxidants that repair damaged hair and add a shine to dull locks. Geranium essential oil is best known for strengthening hair follicles and strands.
Luscious Hair Oil: Mix drops 5-10 drops of geranium essential oil in 1/2 cup of coconut oil. Massage this onto your scalp and hair strands. Wrap a warm towel on your head to open your hair follicles and allow the oils to penetrate deep. When the time is up, rinse your hair thoroughly.
8. Anti-Cellulite
Geranium essential oil is a great anti-cellulite and stretch mark-reducing essential oil. It works by helping eliminate fluid retention.
Cellulite Treatment: Mix 6 drops of geranium oil in 1 tbsp grapeseed oil and massage this onto your cellulite-affected areas. Do this consistently to see cellulite-free and stretch-mark skin!
9. Tightens Skin
One of the amazing beauty benefits of geranium essential oil is that it provides a natural astringent effect on skin. It tightens skin, reduces large pores, controls oiliness and tones facial skin.
 Skin Tightening Spritz: Add 3 drops of geranium essential oil to 2 oz of distilled water and store this in a spray bottle. Spritz this sweet smelling infusion 12 inches away your face to tone and tighten skin.
10. Delays Wrinkles
Mix 10 drops of geranium essential oil in your bath water to protect your skin from age spots and sagging. Geranium essential oil offers skin anti-oxidant protection which steers off free radicals from attacking healthy skin cells and degenerating them. It also promotes skin cell renewal and proper blood circulation. Since it is a natural astringent, it firms skin causing it to look youthful.
Where to Get It
Don't make a mistake of buying 'geranium oil'. Purchase 'geranium essential oil' because 'geranium oil' is just geranium essential oil mixed with other oils/ingredients so it's not the pure and potent one talked about in this post. The particular brands I like and use are Eden's Garden Geranium Essential Oil and Plant Therapy's Geranium Essential Oil!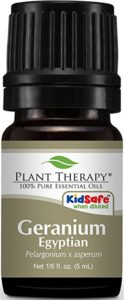 Take Care
Essential oils are very concentrated and might cause irritation to skin if used without dilution. Do not use geranium essential oil 'neat' onto your skin. Ensure that you mix it with a carrier oil for example wheat germ oil, avocado oil or rose hip oil with geranium essential oil before using it. Personally, I dilute 5-10 drops of geranium essential oil in 1/2 a cup of coconut oil and this is my favorite combination, that smells oh-so-lovely and is cost-effective too!
More Geranium Goodies: