Check out these amazing avocado oil uses for hair care and how to use it with effective recipes!
Avocado oil is great for your skin and hair. It contains antioxidants, minerals, vitamins and essential fatty acids. Some of them include Vitamin A, Vitamin B5, Vitamin E, biotin and oleic acid, among others. These nutrients promote fabulous hair from the inside and outside! Let's take a look at 7 amazing avocado oil uses for hair care below:
7 Amazing Avocado Oil Uses for Hair
Find out 7 amazing avocado oil uses for hair care from moisturizing the scalp to repairing damaged hair!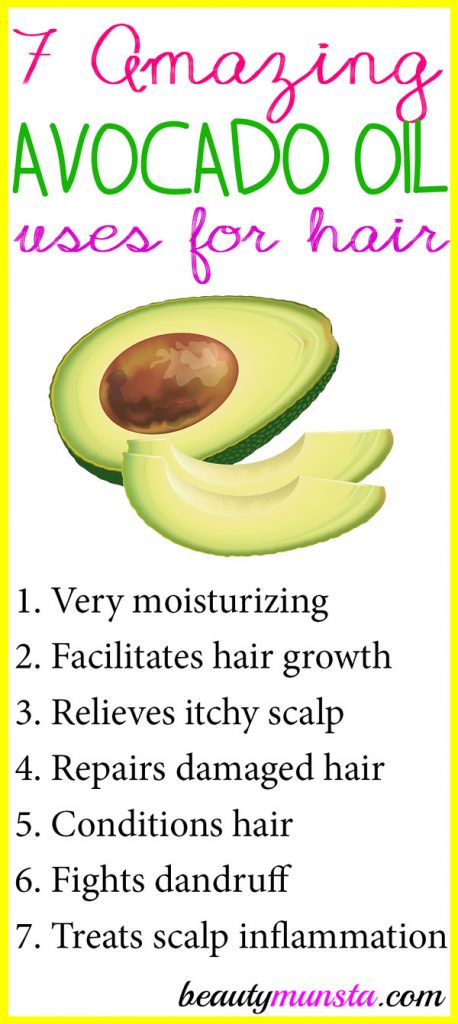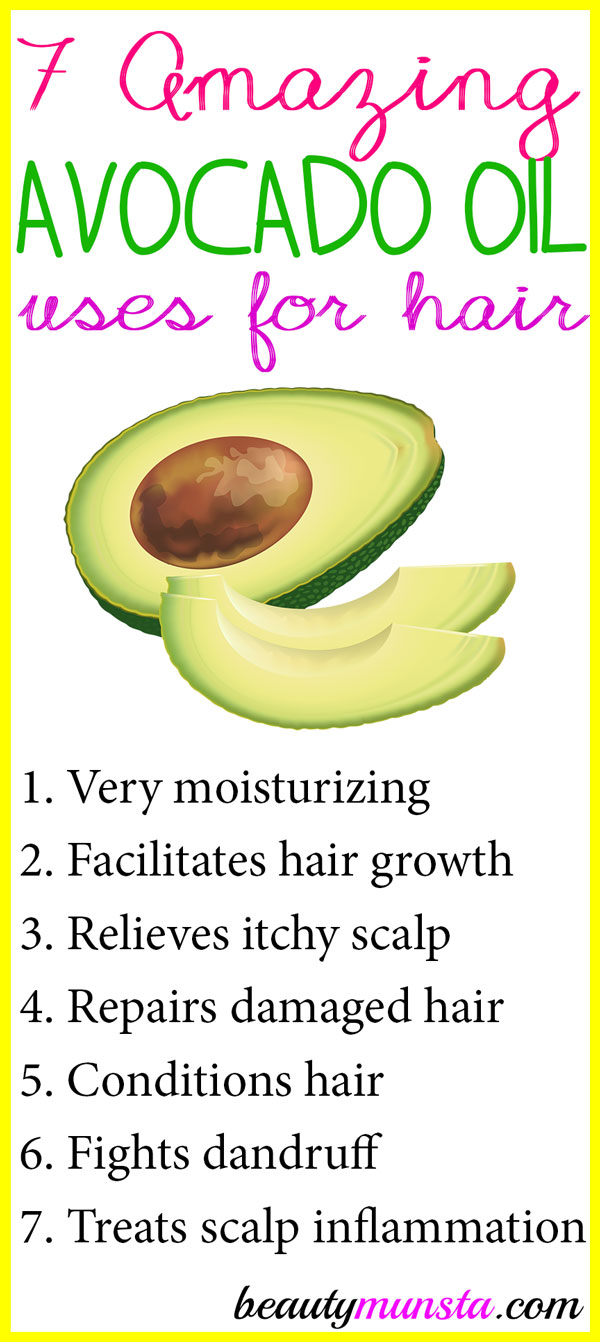 1. Moisturizes Scalp
Avocado oil has a nice thick consistency filled with essential fatty acids that moisturize the scalp on a deeper level. Though it's thicker than most oils, it penetrates into the scalp fairly easily. If you have a dry scalp, massage 1-2 tbsp of avocado oil onto it an hour before your shower.
2. Fights Dandruff
Beat dandruff by using avocado oil as a hot oil treatment. Avocado's moisturizing properties help keep the scalp well oiled which prevents it from getting dry and start flaking up. Here's a recipe for an avocado oil hot oil treatment:
Avocado Hot Oil Treatment: In a small bowl, add 1 tbsp of avocado oil and 2 tbsp of olive oil. Now place the bowl in a larger bowl or pain containing hot water to gently warm it up. Once the avocado olive oil mixture is warm to the touch, remove the bowl from the water and stir in 4 drops of tea tree essential oil. Apply this hot oil treatment all over your scalp then cover it with a shower cap for 1-2 hours. When the time is up, wash your hair thoroughly with a sulfate-free shampoo.
3. Relieves an Itchy Scalp
Got an itchy scalp? Use avocado oil to help beat the itch! It's lubricating properties help reduce a dry itchy scalp. Use the hot oil treatment above – it also helps with scalp itch!
4. Treats Scalp Inflammation
Scalp inflammation is when your scalp feels dry, painful and looks inflamed. The inflammation cannot be seen with the naked eye but your scalp will feel aggravated and painful to comb. Luckily, if you have avocado oil at home, you can apply it and heal your scalp inflammation. Avocado oil has strong anti-inflammatory properties that reduce inflammation.
You can apply avocado oil straight onto your scalp every day. The avocado fruit itself is also good for treating scalp inflammation – here's my favorite DIY Scalp Inflammation Treatment with Avocado!
5. Facilitates Hair Growth
Did you know that avocado oil facilitates hair growth?! When massaged on the scalp, it's nutrients sink into the hair follicles and nourish them deeply. This stimulates them into producing stronger longer and thicker hairs!
6. Repairs Damaged Hair
Dry damaged hair can be very hard to get back to its original lush state if you don't use the help of nourishing oils like avocado oil! Make an avocado hair repair mask to feed your hair with the right nutrients it needs to flourish once more!
Avocado Hair Repair Mask: Into a high speed blender, add the flesh of one avocado, the flesh of one banana, 1 tbsp avocado oil, 1 tbsp coconut oil and 1 tbsp raw honey. Now blend till smooth and creamy. Apply the mixture onto your whole scalp then tie your hair up. Cover it with a shower cap and leave it on for 2 hours. When the time is up, rinse off the mask and wash your hair very well with a sulfate-free shampoo. Repeat 1-2 times a week for 4 months.
7. Conditions Hair
Condition your locks using avocado oil! It can be smoothed onto damp hair to act as a leave in condition. You can also add it to your shampoo! Just add 1 tsp of avocado oil to 2 tbsp of shampoo and use. Or, better yet, try making your own hair conditioning serum as follows:
Hair Conditioning Serum: With the help of a funnel, transfer 2 tbsp of avocado oil and 2 tbsp of jojoba oil into a 2 oz amber glass dropper bottle. Now add 10 drops each of lavender and rose otto essential oils. Cap the bottle tightly and roll between your palms to gently combine all oils together. Smooth about 5-6 drops along the length of your hair after a shower when your hair is damp.
Where to Get Avocado Oil
Ensure to get 100% pure avocado oil. Avoid the synthetic types that contain additives like mineral oil! Some good avocado oil brands are Now Foods, Tourangelle and Dr. Adorable. I like using Now Foods 100% Pure Avocado Oil.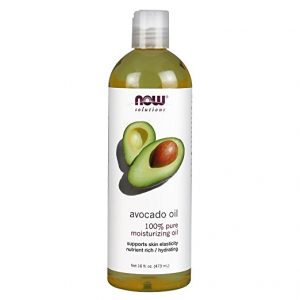 How are you planning on using avocado oil for hair? Share below!