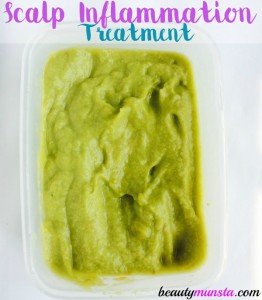 Got Scalp Inflammation?
You may have scalp inflammation but not know it because this inflammation is not plainly obvious and may only be detected under a microscope. If you have scalp inflammation, your scalp usually feels painful, irritated, dry and itchy, sometimes having bumps and pimples. What causes scalp inflammation? Read below:
Causes of Inflammation of the Scalp
In most cases, inflammation of the scalp is brought by inflammatory skin conditions such as eczema, psoriasis, seborrheic dermatitis, folliculitis, etc. However, a poor diet lacking in essential nutrients such as healthy fats, water, iron, protein, vitamin C, zinc and other nutrients leads to scalp inflammation and overall poor scalp health. Over consumption of refined foods such as packaged foods containing preservatives, high amounts of white sugar, MSG, GMOs and artificial colors & flavors also not only leads to inflammation of the scalp but also the skin and internal body organs as well!
Another cause of scalp inflammation includes the quality of your shower water. Chlorinated water is really damaging to the scalp, not only causing inflammation, irritation and itching but also promoting hair loss. Over use of heat tools such as hair dryers, curling irons, etc is also a major cause of dry scalp and scalp inflammation.
How to: DIY Scalp Inflammation Treatment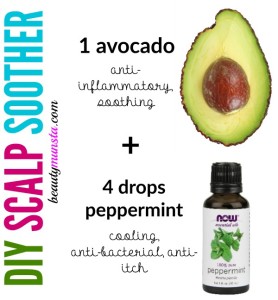 Ingredients
1-2 avocados, depending on your hair length & thickness
4 drops peppermint essential oil (where to buy)
1 tsp coconut oil *optional (where to buy)
How the Above Ingredients Treat Scalp Inflammation
► Avocado – Rich in antioxidants and essential fatty acids, avocado is INCREDIBLY nutritious for the scalp and hair. It also contains a high amount of vitamin E, which has powerful healing properties that soothe and calm scalp inflammation. Once you slather avocado on your scalp, it sinks deep and nourishes, moisturizes, soothes and heals. Ensure to use only ripe avocados and puree it in a high-speed blender so that it is completely lump-free. If you do not blend it well, the little lumps in the puree will stick to your hair strands and refuse to rinse off!
► Peppermint essential oil – With its high menthol content, peppermint is cooling and refreshing to an irritated scalp. It helps numb the pain from scalp inflammation & itching. Peppermint also has strong antiseptic, antibacterial and antimicrobial properties that fight off germs and microbes responsible for irritating the scalp. Did you know that peppermint also promotes hair growth by stimulating the hair follicles?! Yes now you do! Using peppermint in scalp massages gives a pleasant tingling sensation that is said to invigorate the hair follicles, encouraging hair growth.
► Coconut Oil – A superfood for almost every beauty ailment, coconut oil is a powerful scalp saver. It's not only loaded with antioxidants but contains penetrative fatty acids including lauric, capric, caprylic and mystiric acids that seal moisture, nourish and soothe an irritated, itchy and painful scalp.
Directions
Wash then cut a ripe avocado in half, remove the seed then scoop out all the flesh into a blender using a spoon.
Blend till you get a lump free puree.
Now transfer the puree into a medium-sized bowl and add 4 drops of peppermint essential oil. Mix well using a spatula.
That's it! Get ready to slather this extremely soothing scalp inflammation treatment all over your head!
How to Use this DIY Scalp Inflammation Treatment
Part your hair in the middle into two sections.
Then scoop the avocado peppermint mixture using clean fingers and start applying it systematically from the middle where you parted to the left and repeat for the other side.
Once your whole scalp is covered, slather the rest of the mixture on your hair strands and ends, to nourish and moisturize.
Tie your hair up and cover your head with a shower cap or plastic bag and leave the scalp inflammation treatment to work its magic for about 15 minutes. It feels so cooling and soothing – you'll feel like your scalp is in heaven!
When the time is up, rinse your hair thoroughly with warm water, then wash it as usual and finally rinse off with cold water to close the hair follicles and seal moisture.
How does your scalp feel? After I tried the avocado scalp inflammation treatment, my scalp irritation was completely calmed and I felt my scalp was cleansed, lubricated and healthy. It significantly reduced my scalp irritation!
Use this treatment about once or twice a week to naturally heal your scalp completely! Is your scalp itching unbearably as well? Check out my DIY anti-itch spray here.
Try this DIY scalp inflammation treatment out and tell me how it worked for you in the comments below!