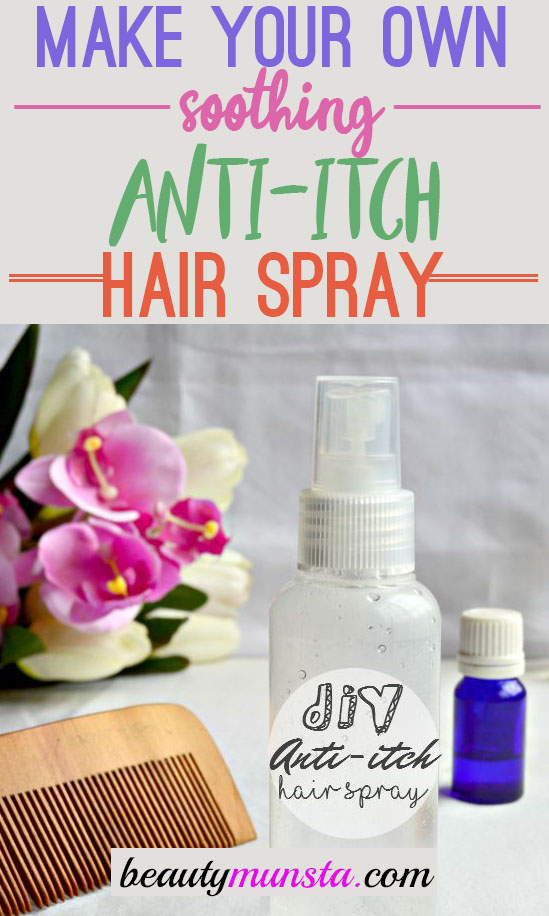 Your scalp can itch for a number of reasons but the most common causes of an itchy scalp include: dandruff, tight hair styles, dehydrated Scalp, allergic reaction to extensions, head lice, scalp psoriasis, inflammation, fungal infections and others.
Natural Remedies for Itchy Scalp Relief
Before we look at how to make the DIY homemade anti-itch hair spray, here are some good remedies, habits and tips you can incorporate in your hair care routine to soothe and get rid of that itch once and for all!
Nourish your scalp with oils. If you have a dry itchy scalp, chances are your scalp is thirsty. Feed it with nourishing oils such as olive oil, which has a thick consistency and is rich in vitamin E, jojoba oil, which has a molecular structure that similar to the sebum our scalps produce and coconut oil, which is ultra moisturizing and filled with healing nutrients and penetrative fatty acids.
Lay off chemical products. You can stop using chemical hair products like shampoos because they may contain additives and fragrances that are irritating your scalp. Try making your own diy natural shampoo and also check out my all natural soap-free hair wash that effectively cleanses the scalp and hair.
Use kitchen ingredients! You can use apple cider vinegar by mixing 1 part apple cider vinegar and 2 parts pure water to make an itch-relieving hair rinse. Rinse your hair with this while massaging the scalp after a shower. Black seed oil also has powerful antibacterial properties that immediate fight an itchy scalp. A soothing and cooling yogurt hair mask also calms the itch and nourishes a dry scalp.
How to Make Your Own DIY Anti-Itch Hair Spray
You will only need an empty spray bottle and oils and essential oils to make this easy anti-itch hair spray! Here's a list of the ingredients we're going to use and their benefits for the scalp.
Ingredient Profile
➝  Tea Tree Essential Oil – Tea tree essential oil contains powerful antiseptic, antibacterial and anti-fungal properties that are effective against dandruff and fungi and germs that cause infection and itching.
➝  Peppermint Essential Oil – Peppermint essential oil is popularly known for its numbing effect due to its menthol content, which gives relief to pain associated with itching. It also has soothing and cooling properties that will calm down burning itchy sensations.
➝  Rosemary Essential Oil – The best essential oil for hair, rosemary essential oil is a powerful stimulant which stimulates blood circulation in the scalp. Improved blood circulation enables blood to flow to every single hair follicle and cell, nourishing them with nutrients that will strengthen them and protect them from germs and infection that can lead to an itchy scalp.
➝  Witch Hazel – Witch hazel acts as the base for the essential oils but it also has astringent properties, helps reduce scalp oiliness, tightens the hair follicles and relieve itching. Witch hazel is also antibacterial and has soothing properties that calm down an irritated scalp.
Ingredients
Directions
Fill an empty and clean spray bottle with 1/2 cup of distilled water.
Add all the essential oils to the witch hazel and stir  vigorously till combined.
Now pour it into the distilled water and shake well.
Finito! Get ready to beat the itch with this powerful DIY anti-itch hair spray!
Store in a clean dry place and shake well before each use.
My Tips
Other scalp soothing ingredients you can use are:
Chamomile essential oil – Chamomile essential oil is an effective essential oil for dandruff and itchy scalp. You could also use a chamomile hair tea hair rinse for immediate itchy scalp relief.
Lavender essential oil – Lavender essential oil soothes the scalp, is antibacterial and promotes a good night's sleep for those of you who literally can't sleep with all that itchiness!
Eucalyptus essential oil –Eucalyptus essential oil works just like peppermint essential oil but it also has hair loss healing properties. You can read more about it here.
Take Care
Please ensure not to add too many drops of the essential oils as they are very potent and may burn the scalp. Also be sure to do a test patch before using any of the ingredients mentioned above. If you are allergic to any of the ingredients, do not use them.
Choose from these 7 best essential oils to resolve an itchy scalp once and for all!