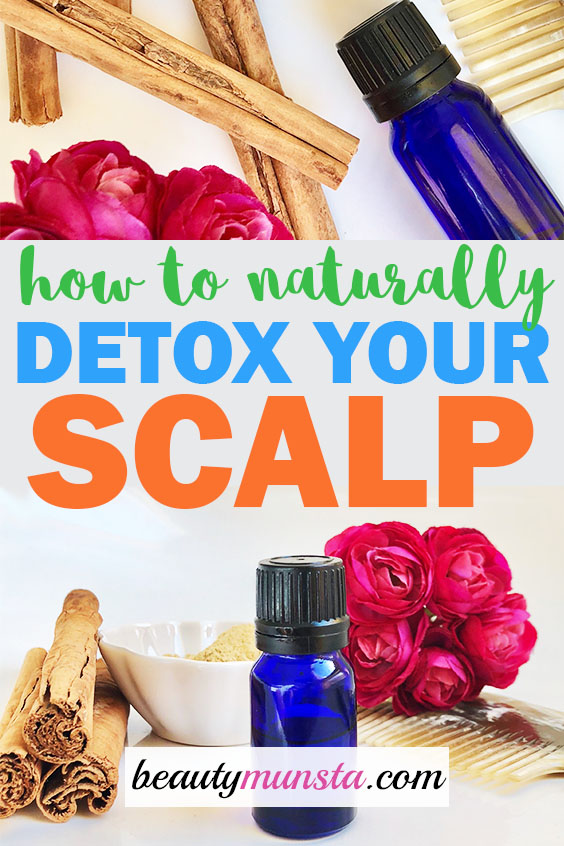 Detox is commonly associated with weight loss or getting over an addiction but did you know that even your scalp needs a detox once in a while? In fact, learning how to naturally detox your scalp is actually pretty easy. A healthy and clean scalp is the key to healthy, strong and luscious hair. Hair follicles are just like the pores on your skin – once they become clogged with sebum, dead cells, dirt, grime, pollution and product build-up, hair health deteriorates rapidly causing hair fall, lack-luster strands as well as flat & limp hair. Detox helps in thoroughly cleansing the scalp surface and deep within the hair follicles, driving out product build-up, grime, stale sebum, dead cells and other impurities that are known to cause dandruff, hair fall, etc.
Why You Should Detox Your Scalp
Before we learn how to naturally detox your scalp, let's look at the reasons why you should detox your scalp in the first place:
1. Purify and Deep Cleanse
Detoxing the scalp with natural ingredients such as slippery elm powder, marshmallow root powder, yucca root powder, apple cider vinegar, garbanzo bean flour and others deep cleanses the scalp and hair follicles, getting rid of grime, stale oils and dirt.
2. Remove Product Build-Up
If you use sulfate shampoos & commercial hair products and get your hair colored, your scalp can easily get clogged up with too much product build-up. Product build-up is basically a thin film of white residue coating the scalp and hair strands. Use of chemical hair products including shampoos over a long time leads to accumulation of product residue on the scalp and hair strands. Homemade scalp scrubs and natural hair cleansers, such as the ones listed below, can be used to slough off product build-up.
3. Regulate Oily Hair
It is true that over washing the scalp with sulfate shampoos gives your scalp and hair that squeaky clean feel but it also strips the scalp of its natural oils, which forces it to make up for the lost oils by going into an overdrive and producing excess sebum that leads to a greasy scalp and hair. Detoxing your scalp not only helps remove excess oils that clog up hair follicles but also regulate the scalp's sebum production. Natural scalp cleansers, like raw apple cider vinegar, remove stale oils from the scalp and help balance the scalp's pH.
4. Clear Dandruff
One of the causes of dandruff is dirty and clogged up scalps. However, even people with the 'cleanest' scalps also end up with dandruff. This can be due to a greasy scalp caused by overproduction of sebum to replace lost oils or a dehydrated scalp which needs to be nourished and lubricated with natural oils such as coconut and olive. A scalp detox with coconut oil works great in this case!
5. Promote Hair Growth
A healthy and clean scalp encourages hair growth. Impurities, gunk and product build-up all block hair follicles and suffocate them, causing hair loss. Using the no poo' method purifies the scalp of impurities and build-up while keeping it free from excess oils. A scalp massage with a nourishing essential oil blend stimulates hair follicles, promotes blood circulation, encourages hair growth and fights off bacteria and fungi that irritate hair follicles.
How to Naturally Detox Your Scalp
Here are 5 ways on how to naturally detox your scalp at home!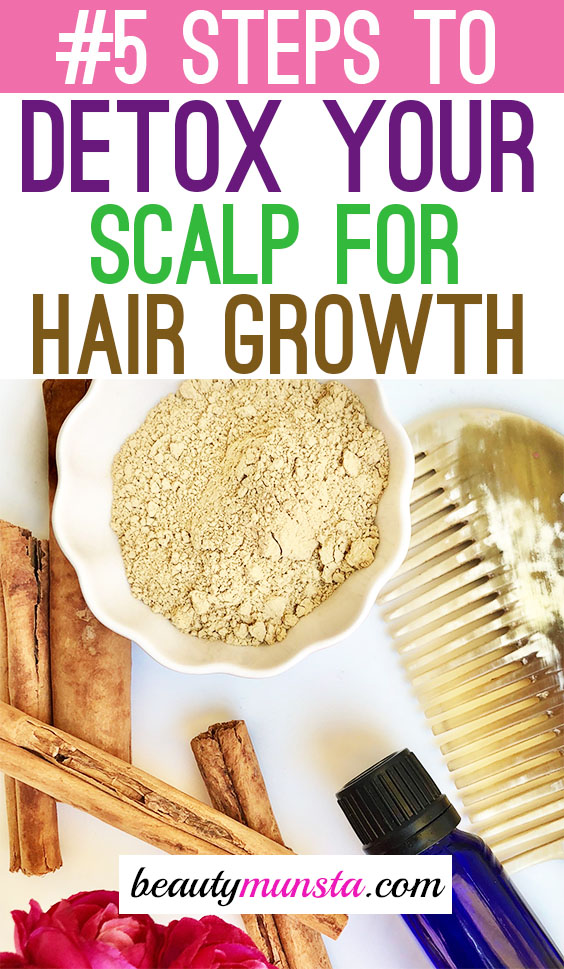 1. First Things First! Get a Chlorine Filter
Buying a chlorine filter is one of the most important ways you can naturally detox your scalp. Chlorine strips the natural oils that moisturize, nourish and protect the hair and scalp, leaving a dry, irritated scalp. It also contributes to product build-up and hair loss!
2. Scalp Massage with Detoxifying Essential Oils
Certain essential oils have cleansing, purifying and detoxification properties that aid in naturally detoxifying your scalp and hair follicles. Check out my favorite essential oil blends for a detox scalp massage:
Cleansing Treatment for Clogged Hair Follicles
In an amber glass bottle, combine 10 drops of tea tree essential oil, 10 drops of lavender essential oil, 5 drops of frankincense essential oil and ¼ cup of olive oil. Massage onto your scalp in a gentle circular motion with clean fingertips. You can store the excess in an amber glass bottle. Let it penetrate for about 15-30 minutes, then rinse off thoroughly with warm to tepid water and wash your hair as usual. Your final rinse should be with cold water to close the hair follicles.
Cooling Detox Blend for Dandruff, Itchiness and Scalp Inflammation
I love scalp massages with cooling essential oils such as peppermint, eucalyptus and citronella. If you're someone who suffers from chronic dandruff, itchy scalp or inflammatory skin conditions, try massaging your scalp with a blend of 7 drops of peppermint essential oil, 4 drops of tea tree essential oil and 3 drops of thyme essential oil in 2 tbsp of fractionated coconut oil. Wait for 30 minutes then wash your hair as usual.
3. No 'Poo Method
The no 'poo method is a very effective way of 'de-gunking' the scalp and purifying hair follicles. The basic recipe of the no 'poo method is a baking soda scrub and raw apple cider vinegar rinse. Here's what you need to do: In a small bowl, place 2-3 tbsp of baking soda and mix it with enough water to make a paste. Next, prepare your apple cider vinegar rinse by mixing 1 part raw apple cider vinegar in 3 parts water. Start the detox by gently scrubbing the baking soda paste onto your scalp until all areas are covered. Wait for it to penetrate for about 5 minutes, then rinse off thoroughly. Slowly pour the apple cider vinegar rinse on your scalp and hair while massaging with fingertips. Rinse off with tepid to cold water. That's it! Your scalp will feel super clean and your hair will have a natural shine to it!
Looking for a Natural Sulfate-Free Shampoo?
My favorites are Restorative Argan Oil Shampoo and the Morrocco Method Sea Essence Shampoo!
4. Natural Scalp & Hair Cleansers
In addition to baking soda, other natural scalp and hair cleansers are yucca root powder, slippery elm powder, marshmallow root powder, soapwort root, bentonite clay, rhassoul clay, shikakai, soap nuts, oat flour and garbanzo bean flour – all these have saponnins, which are natural cleansing agents.
5. 3 Detox Scalp Scrubs to De-Gunk Clogged Follicles
Take a look at how to naturally detox your scalp with scalp scrubs:
► No More Grease Scalp Scrub
Combine 1 tbsp of lemon juice, 2-4 tbsp fine oat flour, 2 tsp of honey and enough water in a bowl. Gently scrub onto your scalp for about a minute using your fingertips. Clip up your hair and leave it on for about 5-10 minutes. Rinse off first with warm water then with cold water.
► Anti-Bacterial Scalp Scrub
In a bowl, mix 2-4 tbsp of fine brown sugar, ½ tsp of cinnamon powder, 1 tsp of coconut oil and enough water. Apply using clean fingertips on your scalp. Wait for 5-10 minutes then rinse off thoroughly.
► Hair Growth Stimulating Scalp Scrub
Mix 2-4 tbsp of garbanzo bean flour, 2 tsp of honey, 5-7 drops of rosemary essential oil in a bowl. Rub onto scalp. Let it penetrate for about 10-15 minutes then rinse off well with tepid water.