Coconut oil is splendid for your hair! Learn how to make a DIY coconut oil hair mask for hair growth & more!
In Southeast Asia, people have been using coconut oil on their hair for years. They do scalp massages with this beautiful oil and they apply it on their hair length right before a shower. Coconut oil helps promote hair growth, strengthen hair strands, naturally condition hair, make hair shiny and reduce dandruff.
It has lots of beauty benefits for gorgeous hair. You can read them in this post of mine: 10 Beauty Benefits of Coconut Oil for Hair
What makes coconut oil so special is that it has a lovely creamy texture that is filled with medium chain fatty acids. These fatty acids have a small molecular structure that gives them the ability to easily penetrate into the skin. Hence, they go deep into the hair follicles and nourish them with much-needed nutrients.
Other Ingredients in this DIY Coconut Oil Hair Mask
We're also going to be using the following ingredients in this DIY coconut oil hair mask:
Avocado – Rich in vitamin E, avocado is nourishing and moisturizing for the scalp and hair. It feeds the hair follicles with fatty acids and vitamins that assist in new hair growth.
Aloe vera gel – This soothing and cooling ingredient promotes healthy functioning of the hair follicles. It helps reduce any scalp inflammation and encourages hair growth.
Rosemary oil – Personally, this is my number one hair growth essential oil! It stimulates the hair follicles & increases blood circulation to the scalp hence promoting thicker and longer hair.
When you apply this DIY coconut oil hair mask weekly, you'll do your scalp & hair lots of good! Let's check out how to make this mask for hair growth & more!
DIY Coconut Oil Hair Mask for Hair Growth & More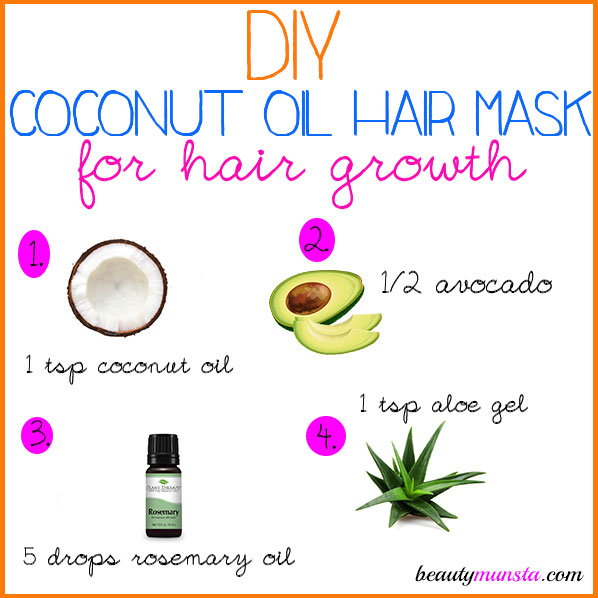 What you need
Directions
Into a high speed blender, add the diced up avocado, coconut oil and aloe vera gel.
Blend till smooth, without any lumps.
Pour the mixture into a bowl then stir in the rosemary essential oil.
Your DIY coconut hair mask is ready!
Now all you have to do is stand over your bathroom sink, section your hair and coat it generously with the DIY coconut oil hair mask. Make sure your whole scalp is covered, then smear the mixture on your hair length.
Tie your hair up and cover it with a shower cap. Let it sit for about 15 minutes.
When the time is up, rinse off very well using tepid water then shampoo as usual.
Enjoy this luscious DIY coconut oil hair mask and come share your results! Remember, you can adjust the measurements of the ingredients according to your hair length & thickness!