If you've got dry damaged hair, then this avocado oil hair treatment is for you!
Not long ago, I shared that avocado oil is one of the best things you can use to repair dry damaged hair. And it's true! This semi-thick oil is truly nourishing and rejuvenating to hair! It's rich in essential fatty acids such as oleic acid that protect hair from heat damage and lubricate dry hair ends. What's more is that avocado oil is brimming with Vitamin E, also known as the beauty vitamin! Vitamin E is a powerful antioxidant which protects skin and hair from oxygen-stealing free radicals & UV damage.
Who should use this avocado oil hair treatment? This treatment is not just for people with dry damaged hair! If you have curly hair, frizzy hair, natural hair or dry hair, then this avocado oil hair treatment will work wonders on you.
Let's check out the easy recipe now, shall we?!
Avocado Oil Hair Treatment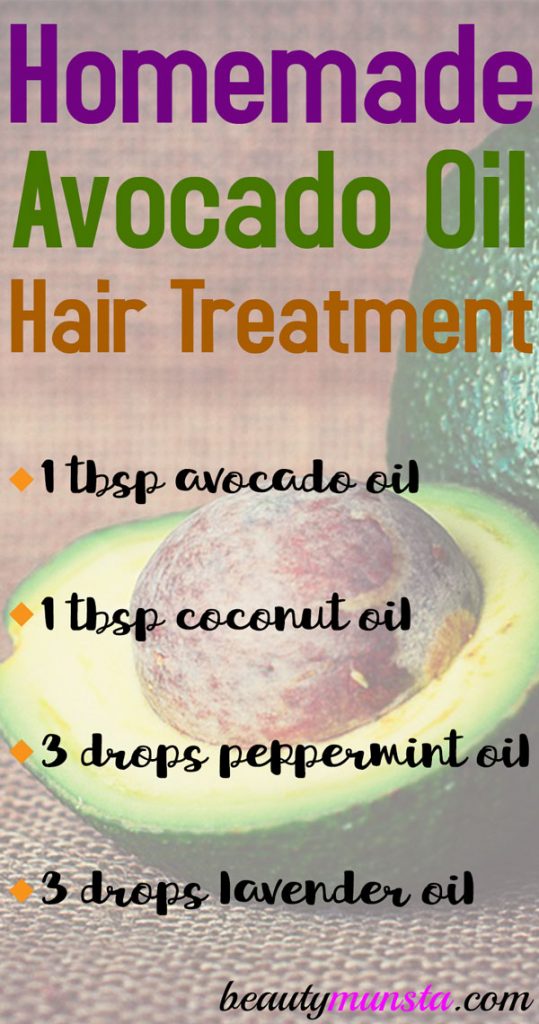 What you need:
1 tbsp avocado oil
1 tbsp coconut oil
3 drops peppermint essential oil
3 drops lavender essential oil
Small (heat-safe) glass bowl
Directions:
Into a small glass bowl, add 1 tbsp of avocado oil and 1 tbsp coconut oil.
Now add 3 drops of peppermint essential oil and 3 drops lavender essential oil.
Blend everything together with a spoon to combine.
Next, finally pop your bowl in the microwave or in a hot water bath (make sure the water doesn't enter the oil). This is to warm the avocado oil mixture to form a hot oil treatment – which is great stuff for your hair! Hot oil penetrates deeper and makes your hair shiny and luscious!
Once warmed to a comfortable temperature, get your bowl out and apply the oil all over your dry hair and scalp. You can section your hair so all areas are coated with some oil.
Tie your hair up and cover with a shower cap or old towel and let it 'marinate' for around 1-2 hours.
When the time is up, wash your hair well with a sulfate-free shampoo. Shampoo twice if necessary to remove excess oils.
After drying your hair, you'll be ecstatic! Dry brittle hair no more! Your hair will look and feel silky soft!

I hope you enjoy this avocado oil hair treatment. Use it 1-2 times a week for best results!