Read on to find out how to make a skin nourishing avocado cacao face mask!
I love using avocado and cacao to create a vegan chocolate pudding. But guess what you can mix these two delish ingredients for? That's right! An avocado cacao face mask! Let's check out the benefits of avocado and cacao for skin:
Avocado: A healthy fat, avocado is filled with nourishing fatty acids such as oleic acid. I've talked about the benefits of oleic acid before. It is very lubricating and good for protecting dry and mature skin from dehydration and wrinkles. Avocado also contains copious amounts of Vitamin E that is necessary for healing skin by repairing skin cells, fighting free radicals and keeping it looking smooth & supple.
Cacao: Cacao powder is the raw form of chocolate. It is brimming with antioxidants that boost your skin's beauty! Antioxidants fight free radicals that steal oxygen from healthy skin cells thereby making them look lifeless. They helps protect skin from UV damage and premature wrinkles! Cacao is also rich in other nutrients such as calcium, magnesium, sulfur, copper, iron, zinc, potassium, Vitamin E and b-vitamins. All these are necessary for supporting healthy skin from the inside and outside!
Avocado Cacao Face Mask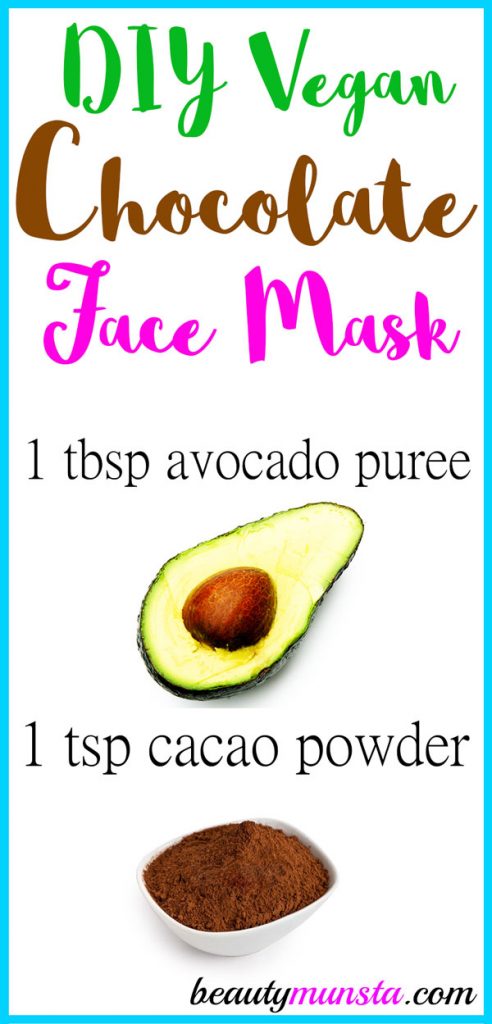 What you need:
1 tbsp avocado puree
1 tsp cacao powder
Small bowl & spoon for mixing
Directions:
Begin by washing, cutting in half and de-seeding an avocado.
Next scoop out 1 tbsp of avocado flesh from inside the fruit and place it in a bowl.
Mash it up to form a smooth puree.
Now add 1 tsp of cacao powder and mix well to form a smooth chocolaty mixture.
It's ready for application! Scoop it up with clean fingers and apply it all over your face, avoiding the eye and mouth area. Also apply on your neck. Make sure to tie your hair back and put a headband to keep away baby hairs from your forehead.
Also do this right before a shower so you can remove it easily from your neck in the shower.
Let the avocado cacao mask sit on your skin for 7 minutes then rinse off with warm water. Pat dry and enjoy your soft silky skin! You don't have to moisturize because your skin will already be moisturized by the nourishing oils in avocado!
You can do this every week when you need a nourishing antioxidant boost to your face. If you have dry or mature skin, you can apply this mask more frequently like 2-3 times a week.

Go whip up this avocado cacao mask and use it to nourish your face! You can come share your results!