Show your natural hair extra TLC! Make this DIY hair serum for natural hair! The recipe is easy and gives incredible results so try it out 🙂
If you have natural hair, you rock! You must have tried your hand at making at least one hair care product, right? Homemade products like hair mixes are very effective and work so well in keeping your hair looking its best.
Now it's time to get into DIY mode again – with this DIY hair serum for natural hair! Here are the benefits of this serum:
Keeps hair moisturized
Softens rough hair
Stimulates hair growth
Prevents hair thinning
Makes hair smell heavenly
Prevents hair breakage
Makes hair smooth
Adds a beautiful shine to hair
Combats dandruff & itching
Amazing benefits, right? Now I know you're itching to make yourself this hair serum! So let's get on with the recipe:
DIY Hair Serum for Natural Hair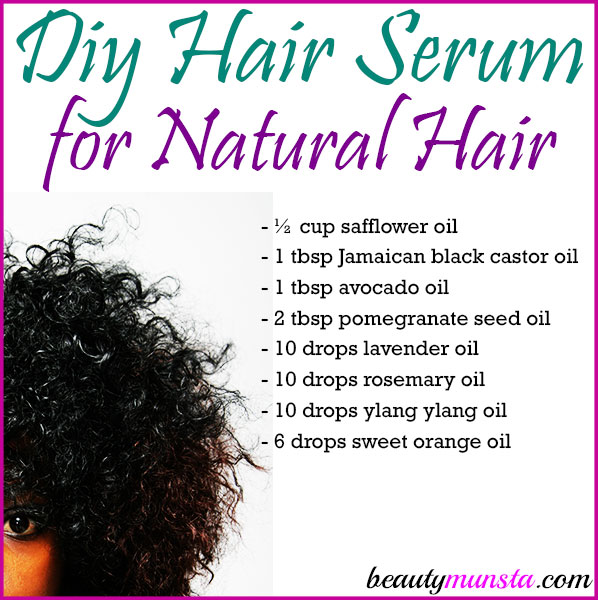 Note: I used a 1% essential oil dilution, meaning for every 1 tsp, I added 1 drop of essential oil. The safe dilution rate for adults is 2% so if you feel you need more scent, add 2 drops of essential oil for every 2 tsp. The recipe below uses 36 drops of essential oil so you'd add that multiplied by 2 which is: 72 drops. However, I feel a 1% dilution is enough. More than that is too overpowering!
What you need
Directions
Using a small funnel, pour in the safflower oil, JBCO, avocado oil and pomegranate seed oil.
Next, carefully add the essential oils, drop by drop.
After adding all the ingredients, close the bottle and shake well to mix everything up.
Your DIY hair serum for hair growth is ready! Store in a cool dry place, away from sunlight.
How do you use this DIY hair serum for natural hair? Well, use it for hot oil treatments, scalp massages, leave-in condition and any other ways you love!