Product build-up happens when frequent use of conventional hair care products containing chemicals and synthetics form a thin white film/coat on the scalp and hair strands. It can also be caused by minerals from hard water and chlorinated shower water. Hair with product build-up usually feels gunky & greasy and lacks luster.
Almost all commercial hair care products out there contain chemicals and synthetic ingredients including cetyl alcohol, sodium lauryl sulfate, formaldehyde, synthetic wax, etc that cause product build-up. One of the ways of removing product build-up naturally is by using clarifying hair rinses such as this DIY nettle hair rinse! What makes these ingredients ineffective in removing product build-up? Find out below!
Benefits of Stinging Nettle for Hair Growth & More!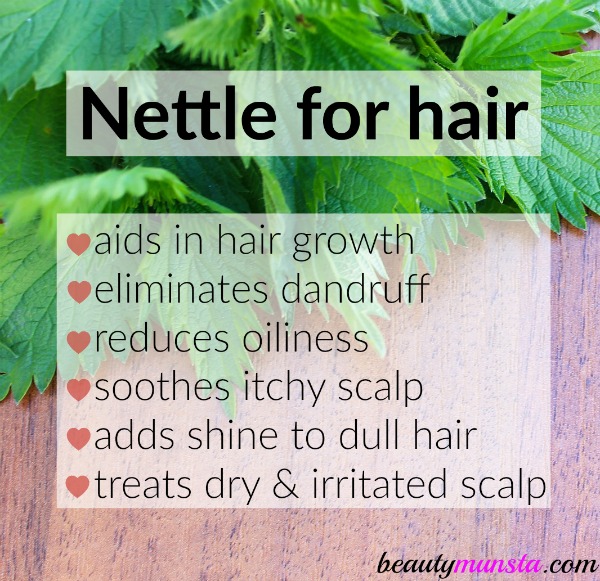 I've talked about the benefits of stinging nettle for hair growth and more in this post! From strengthening hair strands to removing product build-up, stinging nettle has so many benefits for a healthy scalp and beautiful hair. Go to the post to find out other ways to use stinging nettle in your hair care routine!
DIY Nettle Hair Rinse to Remove Build Up
Ingredients
What Makes Each of These Ingredients So Special?
► Raw Apple Cider Vinegar – I specifically say raw apple cider vinegar because this is the real apple cider vinegar with the 'mother'. It contains good bacteria and powerful antioxidants and no chemicals which are found in the synthetic red apple cider vinegar you find in stores. Apple cider vinegar is perfect for scraping off product buildup from the scalp without damaging the hair follicles. Its strong acidic nature removes chemicals and build-up from conventional hair care products. Apple cider vinegar also balances scalp pH. Our scalps naturally have a slightly acidic pH which can be ruined by using commercial shampoos and products that have a high alkalinic pH. Apple cider vinegar also eliminates dandruff & microbes as well as strengthens the hair, adds a natural shine and soothes scalp inflammation & itch.
► Lavender Essential Oil – The main reason for using lavender is to mask the strong herbal and pungent smell of the hair rinse but it also has other useful benefits as well! Lavender naturally conditions hair, stimulates hair growth, relaxes a tired scalp and moisturizes dry hair.
Directions
In a stainless steel pot, heat 2 cups of water.
Once it boils, remove from heat and add the dried stinging nettle.
Let it steep for 20-30 minutes or even an hour for a stronger tea. By this time it should have cooled down completely.
When the time is up, strain the now ready nettle hair rinse into a mason jar, pyrex measuring cup or whatever container you choose to use. I just used a tall glass jar.
Now add 1 tsp of organic apple cider vinegar and 5 drops of lavender essential oil and stir well with a chopstick.
That's it!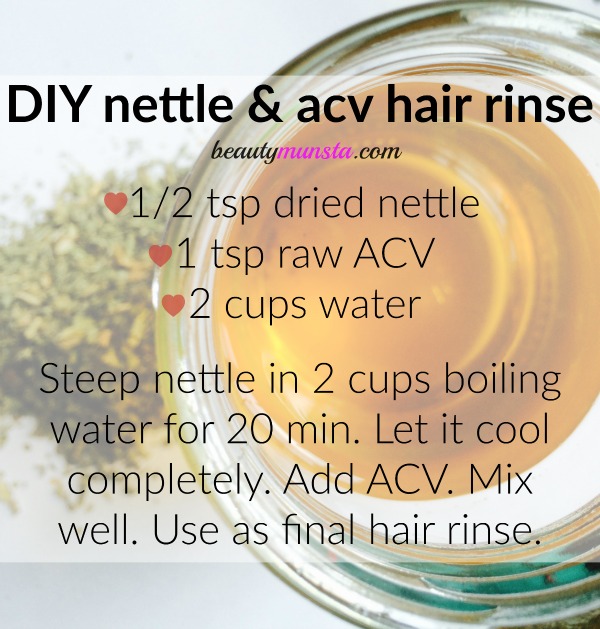 How to Use
Take the glass jar containing the nettle hair rinse to the bathroom.
Wash your hair as usual then slowly pour the nettle hair rinse on your scalp and over your hair strands while using your fingers to work it in.
When done, wrap your hair into a fluffy towel or you can do a final rinse with cold water. (I use hair rinse as the final/finishing rinse for my hair).
My Tips
Like many other hair rinses, you can choose to steep this nettle hair rinse overnight to make it more potent.
If you have dry hair, you might want to add 1 tsp of coconut oil to the hair rinse to seal in moisture and reduce frizziness. Coconut oil also helps prevent protein loss from the hair strands during hair washing!