Stinging nettle, also simply known as 'nettle', has not only been used in ancient Europe as a food during early spring when other foods were scarce but has also been used to a nutritive tonic for lactating mothers to boost milk production. Yes, I was surprised as well when I found that this common weed has more to offer than a nasty sting! However, in this post, I'll be talking about the benefits of stinging nettle for hair growth & more!
How to Harvest & Use Stinging Nettle
If you do spot this prickly plant in your backyard, wear a pair of thick gloves, long clothes and jeans and carefully cut off the main stem at the bottom. Next, place it on a newspaper and let it dry under the sun for about a week. When it turns dry & crisp, cut it into tiny bits with a pair of kitchen scissors or just grind it into a powder using your spice grinder or blender. Store in a mason jar. To make nettle tea, boil about ½-1 tsp of dried stinging nettle in 1 cup of water, strain and sip up. Make sure to add sweetener to make it more palatable! You could also use dried nettle to flavor pasta or add it in soups for more nutritive benefits!
Where to Get Stinging Nettle
Don't have access to the plant? Here's 1 pound of organic dried stinging nettle leaves all packed up and ready to be used!
Note: If you are pregnant, please consult a doctor before consuming nettle or using it on your body.
7 Benefits of Stinging Nettle for Hair Growth & More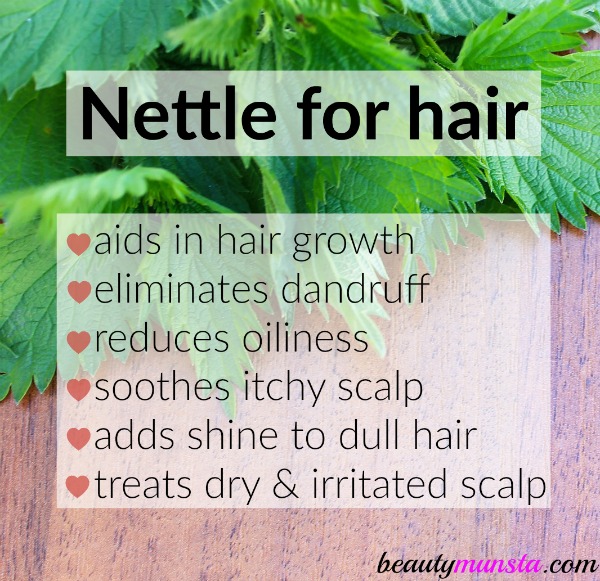 1. Promotes Hair Growth
Stinging nettle has actually been used since ancient times as a hair loss restorative. Drinking nettle tea and applying it on the scalp as a treatment or hair rinse helps prevent the hormone testosterone from being converted to DHT, which accumulates in the hair follicles and is known to be a primary cause of both male and female pattern baldness. It's also rich in iron & silica that both combat hair loss, prevent hair shedding and encourage hair growth.
2. Strengthens the Hair Follicles & Shaft
Using stinging nettle in your natural hair care routine strengthens the hair follicle, shaft and strands, preventing easy breakage and damage. Nettle also improves circulation in the scalp, thereby ensuring nutrient-rich blood to flow to each and every hair follicles, which strengthens them and promotes healthy, long and luscious hair.
3. Reduces Oiliness
Being an astringent plant, stinging nettle also reduces an overly oily scalp and hair. Its astringent properties help control oiliness by tightening the hair follicles, thereby preventing too much sebum from being secreted onto the scalp.
4. Adds a Shine to Dull Hair
Using nettle as a hair rinse naturally conditions it, prevents tangles, adds a shine to dull hair and reduces frizz and those annoying fly-aways! Try making a refreshing hair tonic by steeping for 20 min ½ tsp of dried stinging nettle leaves in 1 cup of boiling water. Let it cool down then transfer into a bottle or glass jar. Optional: Add a drop of peppermint essential oil to naturally condition & freshen your hair. After washing your hair as usual, do a final rinse with this hair tonic for shiny, smooth & soft hair!
5. Treats Dandruff
One of the most useful benefits of stinging nettle for hair is that it eliminates dandruff and flaky scalp issues. This is due to its oil control properties that ensure the scalp's sebum is balanced – without being too much or too little.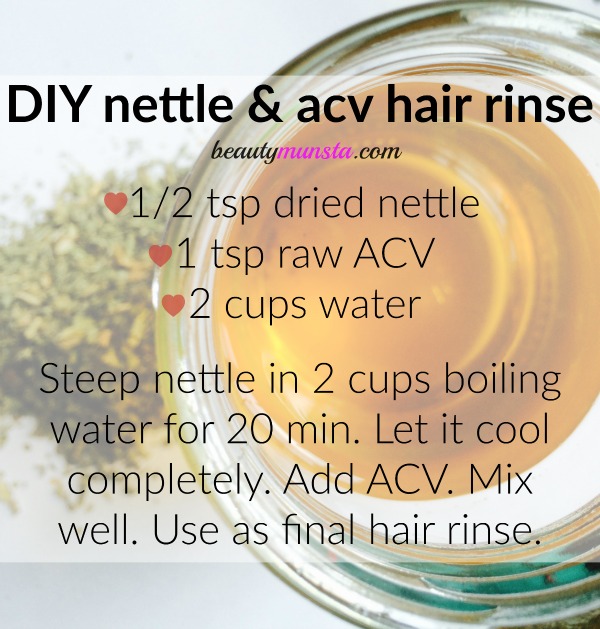 6. Solves Dry Scalp Issues
Got a dry and painful scalp? Try using nettle oil to instantly moisturize! All you need to do is place 1 cup of olive oil in a pan and heat on medium flame. Do not boil! Once hot enough, carefully add ¼ cup of dried nettle leaves and turn the heat on low. Cook for about 15 minutes until the herb is well-infused. Turn off heat and let it cool for an hour near an open window. Strain into a ball mason jar. Massage this onto your scalp to moisturize & heal dry scalp & hair ah hour or two before a shower.
7. Soothes Itchy, Irritated & Sensitive Scalps
In addition to treating dry scalp & dandruff, nettle also soothes irritated and itchy scalps! It works by moisturizing and hydrating dry & painful scalps while its antioxidant-rich nutrients nourish and soothe irritated and itchy scalps. To use, do a hot oil treatment by heating the oil infusion above until warm then scoop the warm oil and apply until your whole scalp is saturated. Let it penetrate for an hour then rinse off thoroughly using warm water and a natural sulfate-free shampoo.