Check out this diy coconut milk shampoo recipe for hair growth, conditioning, shine and more!
If you're a naturalista who loves to DIY your own hair products, then I'm sure you've heard of making a shampoo with coconut milk right?!
Coconut milk is extracted from the flesh of ripe coconuts. It's actually not hard to make coconut milk! In fact, you can make your own right at home:
All you need is a few ripe coconuts, a meat cleaver, water, high speed blender and cheese cloth!
Blend the coconut flesh together with a bit of water in your blender then squeeze the milk out using a cheese cloth.
If you don't have time to make your own coconut milk, buy Organic Native Forest Coconut Milk. You can also purchase Thai Kitchen Coconut Milk!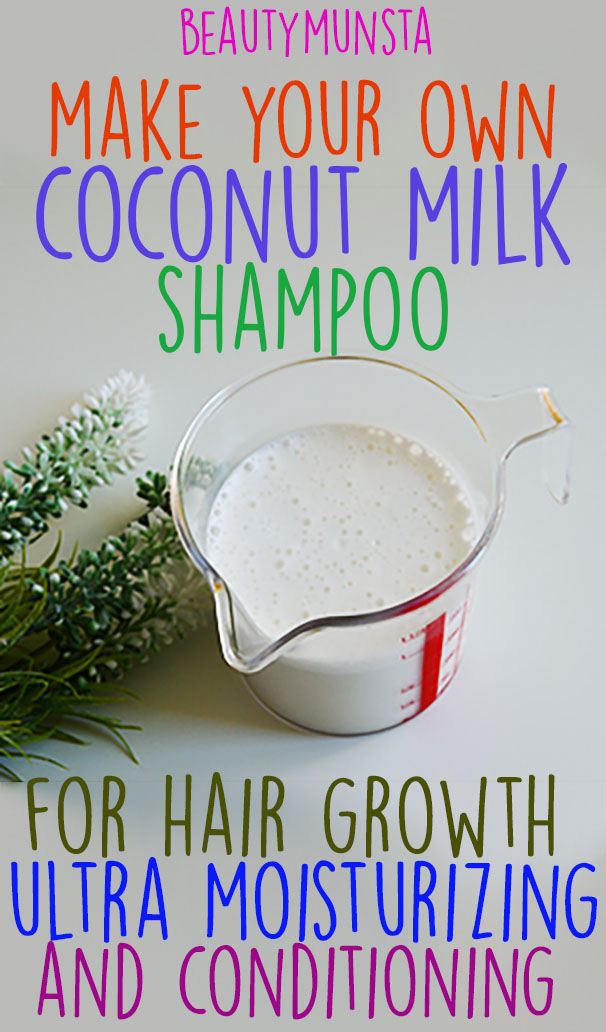 This creamy ingredient is so nourishing for girls who want to retain moisture and promote softer hair! It's also filled with nutrients like Vitamin E, essential fatty acids and others we shall see below:
Composition of Coconut Milk
Coconut milk is filled to the brim with nutrients such as the ones we shall see below! We're going to explore the benefits of these nutrients for scalp & hair health so read on!
Healthy fatty acids – Coconut milk contains healthy fatty acids such as lauric acid, which is an MCFA (Medium Chain Fatty Acid). It easily penetrates into the hair, deeply nourishing and conditioning it.
Vitamin C – Vitamin C builds collagen, which is important for hair health. It keeps the hair follicles and strands strong, preventing hair breakage and damage. Vitamin C also makes hair shiny and silky!
Vitamin E – Known as the beauty vitamin, vitamin E is a powerful antioxidant that is amazing for skin and hair health! It repairs damaged hair, moisturizes it and keeps it strong and healthy.
Protein – Coconut milk also contains protein, which strengthens hair strands and prevents hair breakage! Without protein, hair becomes weak and easily falls out.
Homemade DIY Coconut Milk Shampoo Recipe 
Okay onto the recipe! It's totally easy so try it out soon!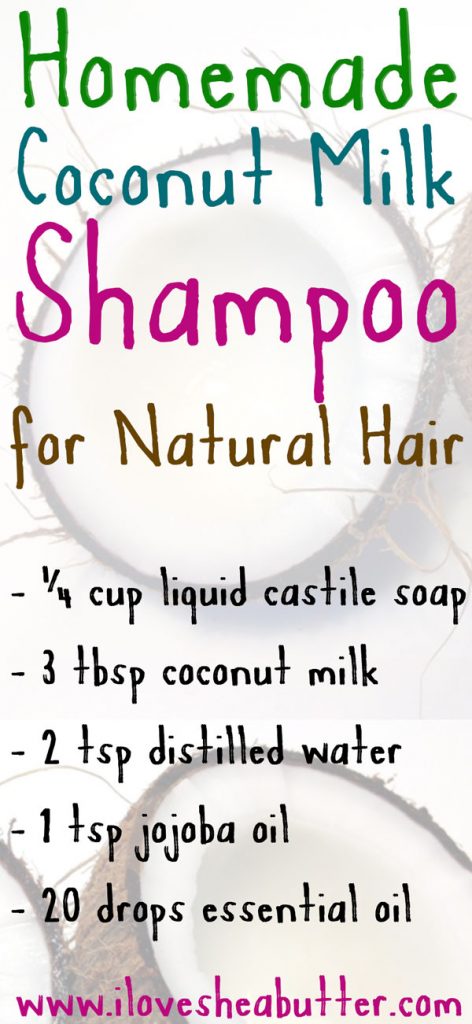 What you need
Directions
Mix the ingredients thoroughly till well combined. Remember you can use any other essential oils of your choice! For hair growth use lavender and rosemary!
Transfer into an applicator bottle.
Store in your refrigerator for up to one month. I haven't used tried using a preservative in this recipe so that's why I just store it in the fridge. You can take it out 30 min before you wash your hair so it can warm up.
Other Beautiful Hair DIYs You'll Love
Please try the above coconut milk shampoo recipe for natural hair! Come share your results!