For many naturals out there, a whipped shea butter moisturizer is just the thing needed to keep thick kinky or curly hair super moisturized and soft. Making your own is even more gratifying as you know exactly what ingredients you're going to be using plus it's very fun to whip up!
In this shea butter moisturizer recipe for natural hair, we'll be using quite a number of natural emollients and luscious ingredients such as coconut oil, castor oil and avocado oil among others. For beautiful scent and more hair nourishing properties, we'll be using two essential oils that blend very well together to create a great scented product! Now let's check out the ingredients list & their individual benefits for hair below!
DIY Shea Butter Moisturizer Recipe for Natural Hair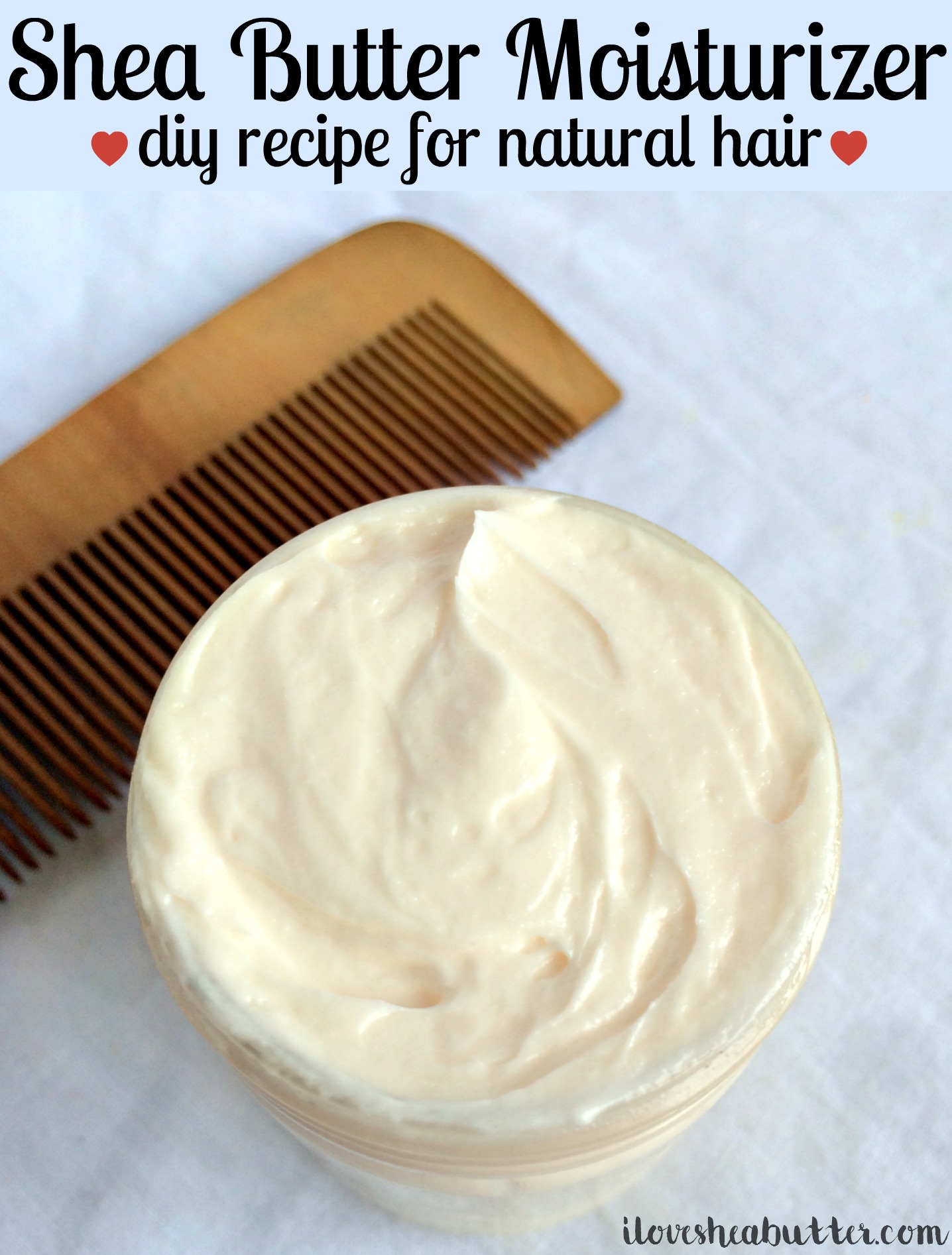 Ingredients
Benefits of the Ingredients Used
→ Coconut Oil – Rich in lauric acid which has an affinity for hair proteins, coconut oil is one nourishing hair for natural curls, kinks or tresses. When applied, this tropical goodness binds to the natural protein structure of hair, retaining its normal hydration levels and promoting a glossy sheen.
→ Avocado Oil – With its high content of monosaturated fatty acids (even higher than coconut oil), avocado oil is a great emollient for natural haired gals. The thing with oils rich in monosaturated fats is that they have the ability to penetrate deep into the skin & hair strands, nourishing and moisturizing them from within. Avocado oil in this recipe helps moisturize natural hair without leaving any greasy residue.
→ Jojoba Oil – With its medium consistency, jojoba oil brings a natural moisturizing effect to hair without greasing it up. It's also known to have a molecular structure similar to that of our own oils produced by the skin and scalp, so if you want to balance your scalp sebum and get your hair to its original state, you definitely must add it to your moisturizer recipe for natural hair!
→ Castor Oil – We all know how great castor oil is in the moisturizing department. It works wonders in lubricating and softening rough hair. It's also a good treatment for thinning hair and has anti-fungal properties that ward off scalp infections. Since it's a very thick oil, be careful not to use too much otherwise you may find your hair too oily and icky feeling! This recipe uses only two tsp but if you have thinner hair, then use only 1 tsp to be safe.
→ Lavender Essential Oil – Not only for relaxation, this essential oil works amazing in nourishing & hydrating hair as well as conditioning it. It also gives a fresh floral scent to natural hair!
→ Vanilla Essential Oil – Vanilla wasn't added just for the scrumptious scent! It also has benefits for hair such as preventing it from free radical damage.
A Note about the Essential Oil Blend
The vanilla lavender essential oil combo smells absolutely amazing! Vanilla is a scent that I'm sure everyone loves (who doesn't like vanilla cake?!) and lavender has a fresh floral scent that's soothing as well. I like to add just a few drops of essential oils in my DIY recipes because as you know, a little goes a long way when it comes to essential oils. However, this recipe has a considerably high amount of essential oils to provide a scent that lasts long on your hair, leaving your hair smelling beautiful always. If you feel it's too much, please feel free to reduce the amount!
Method
Place the shea butter and coconut oil in a double boiler and gently melt the two together. You can create your own makeshift double boiler by resting a heat proof bowl over a pot containing a couple inches water. The bowl shouldn't touch the water. Heat the pot over a low flame. That's your double boiler! Now add the shea + coconut and let them melt together to liquid form.
Once they have liquefied, remove from heat and place in the refrigerator for about 15-20 minutes. This enables them to cool down and partially solidify, facilitating easy whipping with a hand mixer.
When the time is up, take it out of the refrigerator and start whipping using a hand mixer for a minute or until it resembles a smooth cream. Scrape down the sides using a spatula.
Now add the rest of the oils and start whipping again. Keep scraping down the sides of your bowl and continue whipping until all the ingredients have combined together to form a white silky cream.
And it's ready! All you have to do now is scoop up your finished product into a clean container.
Store in a cool dry place.
Notes
Don't have a hand mixer? Since we're using many oils in this shea butter moisturizer recipe for natural hair, you're better off using a hand mixer to speedily blend everything until well-combined. If you don't have a hand mixer, then use a small blender like a Magic Bullet or food processor – it still works! But make sure the heat from the motor doesn't melt the mixture when using a blender by blending in short intervals.
You can add other essential oils of your choice such as peppermint (refreshing scent), ylang ylang (exotic flower), geranium (feminine scent), sandalwood wood (warm spice) & sweet orange (citrus burst)!