Hey guys! Shea butter is amazing, isn't it?! Yup, this precious plant butter from Nature is so wonderful. With its boatload of nutrients and silky moisturizing capabilities, it's a natural product that must have a place in your beauty stash.
Okay, so in today's post, I'm gonna share with you lovely souls some exciting shea butter recipes for natural hair! It's high time we stopped using chemical-laden stuff on our hair, and started using natural homemade hair products to give our curls some TLC!
Get DIYing! 5 Shea Butter Recipes for Natural Hair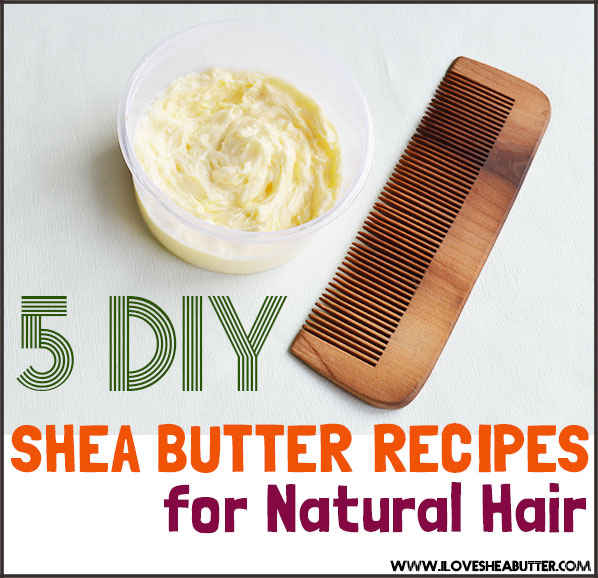 1. Luscious Natural Hair Moisturizer
What you need
Directions
Melt your shea butter and coconut oil using a double boiler.
Once melted, remove from heat and let it cool off in the refrigerator for about 15-20 minutes.
Then use a hand mixer to blend the two ingredients for a minute into a cream.
Next, add the rest of the oils and whip again using the hand mixer until well incorporated.
And it's ready! Transfer to a clean container and store in a cool dry place.
2. Cleansing Shea Butter Shampoo
What you need
Directions
Begin by melting the shea butter using a double boiler.
Once melted, let it cool off then pour it into a bowl.
Now pour into the bowl, the distilled water, aloe vera gel and liquid castile soap.
Blend well using the immersion blender until well mixed.
Pour your ready-made shampoo into an applicator bottle.
To use, work it into wet hair then rinse off thoroughly.
Store in a cool dry place and shake before use.
3. Amazing Detangling Conditioner
Recipe credit: beautymunsta.com
What you need
Directions
Blend everything together in a high speed blender (except for the palma rosa oil).
Then pour it into an applicator bottle and add the essential oil.
Shake well to mix and voila! Your detangler is ready!
Apply to hair as needed, let it sit for 5-10 minutes then rinse off.
4. Silky Hair Leave-in-Conditioner
What you need
Directions
Simply dump everything (except essential oil) into the blender and blend away till smooth.
Now transfer into your container and stir in the essential oil.
Voila! Leave-in condish ready! Spread a suitable amount in your hair then massage it in for silky soft locks!
5. Rosemary Hair Pomade
What you need
Directions
Melt the shea butter and beeswax pastilles in a double boiler.
Once liquefied, let it cool slightly then add the olive oil and rosemary oil.
Stir well and pour the liquid mixture into a glass jar.
Place in the refrigerator for 20-30 minutes to solidify.
Store in a cool dry place. Use a suitable amount to style hair.
So how d'you like the above shea butter recipes for natural hair?! I hope you're ready to try 'em because they sure work like a charm!