Leave-in conditioners are totally easy to make! If your hair is naturally dry, frizzy or wild, using a leave-in conditioner will do it a lot good, trust me! Below, I'm sharing 3 DIY leave-in conditioner recipes! Enjoy ~
These recipes can suit hair of all types: natural hair, kinky hair, fine hair, frizzy hair, curly hair and so on. So feel free to try any of them out! You can adjust the measurements according to your hair length, thickness and what you think is best for your hair!
3 DIY Leave-in Conditioner Recipes for Silky Hair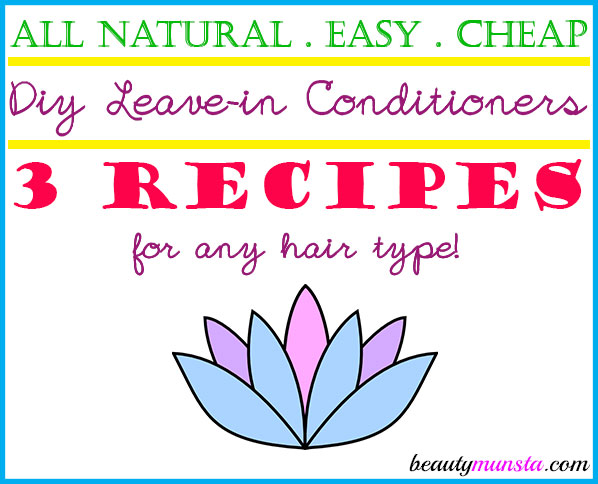 1. Moisturizing Shea Coconut Leave-in Conditioner
Benefits
Seals moisture into dry hair
Fights frizz
Softens hair
Enables easy de-tangling
Makes hair shiny
What you Need
Directions
Begin by melting your shea butter to make it easy to work with as raw shea butter is solid and hard in its natural form. Use a double boiler for this. If your coconut oil is also hard, then melt it together with the shea. If it's creamy, you can stir it in the melted shea butter.
Once melted, add the olive oil.
Now place the mixture into the refrigerator for about 15 minutes or until it turns partially solidified.
Then get it out and add the drops of essential oil.
Whip it until fluffy using a hand mixer.
Ta-da! Your leave-in conditioner is ready! Store in a sterilized storage container.
Apply on freshly washed damp hair to seal in the much-needed moisture.
2. Apple Cider Vinegar Leave-in Conditioner
Benefits
Removes product build-up from hair
Adds a beautiful sheen to hair
Controls excess oily hair
Helps easy detangling
What you Need
Directions
Fill an 8 oz spray bottle with distilled water then add the apple cider vinegar and lemon essential oil.
Cap the bottle and shake gently to mix all ingredients up.
Spray onto damp hair as a leave-in conditioner, then dry and detangle it.
You can also use this apple cider vinegar conditioner right after using the above moisturizing conditioner.
3. Fruity Hair Oil Blend Leave-in Conditioner
Benefits
Light leave-in conditioner for thin/fine hair
Good for the summer
Seals moisture into hair without weighing it down
Smells fruity
Helps detangle hair
Makes hair smooth and soft
Strengthens the hair strands
What you Need
Directions
Pour the grapeseed, apricot kernel and watermelon seed oil into the dropper bottle using a small funnel.
Now add the drops of essential oil and close the bottle.
Shake gently to mix all the oils together.
To use, place a few drops on one palm, rub both palms together then run them along the length of your damp (freshly washed) hair.
You can also apply this leave-in conditioner right before showering as a pre-poo.
There you are! 3 fantastic DIY Leave-in Conditioner Recipes for Healthy Hair! Hope you find any of them useful!