Having eczema is not easy. The itchy red and blistering patches on your skin can get very unbearable. And using conventional creams that contain chemicals may irritate it more! That's why more and more people are turning to natural remedies for eczema. For example: shea butter!
The thing with shea butter is that it's all natural, a superior moisturizer and is packed with numerous nutrients including vitamin A, E and K. Don't forget the lubricating fatty acids that protect sensitive skin, reduce inflammation and moisturize skin on a whole other level.
Today I want to share with you 3 shea butter recipes for eczema in the hope that it will help anyone out there with eczema! Please try out any of the recipes and come share how they worked out for you.
3 DIY Shea Butter Recipes for Eczema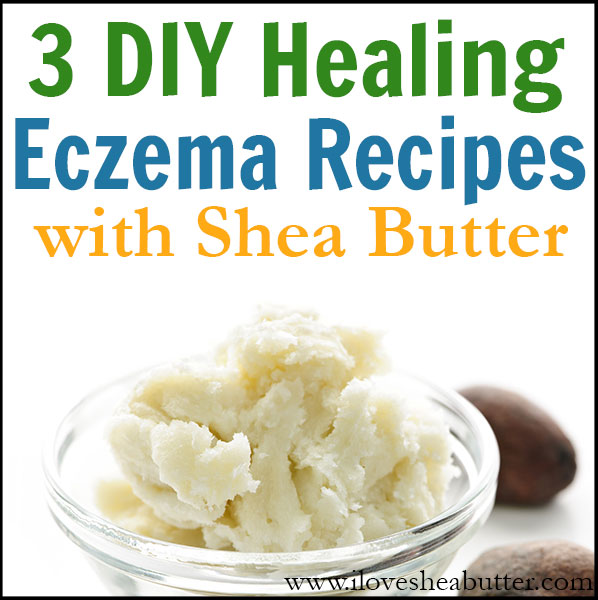 1. Skin Soothing Lotion
What you need
Directions
Over a double boiler, gently melt the shea butter and coconut oil to liquid form.
Once it's melted, add the colloidal oatmeal, sea buckthorn oil and vitamin E oil.
Stir very well to evenly combine the ingredients together.
When everything is well combined, remove from the double boiler and pour into a sterilized container.
Now stir in the chamomile oil using the handle of a long spoon or a plastic spoon.
Let it cool off and harden up in the refrigerator overnight.
Store in a cool dry place. If you live in a hot region, the coconut oil may melt so store it in the refrigerator.
Use liberally on the eczema patches as needed.
2. Calming & Cooling Eczema Body Moisturizer
What you need
Directions
Into your blender, add all the ingredients.
Blend on high speed for a few seconds until you get a smooth mixture.
Pour the mixture into a sterilized container.
Smooth over affected areas for a soothing and cooling relief.
3. Skin Softening Bath Melts
What you need
Directions
In your blender, grind the lavender flowers and colloidal oatmeal together to form a powder.
Now add in the shea butter, olive oil and lavender oil. Blend again till you get a smooth mixture.
Pour the mixture into silicone molds.
Freeze for 2 hours.
When the time is up, pop them out of their molds and store in a clean dry container. You may store it in the refrigerator to prevent melting.
Drop just one bath melt in a warm bath and let it slowly dissolve while you soak in. This will soothe and soften your eczema.
Caution: Be careful as the bath tub will become slippery after you're done soaking.
The above shea butter recipes for eczema are really effective and work like a charm! Try any of them for natural relief!