Dry itchy and inflamed eczema patches can hurt pretty bad. That's why you need something soothing like oatmeal to calm the irritated skin. Enter our all natural DIY Eczema Cream with Oatmeal that soothes and calms irritated skin!
It contains colloidal oatmeal, which is oatmeal that's grinded to fine powder. This makes it easy to incorporate it into the recipe. If you want, you can buy whole oats and grind it yourself. But colloidal oatmeal is quicker, really fine grain and much easier to use!
To combine all ingredients together, we're going to use a double boiler. This will make sure everything is evenly distributed, including the oatmeal.
Okay, so let's get on with the recipe!
DIY Eczema Cream with Oatmeal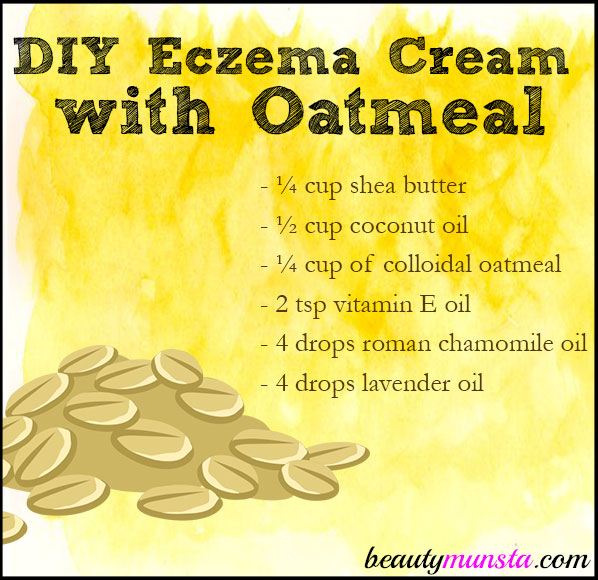 What you need
Directions
What you're going to do is first melt the shea butter and coconut oil using a double boiler. Don't melt them directly on a pan because this direct heat can destroy the nutrients. Use a double boiler for gentle melting.
Now when it has melted down to liquid form, add the colloidal oatmeal and vitamin E. Stir very well to form a creamy mixture.
Turn off the heat and add the essential oils. Stir again to combine.
Carefully pour the mixture into a sterilized glass jar.
Let it harden overnight in the refrigerator.
Apply on eczema patches after a shower to heal skin and keep it moisturized.
My Tips
If you're allergic to shea butter, you can use mango butter or deodorized cocoa butter instead.
Got bleeding wounds? Then add 3 drops of helichrysum oil to this recipe.
Store the eczema cream in the refrigerator if you live in a hot region. This will prevent the coconut oil from melting and leaving your cream liquidy.
Now you know how easy it is, are you ready to make your DIY eczema cream with oatmeal?!
More Natural Eczema Remedies