This gente oatmeal eczema scrub exfoliates dry patches and gently soothes and calms skin. I'll show you  how to make an oatmeal paste for eczema as a natural treatment for soothing relief!
What's your first reaction when you notice your child scratching a patch of dry skin? Before you even confirm it's eczema – reach for the oats! Oatmeal is probably the best natural remedy for eczema. It's very soothing and has miracle healing properties for dry itchy inflamed and irritated skin.
Oatmeal is also non-toxic and non-irritating to sensitive skin. It contains natural saponins, that get activated when it is mixed with water. These saponins are cleansing agents that have a soothing effect on skin. Oatmeal is also rich in silica which is good for treating problem skin.
There are many ways of using oatmeal for eczema. The most popular remedy is an oatmeal bath. But another effective method is making an oatmeal paste for eczema! In this post, I'll show you how to do it!
How to Make an Oatmeal Paste for Eczema
*Instead of water, you can use rose water or lavender hydrosol as your liquid ingredient to mix up the oatmeal! Rose and lavender hydrosols are cooling and soothing to skin!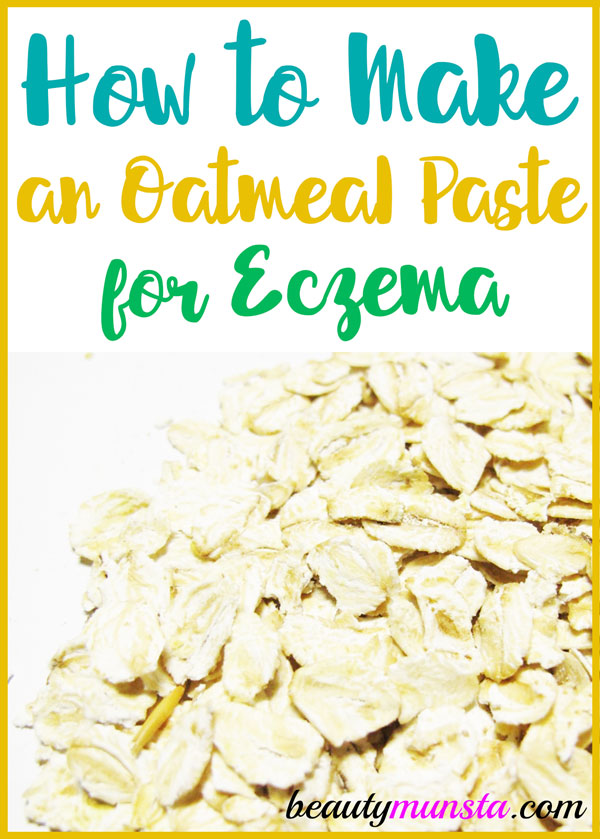 What you need:
¼ cup colloidal oatmeal
Enough water to form a paste
Optional: 1 tsp manuka honey
Optional: 1 tsp coconut oil
Optional: 4 drops lavender essential oil
Medium sized bowl and spoon for mixing
Directions:
Into a medium sized bowl, add ¼ cup of colloidal oatmeal.
Next slowly add water while mixing up the oatmeal with a spoon until you form a smooth easily spreadable paste.
Your oatmeal paste is ready for application!
You can apply it directly on your eczema patches or, add other nourishing ingredients for extra healing action. These ingredients include coconut oil, manuka honey and even lavender essential oil.
To use, scoop a suitable amount and gently apply it onto your eczema patch. Leave it on for 15 minutes then rinse off carefully using tepid water. Moisturize using shea butter!

I hope you've learned how to make an oatmeal paste for eczema! Which nourishing ingredients are you interested in adding for extra healing?