Find healing by using natural remedies for poison ivy because drug store treatments do come with side effects.
Try Natural Remedies for Poison Ivy
Poison ivy is one of the deadliest plants on the planet. If you are unfortunate enough to come into contact with the plant, you may encounter severe allergic reactions on your skin in the form of blisters, irritation, burning, swelling and rampant itchiness.
Luckily, poison ivy rashes can be treated at home with simple natural remedies! Make sure you address the rash immediately to gain a faster cure. Leaving the rash untreated for more than 3 days can lead to chronic manifestation of the symptoms.
Top 10 Natural Remedies for Poison Ivy
So what are you waiting for?! Let's get right into the top 10 natural remedies for poison ivy!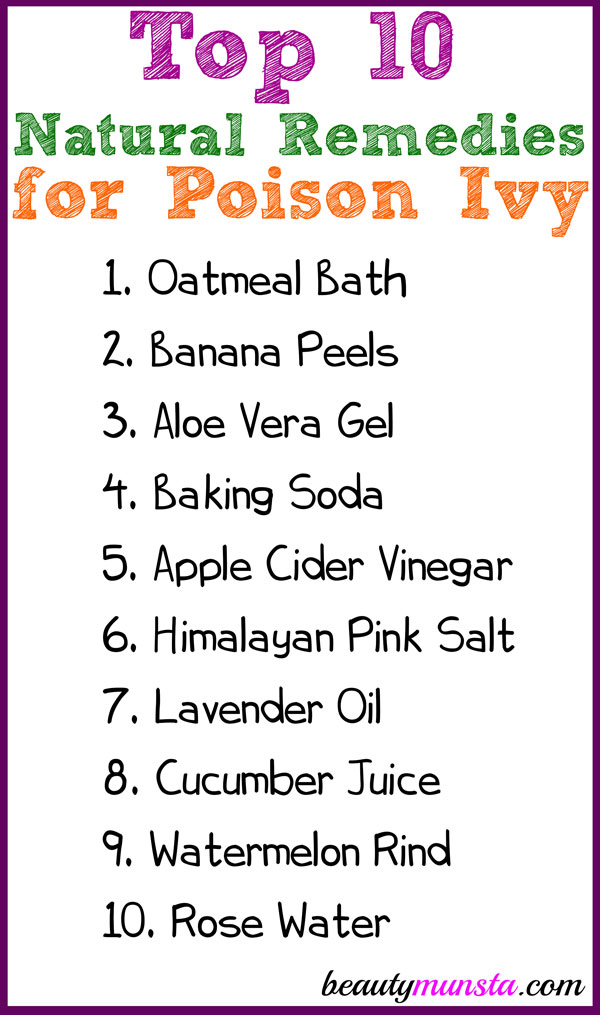 1. Oatmeal Bath: There's nothing more soothing than an oatmeal bath. Soak in a warm bath with 1 cup of colloidal oatmeal dissolved in it. This will draw out the poison and soothe the skin.
2. Banana Peels: The inside of a banana peel has surprising healing compounds. Rub the inner portion of a banana peel all over the rash to relieve itching and heal the skin. Or stick the peels on your rash if it's too painful and irritated.
3. Aloe Vera: The gel of aloe vera has amazing cooling and itch-relieving properties. Apply the gel all over rashes for quicker healing.
4. Soothing Baking Soda: Make a paste of baking soda and water and apply all over the rash. The alkalinity of baking soda will neutralize the poison, which is acidic.
5. Apple Cider Vinegar: Dilute apple cider vinegar in water at a 50:50 ratio and apply it on the skin using cotton balls or a small wet cloth. Organic apple cider vinegar helps detox the skin by removing toxins out of the pores.
6. Himalayan Pink Salt: Salt acts as a drying agent on the rashes and therefore pulls out the excess liquid and poison from the pores of the skin. Himalayan pink salt also contains a myriad of minerals that help soothe the skin.
7. Lavender Essential Oil: Like Himalayan salt, lavender essential oil has strong drying effects that are great for poison ivy rashes. What's more, lavender oil relieves itching, regenerates the skin and prevents scarring. Mix it in aloe vera gel – 5 drops of lavender oil in ¼ cup of aloe vera gel then apply.
8. Cucumber Juice: Blend cucumbers and strain them to extract the juice. Soak cotton balls in the juice and apply them over the rash. You can leave them on until they dry or just apply the juice on the skin periodically.
9. Watermelon Rind: After you eat watermelons, don't discard the rind. Instead rub them over your rashes to heal poison ivy rash.
10. Rose Water/ Hydrosol: Rose hydrosol is the flower water derived as a by-product of the essential oil extraction process. Transfer your rose hydrosol into a spray bottle and spray all over the rash as many times as needed for soothing and healing.

Have you been stung by poison ivy before? What natural remedies did you use to heal poison ivy rashes?