I love colloidal oatmeal, it's literally the most skin soothing ingredient out there! And it is so versatile, once you buy a bag you can use it for so many different purposes! Today, I want to share with you 11 amazing beauty benefits of colloidal oatmeal!
What is Colloidal Oatmeal?
Collidal oatmeal is basically oat powder. It's made by finely grinding oats into an extremely fine silky white powder. 'Colloidal' means glue-like or gummy.
It is got from the Greek word colloid [meaning: glue-like]. It is a mixture in which one substance is divided into minute particles (called colloidal particles) and dispersed throughout a second substance. The mixture is also called a colloidal system, colloidal solution, or colloidal dispersion.
So basically, colloidal oatmeal is called so because it's specifically meant to be mixed in another substance (water) so that it attain colloidal properties.
Where to Get Colloidal Oatmeal
It's tricky to make your own colloidal oatmeal without it clumping up together so it's best to purchase it so that it remains a silky fine white powder. Make sure you purchase 100% pure colloidal oatmeal. Many manufacturers actually add other ingredients, that are totally unnecessary, such as perfume, stabilizers, oat oil, etc to their colloidal oatmeal. My recommended colloidal oatmeal is Extra Fine Bathing Oatmeal from Molly's Bath Products
11 Beauty Benefits of Colloidal Oatmeal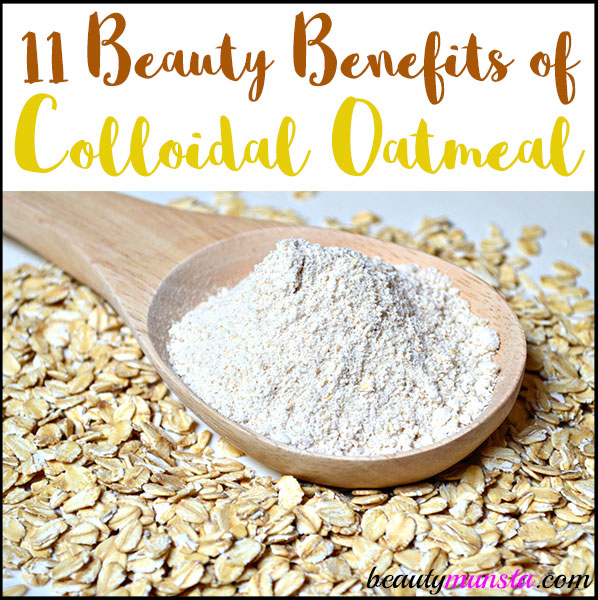 1. Cleanses Skin
Colloidal oatmeal is my favorite face wash. It's so cleansing and removes dirt, stale oils and dead cells from skin. What makes colloidal oatmeal good for cleansing skin is its saponin content. Saponins are natural cleansing agents found in certain plants. They are also found in soap nuts, rye flour, garbanzo bean flour and green bean powder as well.
► Oatmeal Face Wash: Into a clean jar, add ½ cup of colloidal oatmeal then add 5 drops of lavender essential oil. Shake the jar to combine the ingredients. When you're going to wash your face, place a tsp of the face wash on your palm, add a little tap water to create a paste then rub it all over your face gently. Rinse off with tepid water, pat your face dry then tone and moisturize.
Also check out my DIY Soap-Free Face Cleanser Recipe which uses colloidal oatmeal!
2. Soothes Acne
Soothe painful red angry and inflamed acne using colloidal oatmeal! It has skin soothing properties that will help calm down angry acne. Here's how to make a soothing acne mask:
► Soothing Acne Mask: Into a small bowl, add 1 tsp of colloidal oatmeal. Now add 1 tsp of raw honey and a drop of tea tree oil. Mix everything together with your clean fingers. Apply it gently on your whole face or acne affected areas. Let it sit for 3 minutes then rinse off with warm water.
3. Calms Itchy Skin
If you have itchy skin, soak in a colloidal oatmeal bath right now to relieve the itching fast!
► Itchy Skin Bath: All you need to do is dump a handful or two of colloidal oatmeal into a warm bath. Then mix 7 drops of tea tree oil with 1 tbsp of coconut oil and add it to the bath as well. Soak immediately to soothe your itch.
4. Treats Inflammatory Skin Conditions
If you have eczema, rosacea or psoriasis, stock up on colloidal oatmeal. It has great skin soothing properties and helps reduce inflammation. You can make a DIY colloidal oatmeal lotion to moisturize and heal your skin.
► DIY Colloidal Oatmeal Lotion: You will need to cook ½ cup of colloidal oatmeal in 2 cups of water. Once thick and goopy, remove from heat and let it cool down. Then strain the oatmeal using a plastic fine mesh strainer into a blender jar, to collect the smooth and thick goop without the oat grains. Now add 4 tbsp of soft shea butter and ¾ cup of soft & creamy coconut oil into the blender jar. Also add 1 tsp of manuka honey, 1 tsp of vitamin E oil and one 1000 mg Vitamin C tablet, finely crushed. Blend everything together to form a smooth creamy mixture. It will take literally just a few seconds to combine everything. Make sure you get a smooth cream after blending. Transfer your ready-made oatmeal lotion into sterilized jars and store in the refrigerator. Use liberally on your affected areas or whole body after a bath/shower.
5. Makes Skin Soft
Got rough and tough skin? It's time to start having colloidal oatmeal baths! They will make your skin baby-soft and smooth!
► Skin Softening Bath: Simply add a handful or two of colloidal oatmeal to your bath, together with 2 cup of milk or ½ cup of powdered milk. Next add a mixture of 1 tbsp coconut oil and 10 drops of rose essential oil. Soak in this bath every time you want to have an At-Home Spa Experience! You can even add a handful of dried rose petals for more skin nourishing effects!
6. For sensitive skin
If you have sensitive skin, try having baths with colloidal oatmeal or make my DIY Soap-Free Body Wash to calm your skin and reduce irritation.
7. Relieves Skin Rashes
Skin rashes can be soothed instantly using colloidal oatmeal! Simply mix a suitable amount of colloidal oatmeal with a little rose water to form a paste. Now rub this onto your rashes gently and leave it to work its magic for about 5 minutes. Rinse off with warm water and do this 3 times a day to alleviate your rashes. Also have oatmeal baths to help heal your rashes.
8. DIY Facial Mask
Colloidal oatmeal is one popular facial mask ingredient for homemade beauty treatments. I love using oatmeal facial masks because they leave skin looking and feeling soft and beautiful!
► DIY Oatmeal Face Mask: Into a small bowl, dump in 2 tsp of colloidal oatmeal. Now add enough rose water to create a sticky paste. Add 2 drops of tea tree oil. Your facial mask is ready!
9. Moisturizes Skin
If you have dry cracked skin, colloidal oatmeal can help restore moisture into your skin cells. It's a humectant which draws moisture from its surroundings.
► DIY Oatmeal Skin Cream: Melt ¼ cup of shea butter and ½ cup of coconut oil in a double boiler. Once melted, let it cool down a bit then stir in ¼ cup of colloidal oatmeal and 2 tsp of vitamin E oil with a whisk. Stir it very well to form a creamy mixture. Now you can add 10 drops of essential oil for a lovely scent and skin healing properties! Store in a sterilized amber glass jar. Keep it in the refrigerator to prevent it from melting during the summer.
10. Treats Scalp Eczema & Psoriasis
You can also use colloidal oatmeal to soothe your scalp eczema and psoriasis. Simply mix ¼ cup of colloidal oatmeal in a bowl with ½ cup of water. Let it soak overnight or at least 30 minutes. Then strain it to get the thick oatmeal water. Now add another soothing ingredient like raw honey and mix well. Gently work this mixture into your scalp and leave it on an hour before washing your scalp.
11. DIY Oatmeal Shampoo
As I already mentioned, oatmeal has natural cleansing agents called saponins in it. This gives it a natural lathering effect. So if you want to make a DIY shampoo, try this one out! It is also immensely useful for scalp psoriasis, a sensitive scalp and scalp eczema.
► DIY Oatmeal Shampoo: Bring 2 cups of water to a boil then add ½ cup of colloidal oatmeal. Reduce the heat and stir it continuously for a minute. Turn off the heat when it turns gooey. Let it cool down completely then strain with a plastic fine mesh strainer to extract only the liquidy goo. Transfer this goo into a squeeze bottle then add 7 drops of lavender essential oil. Shake well and take it to the shower with you. Wet your hair then work the shampoo into your scalp and hair length. Let it sit for a minute then rinse very thoroughly with war water first then cold water. Enjoy your soothed scalp and silky locks of hair! You can store this shampoo in the refrigerator for up to 5 days. Use it immediately, though for best results.
Hope you enjoyed these 11 beauty benefits of colloidal oatmeal! Try out any of the above DIY recipes and let me know how they helped!