Do you have an uneven skin tone? With some areas on your face/body being darker than the rest? Then there's a high chance of you having hyperpigmentation.
Many people are affected by this skin problem and it mainly affects people with a darker skin tone. Hyperpigmentation is caused by various factors such as sun damage, inflammation and acne/acne scars. It occurs when the skin produces excess melanin in one particular area of the body, making it appear dark.
Thankfully, you can get rid of or at least reduce hyperpigmentation! How? By consistently using natural remedies!  There are a lot of kitchen ingredients and products from Nature that you can use to even your skin tone.
In this post, we shall be looking at how to even out hyperpigmented skin using a DIY hyperpigmentation scrub. It contains powerful natural ingredients that work in lifting off the darkened skin cells to reveal softer and lighter skin.
DIY Hyperpigmentation Scrub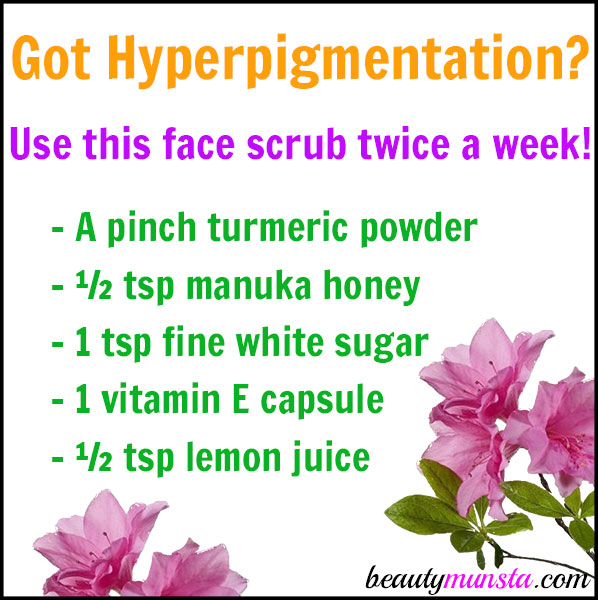 What you Need
Directions
Into a small mixing bowl, add the white sugar, turmeric powder, manuka honey then the drops of lemon essential oil.
Snip off the edge of the vitamin E capsule and squeeze out the oil into the bowl.
Mix everything well with a spoon to form a slightly abrasive texture.
Scoop up the mixture and rub it gently in circular motions onto your clean face.
Scrub for about a minute then rinse off your face using warm water first, then cold water.
Wash your face with your cleanser.
Pat dry with a soft towel then moisturize with your usual moisturizer.
Repeat this DIY hyperpigmentation scrub 2 times a week.
Take Care
Lemon is photosensitive, meaning you shouldn't apply it on your face then expose the skin to sunlight. Rinse your face very well and wash it with soap after using this scrub.
Be gentle when scrubbing your face.
Hope you find this DIY hyperigmentation scrub useful! Remember, consistency is key so keep using it to see results!