Cracked heels are unsightly and can be painful when the cracks are deep and bleed. They're even more frustrating because they take long to remedy. However, if you make this homemade foot scrub for dry cracked feet, you have a chance of regaining soft smooth heels once more!
When you want to wear sandals, flip flops or go bare feet in the beach during summer, you realize you have been hiding cracked heels. What do you do? Start searching for a quick fix, right?
The foot scrub below is one such quick fix although its effects do last longer than any other and it can be your cure if used consistently.
Let's take a look at what ingredients we shall be needing for this homemade foot scrub for dry cracked feet:
Ingredients in this Recipe & How they Help
Epsom salts – This mineral rich salt has a slight gritty texture that's good for scrounging off dead cells from cracked and dry feet. It's also good for soothing tired feet and burning cracked heels. Epsom salts remove impurities and dirt from skin as well.
Liquid coconut oil – Acting as the base ingredient for this foot scrub, liquid coconut oil is already melted and not in solid form. It is easily penetrative and keeps skin looking smooth and moisturized.
Lavender oil – A fresh floral oil got from lavender flowering tops, lavender oil is known to have moisturizing effects. It also soothes cracked heels and helps speed up healing.
Peppermint oil – The cooling and tingling sensation peppermint oil has on cracked heels is pleasant and relaxing to tired and dry cracked feet. It truly feels amazing, trust me!
Homemade Foot Scrub for Dry Cracked Feet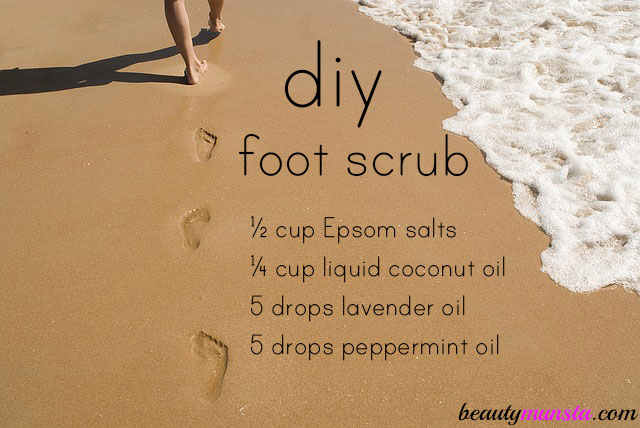 What you need
Directions
Into a mason jar, add the Epsom salts and pour in the liquid coconut oil.
Now add the essential oils and stir well using a spatula.
Store in a cool dry place.
How to Use this Foot Scrub for Dry Cracked Feet
Prepare your feet for the scrub by doing a pedicure to soften the heels: Fill a tub in which you can fit both your feet with hot water and add 2 tbsp of liquid castile soap and give it a stir to activate the soap.
Now soak your feet in there for at least 5 minutes to soften your feet and heels.
Use a pumice stone to scrub your heels and remove flakes and dirt.
After that, scoop out some of the scrub and begin scrubbing your heels and feet. Use a firm circular motion for about 2 minutes for each foot.
Rinse your feet thoroughly and pat dry with a fluffy towel.
Say hello to squeaky clean well moisturized feet!