The benefits of Epsom salts have been known since ages ago (precisely the 1500's)! This amazing ingredient is a miracle worker when it comes to many health and beauty ailments. It's good for sore muscles, headaches, cellulite, acne, cracked heels and even helps texturize hair into beautiful beach waves!
Below, let's explore 15 beauty benefits of Epsom salts for skin, hair and more:
15 Beauty Benefits of Epsom Salts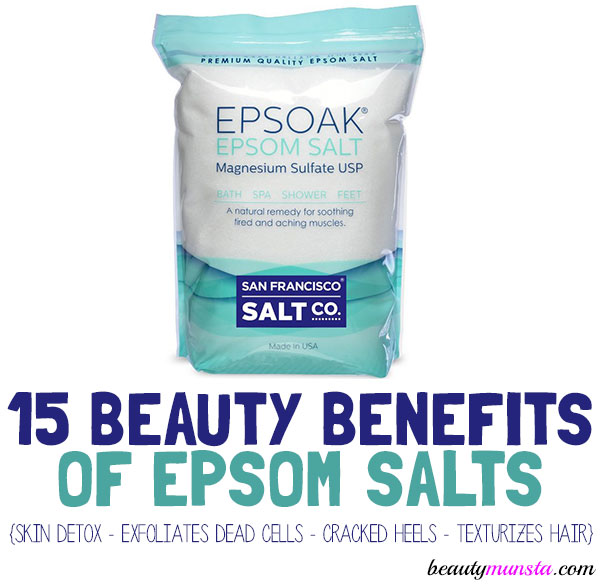 1. Detoxifies Skin
Epsom salt draws out toxins and impurities from the skin which helps detoxify skin and beautify it.
2. Fights Acne
Acne inflammation, oily skin and large pores are all factors that worsen acne. Epsom salts can help with all these!
3. Exfoliates Dead Cells
With its mild abrasive texture, Epsom salt is a good exfoliator. It scrounges off flaky skin and dead cells, thereby giving skin a smooth and conditioned look.
4. Heals Cracked Heels
Got cracked and flaky heels? It's time you did Epsom salt foot soaks. All you need to do is throw in a handful of Epsom salts in a tub of hot soapy water. Immerse your feet in this solution then scrub your heels with a Pumice stone. Welcome soft and smooth heels!
5. Softens Rough Skin
Rough skin, especially on the elbows and knees, is the bane of women who want silky soft skin. Good thing is you can use Epsom salts to soften them up! You can either soak in an Epsom salt bath or make a skin softening salt scrub by combining ½ cup of Epsom salts and ¼ cup of liquid coconut oil in a ball mason jar.
6. Purifies Pores
Gunky pores all over your face? Epsom salts to the rescue! In a small bowl, combine 1 tsp Epsom salts, 1 tsp aloe vera gel and 3 drops of rosemary oil. Now scrub this onto your face and rinse off with warm water. Behold squeaky clean skin!
7. Gives Hair Volume
Want to voluminize your hair? A salt spray will do that just fine! In a Pyrex measuring cup, pour in warm distilled water then dissolve ¼ cup of Epsom salts. Now add 5 drops of bergamot oil. Mix well then pour into a fine mist spray bottle. Spritz onto hair after showering.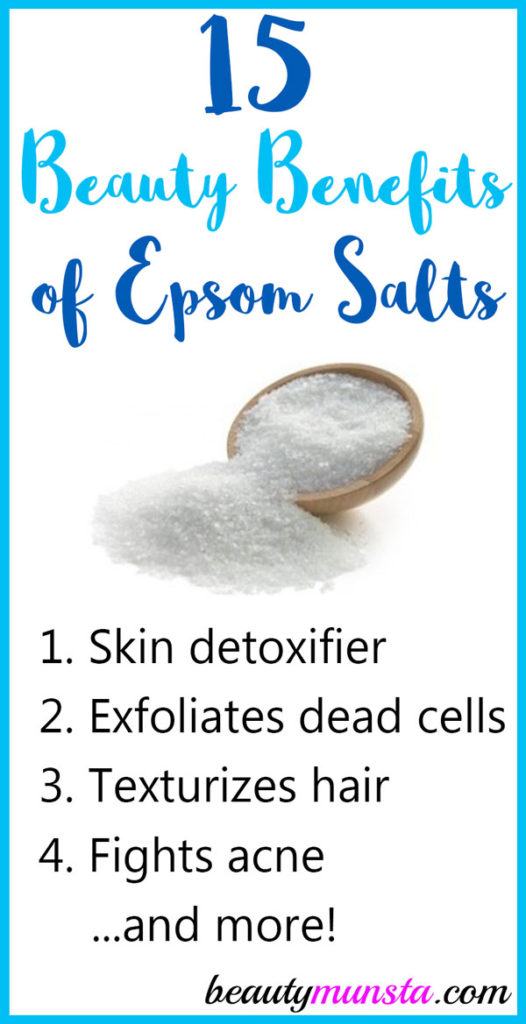 8. Prevents Skin Infections
Skin infections and inflammatory conditions including yeast skin conditions can be prevented by soaking in Epsom salt baths.
9. Prevents Premature Aging
Epsom salt is rich in antioxidants that ward off free radicals that cause premature aging. It also helps prevent wrinkles and fine lines by exfoliating skin of flakes and dry skin that accelerates aging. You can make a moisturizing Epsom salt scrub to keep your skin soft, smooth and supple which reduces the chances of getting premature wrinkles.
10. Texturizes Hair
Want texturized hair or beach waves? Dissolve ¼ cup of Epsom salts in 1 cup of warm distilled water and store it in a fine mist spray bottle. Spray onto hair and scrunch it up with a towel to give it that texturized look perfect for the beach!
11. Relieves Itchy Skin & Scalp
Is your scalp or skin itchy? Then by all means make an Epsom salt scrub. It'll help you gently scratch the itchy skin and relieve itching. You can also soak in a hot Epsom salt bath for itchy skin.
12. Banishes Dandruff
Epsom salt is good at exfoliating and removing flaky skin, dandruff included! Simple get 2 tbsp and mix it with olive oil. Now add 5 drops of lemon oil for its anti-dandruff properties. Scrub this on your scalp for at least 2 minutes then rinse off thoroughly.
13. Healthy Teeth & Gums
Epsom salt is antibacterial and promotes good oral health. You can make a mouthwash with it by dissolving 2 tbsp in a cup of warm distilled water. Then add 1 tsp of baking soda and 7-10 drops of organic peppermint oil. Use this to banish bad breath and promote healthy teeth and gums.
14. Fights Bad Breath
By neutralizing bad breath and killing bacteria, Epsom salt helps fight bad mouth odor. Make a mouthwash or mouth spray with Epsom salts in it and use when needed to keep your breath fresh.
15. Clears Cellulite
Use an Epsom salt scrub to clear cellulite by reducing water retention and breaking up the old fat cells that accumulate and form cellulite. Simply combine 1 cup of Epsom salts with ½ cup of liquid coconut oil and add in cellulite busting oils like grapefruit and rosemary. Store in a 16 oz ball mason jar. Scrub away to get rid of that cellulite!
Where to Buy Epsom Salts
Buy this big 19.75 pound bag of Epsom salts to use in baths, foot soaks, scrubs and more!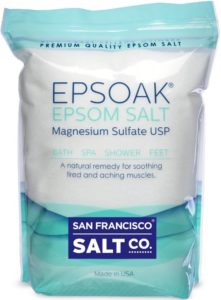 Caution
Do not use Epsom salts while pregnant without first consulting your doctor.
If you have wounds, broken skin, cuts or are severely dehydrated, do not use Epsom salt or take Epsom salt baths.
Do not soak in an Epsom salt bath right after shaving because it will burn your skin like crazy!