Turmeric is a powerful remedy for psoriasis – whether taken internally or applied topically. In this post, learn how to make a turmeric paste for psoriasis as a natural treatment!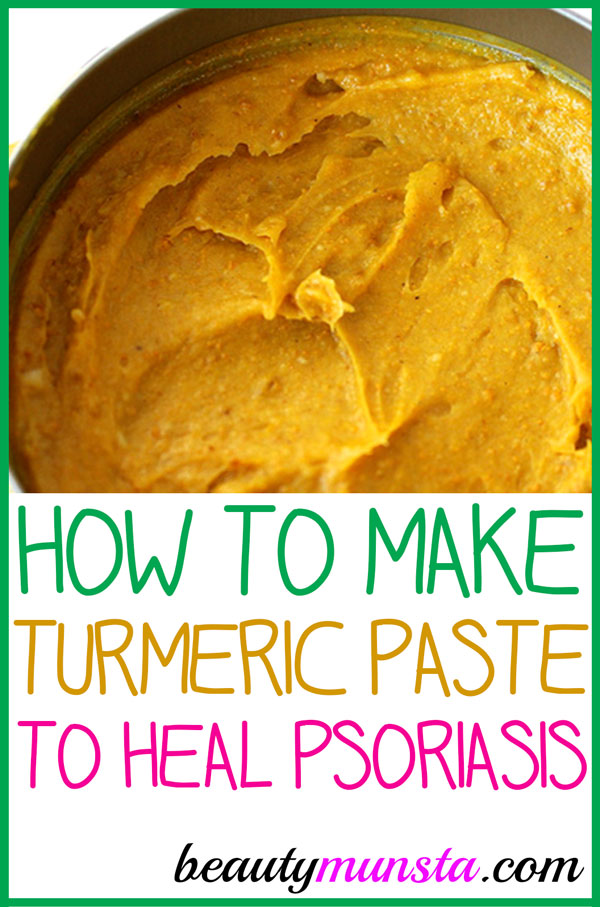 Applying Turmeric on Psoriasis
Applying turmeric onto psoriasis patches is proven to be effective in naturally providing relief! Here is a study that shows that external treatment of turmeric works for psoriasis: https://www.ncbi.nlm.nih.gov/pubmed/23825622
Being a strong anti-inflammatory, it's good for reducing inflammatory skin conditions such as eczema and psoriasis.
It also has antibacterial properties that are good for staving off irritants and bacteria from bleeding psoriasis patches. It helps speed up healing of these inflamed and itchy patches at a faster rate! Also read: How to Use Turmeric for Scalp Psoriasis
How to Make a Turmeric Paste for Psoriasis
Making a turmeric paste for psoriasis is one of the best ways to calm your aggravated skin. You can use it as a poultice or a pack on your skin!
Ingredients:
*Depending on the size of the affected area, reduce or increase the amount of turmeric powder you're going to use!
Directions:
Dump 2 tbsp of turmeric powder into a small glass bowl. Now slowly add water to create a smooth paste with a semi-thick consistency. If you add a lot of water, you'll have to add a little more turmeric powder to balance out the consistency.
When you reach a smooth consistency that can easily be applied to skin, add 1 tsp of honey and mix well. Use raw honey, preferably, as this type as all nutrients intact. If you have manuka honey, it's even better!
In the end of mixing, you should have a thick paste that'll stick to your skin without dripping off.
Now it's application time!
Apply the turmeric paste on your psoriasis patches in a thick layer so you can't see the skin underneath.
Securely wrap a cotton gauze over the area to keep the paste in place.
Leave it on overnight.
The next morning, remove the gauze and wash your skin carefully with warm water and a mild soap, if your skin can handle it.
Repeat every single night without fail. Don't forget to also consume turmeric in form of turmeric capsules or golden milk: ½ tsp turmeric powder and a pinch of black pepper in 1 cup of warm milk, sweetened with raw honey.
Caution
Turmeric can temporarily stain skin light yellow so be careful with it. The stain goes away over 1-2 days. It can also disappear fast when you wash the area well with soap.

More Natural Ways to Heal Psoriasis
Please use the above turmeric paste on psoriasis patches to witness natural healing of your skin!