Get relief using this DIY beeswax cream for psoriasis!
Beeswax is a miracle ingredient when it comes to making homemade creams and lotions. It's especially good for those with dry skin and also inflammatory skin conditions like psoriasis and eczema. That's because it provides a protective layer over the affected skin, preventing irritants from aggravating it. This protective layer also seals moisture into the skin, which helps moisturize the dry psoriasis patches.
In this post, I want to share with you a simple enough but very effective DIY beeswax cream for psoriasis. We're going to be using other skin healing ingredients as well and these include:
Raw honey – Raw honey is filled with powerful antioxidants, vitamins and minerals that are nourishing and healing to skin. If possible, use manuka honey as it is the best form of honey in terms of medicinal powers.
Neem oil – Neem oil is amazing for treating psoriasis and eczema. It contains strong antiseptic, antimicrobial, antibacterial and antifungal properties. It also speeds up healing of psoriasis patches.
Coconut oil – This creamy white oil is very soothing and helps relieve itchy and dry psoriasis patches.
Jojoba oil – Jojoba oil has a molecular structure that's similar to our skin's sebum. It is very moisturizing which is important for dry psoriasis.
Rosemary oil – Rosemary oil is among the top essential oils for psoriasis. It helps speed up healing of skin plus it stops that awful psoriasis itch. It's also powerful at reducing psoriasis inflammation.
Definitely add other essential oils for psoriasis if you don't have rosemary essential oil on hand. Here's a list of effective essential oils for psoriasis: List of the Best Essential Oils to Treat Psoriasis & Recipes
DIY Beeswax Cream for Psoriasis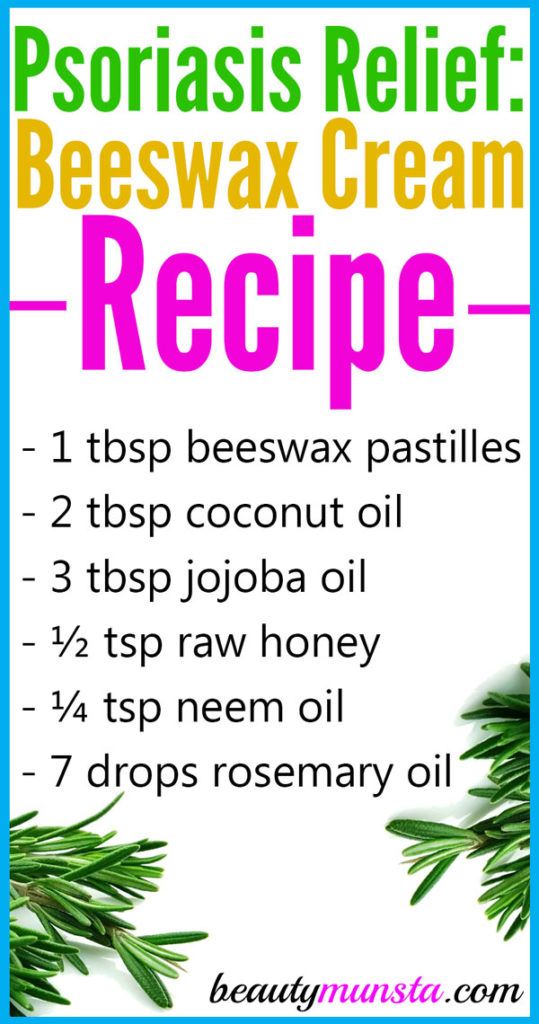 What you need:
1 tbsp beeswax pastilles
2 tbsp coconut oil
3 tbsp jojoba oil
½ tsp raw honey
¼ tsp neem oil
7 drops rosemary oil
Double boiler
Clean glass jar for storage
Directions:
You will need a double boiler to melt down your beeswax. You can actually create your own double boiler if you don't own one! To do this, simply get a large pot and fill it with 2 inches water. Now get a smaller pot and add your beeswax pastilles, coconut oil and jojoba oil into it. Place the smaller pot inside the bigger pot so that the water touches its bottom but doesn't enter into it. Heat the large pot over a medium low flame until the beeswax and coconut oil melt down to liquid form.
Once melted, remove from heat and let it cool off for about 2 minutes.
Stir in the raw honey, neem oil and rosemary essential oil then pour the mixture into a clean glass jar.
Let it set in the refrigerator for 30 minutes before use.
Store in a cool dry place for up to a year, keeping it away from water and other contaminants.
Use it on damp skin after a shower, for best results.

Will you try this DIY beeswax cream for psoriasis? Try it out and get natural relief fast!