Rose water and glycerin for natural hair, oh yeah baby! It's refreshing, hydrating and smells so good!
Benefits of Rose Water for Natural Hair
If you love roses, you need to get your hands on some rose water. It's great for hair and skin! And it's not just water that's rose scented! It's an all-natural hydrosol or floral water extracted from fresh petals through steam distillation. Rose water is filled with Vitamin A, B3, C, D, and E! Did you know that? Just WOW! And it also contains flavonoids that are powerful antioxidants!
Below, I'm listing down some of the benefits of rose water for natural hair:
Hydrates hair
Stimulates hair growth
Naturally conditions hair
Soothes an irritated scalp
Balances hair pH
Reduces scalp inflammation & redness
Lessens dandruff
Repairs damaged hair porosity
And more!
Benefits of Glycerin for Natural Hair
Glycerin is an amazing product for dry hair types a.k.a naturalistas! It's great because it is full of humectants that draw moisture from the surroundings into the hair strands. This is so good for those with perpetually dry hair.
Now you can't use glycerin alone on your hair because it's thick and sticky. The good thing is that it mixes easily with water soluble ingredients…such as rose water! So we're going to combine rose water and glycerin for natural hair. There are several benefits of this combination! It hydrates, seals moisture, makes hair shiny, strengthens strands, cools an irritated scalp and so much more. Here's my favorite recipe that you guys are gonna love!
Rose Water and Glycerin for Natural Hair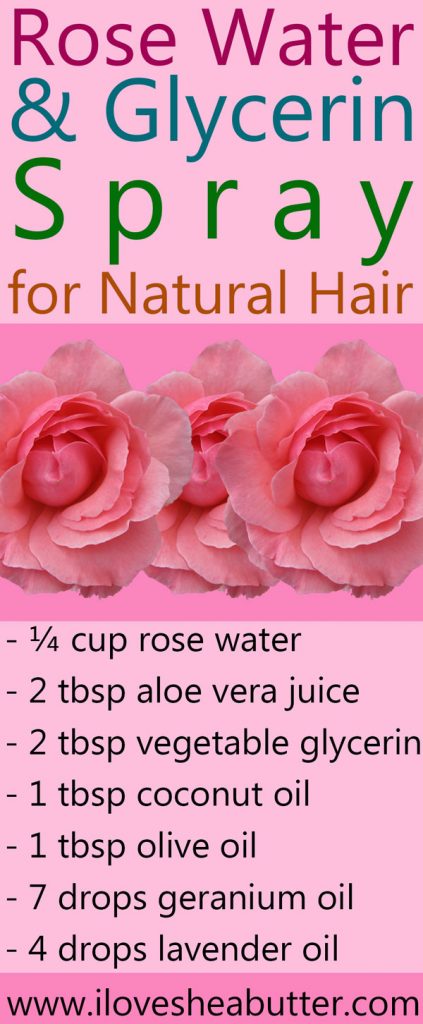 What you need:
Directions:
Get a spray bottle that can hold at least 5 oz then put a funnel over it.
Pour ¼ cup of rose water into it, followed by 2 tbsp aloe vera juice, 2 tbsp vegetable glycerin, 1 tbsp extra virgin coconut oil and 2 tbsp extra virgin olive oil.
Carefully add 7 drops of geranium essential oil and 4 drops of lavender essential oil.
Cap the bottle tightly and shake well to mix everything up.
Your rose water and glycerin spray is ready for use! Store it in a cool dry place.
How to Use:
What you're going to do is spray it on damp hair right after a shower then apply your hair cream, leave-in conditioner or whatever you use to lock moisture into your hair.
You can also just spray it on your hair when you feel it's brittle or dry then use a butter/oil to seal the moisture.
Spray it on your scalp if it's irritated, itchy or painful – this comes in handy for tight braids.

I hope you try rose water and glycerin for natural hair! It's epic!