In this post, find out the benefits of lavender hydrosol for acne, its properties & 4 DIY recipes to use!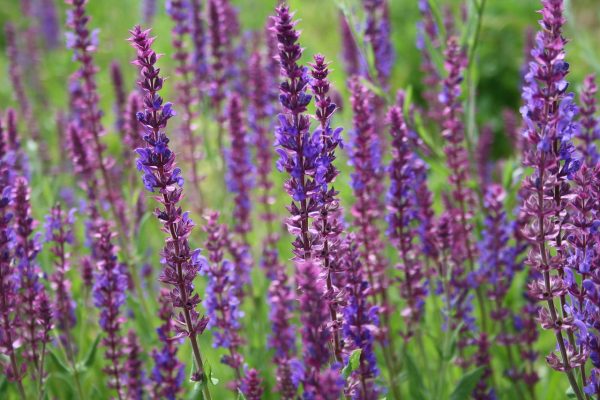 Lavender hydrosol is a floral water got through steam distillation of the fragrant lavender flowers. Though not as popular as its essential oil, lavender hydrosol is also an all-purpose beauty ingredient. From refreshing tired skin to fighting acne, it has many good benefits for skin. In this post, I'll talk about what makes lavender hydrosol good for acne and how to use it in your acne skin care routine.
Properties of Lavender Hydrosol for Acne
Lavender hydrosol, also known as lavender floral water, is derived from the fragrant lavender flowers through steam distillation. What makes it so good for acne? Find out below:
Antibacterial – Lavender has got antibacterial and antiseptic properties that rid skin of germs, bacteria and microbes that contribute to acne.
Skin Soother – Being gentle on skin of all types, lavender can be used to soothe red, itchy and painful acne.
Anti-inflammatory – The powerful anti-inflammatory properties of lavender make it good for naturally healing acne inflammation and redness.
Balances Sebum – Spritzing lavender hydrosol on acne-prone skin helps control excess oiliness as well as seal moisture in dry skin underneath acne. It's natural astringent properties help balance the skin's sebum preventing over production of sebum, which contributes to acne by clogging pores.
Therapeutic Uses of Lavender for Acne
In aromatherapy, lavender is known for its stress-relieving and calming properties. It not only soothes skin but also relaxes the mind and reduces stress. Stress is one of the major causes of acne and people with acne stress even more as they try to get rid of their acne forever.
The calming scent of lavender flowers helps solve the metaphysical causes of acne such as anger, resentment, hatred, etc. Negativity causes a build-up of toxic energy in the body. This toxic energy can manifest itself in various forms including bad skin and acne. By de-stressing the mind and promoting peace, lavender helps the body to let go of negativity thereby enabling it to get rid of toxins and build-up of bad energy that both contribute to acne.
To benefit from the therapeutic properties of lavender hydrosol for acne, simply spray it around you and let the soothing scent reach deep in your mind and promote ease and tranquility.
Note: Lavender hydrosol doesn't smell as strong as lavender essential oil. However, once the spritz settles, you'll have a light lavender scent which is very refreshing! I think a light scent is better for people with easily irritable acne-prone skin that is sensitive to scents and fragrances. Also, it makes an extremely calming spray for bacne, in my opinion!
Benefits of Lavender Hydrosol for Acne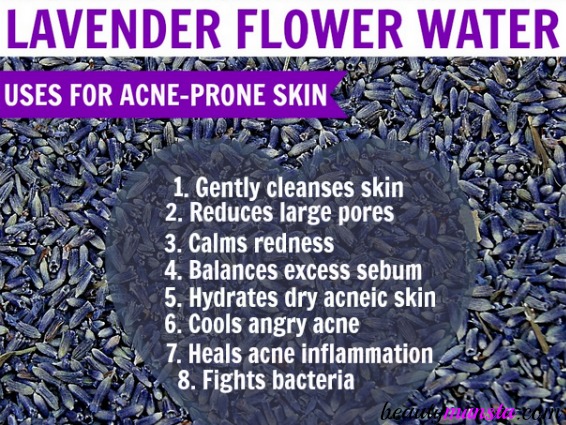 1. Cleanses Skin
The word lavender itself comes from the Latin word lavare, which means 'to wash'. Lavender has long been used since ancient times as a bath ingredient and in soaps for its skin cleansing properties. Lavender hydrosol can be used to cleanse even the most sensitive of skin types. You can use it alone or mix it in colloidal oatmeal for a gentle but effective facial cleanser. If using it alone, you will need a clean cotton pad, which you will first soak with the hydrosol and then use it to wipe your face of dirt, grime and stale oils.
2. Controls Excess Sebum
Being a natural astringent, lavender hydrosol helps balance the skin's sebum. Since many people with acne also suffer from oily skin, lavender hydrosol can be used as a facial toner (recipe below) to remove excess oiliness.
3. Hydrates Dry Acneic Skin
Your skin type might be acne-prone skin but did you ever consider what it really is, under the acne? Is it dry or oily? Dry skin under acne might be the cause for acne in the first place. When your skin is dry/dehydrated, it makes up for the lack of moisture by producing more oils which attracts dirt, grime, germs, pollution, etc and ends up causing clogged pores hence acne. Spritzing lavender hydrosol on your acneic face ensures your skin gets hydrated.
4. Kills Bacteria
Lavender is a well-known antibacterial and antiseptic agent and so it can be used to kill of acne-causing bacteria and germs. Cleanse your face using lavender hydrosol or use it as a facial toner to keep your skin free from germs.
5. Tightens Large Pores
Large pores secrete a lot of sebum and get clogged up most of the time, leading to formation of cysts, pustules and comedones. Using lavender hydrosol helps tone & tighten the skin as well as minimize large pores.
6. Heals Acne Inflammation
The soothing and cooling properties of lavender hydrosol help reduce acne inflammation. Use a nourishing and calming facial mask by combining colloidal oatmeal, honey and lavender hydrosol (recipe below).
7. Calms Acne Redness
Is your acne red and blotchy? The spritz lavender hydrosol to soothe, cool and reduce redness! It can be sprayed on bacne and chest acne as well after a shower.
8. Cools Overheated Skin
Too much body heat, also known as 'pitta' in Ayurveda, leads to acne in many individuals. During summer, many people find themselves getting pimples and body acne and this is due to excessive heat that aggravates skin. By spraying lavender hydrosol on your face, neck and back, overheated skin will be cooled and soothed, preventing formation of acne and pimples.
How to Use Lavender Hydrosol for Acne
► Oil-Control Facial Toner: Fill a 2 oz spray bottle with lavender hydrosol then add 1 tsp of pure aloe vera and 3 drops of lavender essential oil. Shake well as use as a facial toner after cleansing skin to control excess oiliness.
► Acne-Busting Gentle Facial Cleanser: Combine ½ cup of baking soda, 2 tbsp raw honey and enough lavender hydrosol to form a paste, in a container. To use: scoop a tsp onto your palm and use clean fingers to gently apply onto your face then rinse it off. Use 1-2 times a day to gently cleanse painful, irritated and inflamed acneic skin. Store in a cool place and do not get any water into it. It lasts for about a week.
► Foamy Facial Cleanser: This DIY facial cleanser is foamy unlike the one above. In a clean soap dispenser, add ¼ cup unscented liquid castile soap, 1/2 tsp vegetable glycerin, 1 tsp jojoba oil, 5 drops lavender essential oil and top with 1/2 cup of lavender hydrosol. To use, pump a little onto your palm, lather up then rinse thoroughly and pat dry with a soft towel.
► Soothing & Cooling Face Mask: In a small bowl, mix 1 tbsp colloidal oatmeal and enough lavender hydrosol to form a paste. Apply onto skin, avoiding eyes and mouth. Leave it on for about 5 minutes then rinse off with warm water first then cold water. Pat dry and gently rub a dot of coconut oil on your face to moisturize.
Where to Get Lavender Hydrosol

Please make sure to buy 100% pure and organic lavender hydrosol! Look for the word organic on the bottle because you do not want to be using pesticides on your body! I recommend buying Plant Therapy's 100% Pure and Organic Lavender Hydrosol. Store a little lavender hydrosol in a fine mist spray bottle for easy application as a facial toner, perfume, body splash and more!

Take Care
Although lavender hydrosol is very mild and gentle for skin of all types, please do a patch test on your inner elbow and monitor for any skin irritations before using it on your face. If there is any negative skin reaction after 6-12 hours, then it's best you do not apply it on your body.