Tea tree is a powerful ingredient to add to your DIY face wash. Check out this recipe for DIY face wash with tea tree oil!
If you have oily skin, acne prone skin, itchy skin or inflammatory skin conditions, then you might want to try making this DIY face wash with tea tree oil! It contains simple ingredients and is very easy to put together!
This recipes uses liquid castile soap, a natural soap that foams and gently cleanses skin. It also uses rose water, a hydrosol or floral water that balances oily skin, tones skin, shrinks large pores, smells gorgeous and beautifies skin!
The other ingredient that we'll be using is vegetable glycerin. A natural product as well, vegetable glycerin is a humectant. This means it draws moisture into the epidermal layer of the skin, keeping skin hydrated and supple.
Benefits of Tea Tree Oil
A powerful disinfectant, tea tree oil is one of the best essential oils you can add to your face wash. It is touted as an effective acne fighter and also cleanses and refreshes skin! See this list of amazing tea tree oil benefits below:
Fights acne
Cleanses pores
Reduces oily skin
Kills germs on skin
Tones, tightens & firms skin
Refreshes skin with its cooling properties
Has antioxidant properties
Shrinks large pores
Anti-inflammatory in nature
DIY Face Wash with Tea Tree Oil
Now that we've seen the benefits tea tree oil offers for skin, let's get right onto the DIY face wash recipe, shall we?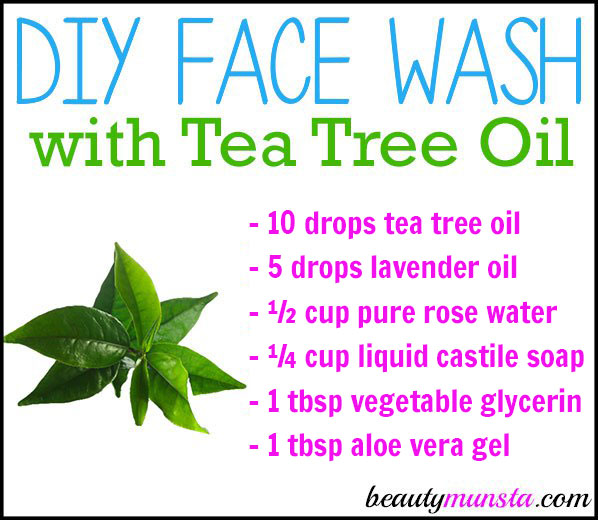 What you need
Directions
Place a funnel over your soap dispenser bottle then carefully pour in ½ cup of pure rose water followed by ¼ cup of liquid castile soap.
Now pour in the vegetable glycerin and aloe vera gel.
Finally, add the tea tree and lavender essential oils, drop by drop.
Close the bottle and shake gently to combine everything together.
Your DIY face wash with tea tree oil is ready!
Store in your bathroom cabinet. It will keep for about 3 months, provided you keep it free from contaminants including tap water.
Use twice: once when you wake up and when you get back home in the evening.
After use, moisturize with your usual face moisturizer or if you want to go natural, use a pea-sized amount of shea butter, an extra moisturizing natural plant butter.
Have you ever made a DIY face wash before? What ingredients did you use? Please share below!