Are you excited to find out 15 amazing beauty benefits of rose water?!
Rose water is the most popular floral water or hydrosol in the world!
Hydrosols are pure liquid extracts obtained from plant material. They are actually a by-product of essential oil distillation! When fresh rose petals are steam distilled, they produce rose essential oil and rose water.
Rose water is popularly used in Middle Eastern and Southeast Asian cuisine but it's also very well known for its amazing beauty benefits. That's what we shall be exploring in this post!
15 Beauty Benefits of Rose Water
Here are 15 amazing beauty benefits of rose water for skin and hair!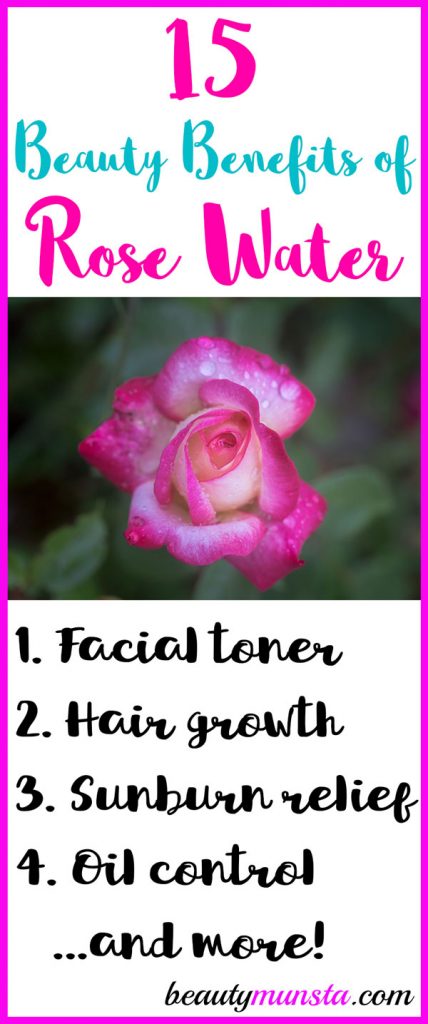 1. Cleanses Skin
Rose water is very cleansing in nature. You can place a little rose water on a cotton ball and use it to wipe off dirt on your face. Or, you can make your own face wash as follows:
Cleansing Rose Face Wash: Into a foaming soap dispenser, pour ¼ cup rose water, 1 tbsp liquid castile soap, ½ tsp vegetable glycerin, 1 tsp jojoba oil and 5 drops lavender essential oil. Shake well. Use in place of your usual face wash!
2. Facial Toner
This is one of the most famous beauty benefits of rose water. It's a very hydrating, gentle and soothing facial toner! Simply store ½ cup of pure organic rose water in a spray bottle. Spray it on your face after cleansing it.
3. Reduces Inflammation
The strong anti-inflammatory properties of rose water reduce inflammation, whether it's caused by acne, eczema or rosacea.
4. Soothes Irritated Skin
Skin rashes, poison ivy, bug bites and itchy red skin can be soothed by spraying rose water on it!
5. Cools down Rosacea
If you have rosacea, you must consider investing in rose water! It is very cooling and non-irritating to skin. It helps reduce inflammation & redness and cool down skin.
6. Sunburn Relief
Got a sunburn? Mix rose water and aloe vera gel for cooling and soothing relief!
Sunburn Spray: In a spray bottle, put ½ cup of rose water and 1 tbsp aloe vera gel. Shake well and mist it on the sunburn several times a day to heal the sunburn.
7. Diminishes large pores
Rose water also has natural astringent properties. This helps tighten skin and diminish large pores! Use it as a facial toner by adding 1 tsp of witch hazel to ¼ cup of rose water. Or, apply rose water using a cotton ball to tighten up and shrink large pores.
8. Hydrates Skin
Hydrated skin is crucial for preventing wrinkles and balancing sebum! Spray rose water on your skin before moisturizing (while your skin is still damp) to seal in moisture for healthy skin!
9. Reduces Oily Skin
Use a rose water facial toner to reduce excess oiliness on your skin! You can even make an oil-sucking face mask as follows:
Oil Control Face Mask: In a non-metal bowl, add 1 tbsp of kaolin clay, 1 tbsp of rose water and ½ tsp raw honey. Mix well and apply it on your face, avoiding the eye area. Rinse off after 7 minutes. Repeat 1-3 times a week.
10. Clears Up Acne
Acne prone skin can be naturally treated using rose water! It is soothing, cools down angry red acne, reduces inflammation, controls oily skin and fights acne germs!
11. Body Splash
Mist rose water all over your body before you moisturize when you step out of the shower as a gentle and sweet smelling body splash!
12. Natural Perfume
Rose water has a mild scent of fresh cut roses! Make use of it by spraying it on your body and hair for a beautiful lingering rose scent!
13. Promotes Hair Growth
Yes! Did you know that rose water actually helps in hair growth?! I recently found out too! It is rich in antioxidants and special nutrients like vitamins that stimulate hair growth! You can spray it directly on your scalp or make a powerful hair growth spray as follows:
Hair Growth Spray: In a spray bottle, add ½ cup of rose water. Now add 1 tsp jojoba oil, 3 drops rosemary essential oil, 3 drops lavender essential oil and 3 drops clary sage essential oil. Shake well and spray on your scalp.
14. Hair Rinse for Shiny Hair
Using rose water as a hair rinse makes hair shiny, soft and silky. Just add 2 tbsp of rose water to 2 cups of cooled green tea or just plain water. Use it as your final hair rinse in the shower.
15. For Youthful Wrinkle-Free Skin
Rose water is rich in flavonols that are powerful antioxidants that stave off pro-aging free radicals. It also contains Vitamin C that increases collagen production on the skin!

Which of the above beauty benefits of rose water make you excited to use it?!