Make yourself a nice moisturizing DIY shea butter shampoo for beautiful hair! Shea butter is being added to more and more products out there. And that's because it's a superior moisturizer, doesn't clog pores and has nourishing nutrients in it!
This DIY shea butter shampoo recipe is easy to follow, all-natural plus smells so great! You can even customize according to what you want it for: reducing dandruff, promoting dandruff, etc. I'll show you how!
For now, let's get straight onto the recipe!
DIY Shea Butter Shampoo Recipe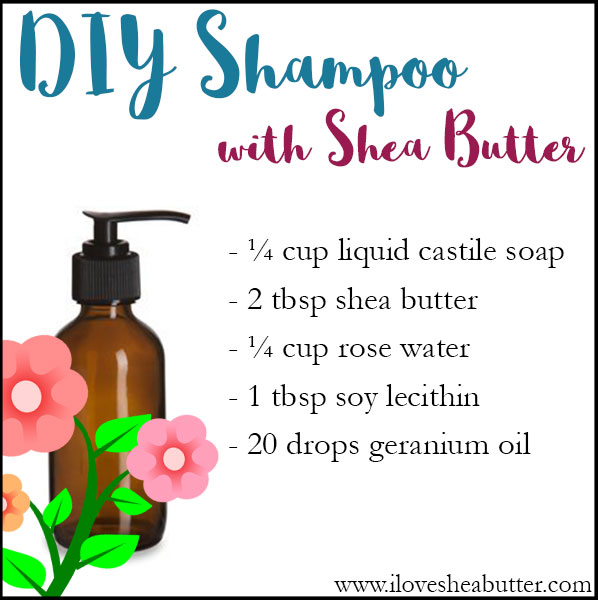 What you need
Directions
The first thing you're going to do is melt the shea butter using a double boiler.
Once it's all melted, pour it into a large bowl and vigorously stir in the soy lecithin and geranium oil. Just let it cool off for a minute.
Meanwhile, warm the rose water until it is just warm enough. Don't over heat or boil it! It just has to be warm.
Now pour the warm rose water into the melted shea butter and blend with the immersion blender.
Blend, blend and blend until you get a well combined white colored mixture.
And that's it! Pour it into a pump bottle. You might need to shake the bottle before use.
To use, lather up your wet hair then rinse off thoroughly.
Follow up with an apple cider vinegar hair rinse or your usual conditioner.
How to Customize Your DIY Shea Butter Shampoo
✾ To combat dandruff, itchy scalp, fungal infections: Add 20 drops of tea tree oil
✾ To soothe scalp inflammatory conditions like eczema & psoriasis: Add 20 drops of lavender oil
✾ To heal scalp wounds or scabs: Add 20 drops helichrysum oil
Hope you try out the DIY shea butter shampoo and come share your results!