Fancy straight shiny long hair? Try this homemade hair straightening serum!
You know how they say don't use a hair straightener everyday because it'll cause hair damage? But some people still do it anyway because their hair turns frizzy and unruly the moment they stop straightening it.
Well, heat damage through overuse of hair straighteners is real folks, and it can take a very long time to rectify. Heat damaged hair is easily prone to breakage, split ends and looks rough and dehydrated. Even if you're perfectly straightened hair that you subject to the hair straightener everyday looks hella healthy, in the long-run you'll see that your hair strands are becoming thin and can easily be snapped by your index fingers. And that is scary.
I'm not telling you to trash your hair straightener, of course. A little bit of heat won't do damage but using it frequently will. So simply try limiting its use, a.k.a, you don't need to use it every single day.
Try this homemade hair straightening serum, it's a natural way to turning frizzy flyaway hair into a smooth shiny curtain of hair!
Homemade Hair Straightening Serum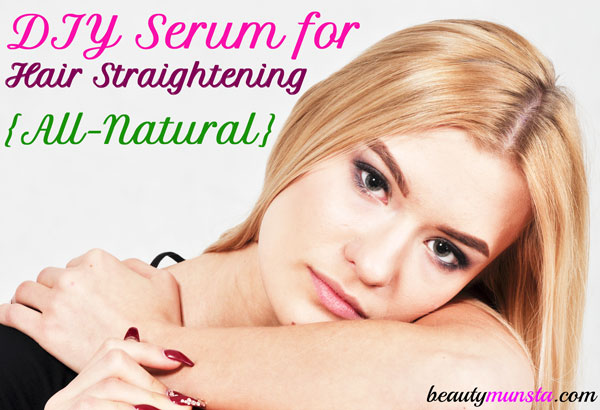 What you need
Directions
Using a small funnel, pour all your oils into the amber glass dropper bottle.
Add 5 drops of jasmine essential oil or sandalwood essential oil. Both of these are incredibly moisturizing for hair.
Close the bottle and give it a little shake to combine all ingredients together.
Your homemade hair straightening serum is ready!
How to Use this Homemade Hair Straightening Serum
Apply this serum when you're fresh out of the shower on damp hair (not dripping wet).
Part your damp hair in the middle then section it into 4 equal parts.
Now place 2-3 drops of this serum on your palm then rub both palms together and smooth them over one section of your hair length. After oiling, comb through with a wide tooth comb until your hair is tangle-free, smooth and sleek.
Pin that section up with a large bobby pin.
Continue smoothing the oil over all the sectioned hair lengths and pinning them up.
Once you're done, gently put a shower cap on your head without messing up your hair.
Wrap a towel over the shower cap. This is to trap heat which will open up the hair cuticles and allow the serum to enter deep.
Stay like this until your hair dries.
When the time is up, remove the towel, shower cap and bobby pins.
Your hair should be much straighter!

Use this homemade hair straightening serum every time you wash your hair xoxo