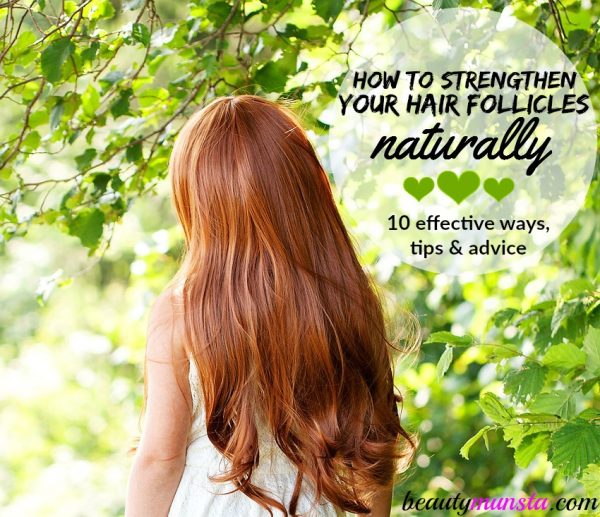 Before we look at how to strengthen hair follicles naturally, let's first understand what exactly hair follicles are and what their purpose is in promoting healthy and strong hair.
Simply put, hair follicles, also known as hair roots, are tiny sacs found in the second layer of the skin (called the dermis) which produce hair.
Brief Science of Hair Follicles

Hair follicles that are well-hydrated and nourished with nutrient-rich blood form healthy, strong and luscious hair strands.
Weak hair follicles, caused by a variety of factors including dehydration, poor nourishment, heat damage, etc, produce thin and lack-luster hair that eventually falls off as the follicles go into a deep slumber also known as the dormant phase or telogen.
About 10-15% of the hair on your head is currently at the telogen phase and will remain there for about 2-4 months. However, this phase can last longer due to weak hair follicles and eventually cause hairs to grow thin, stunted and looking lifeless.
In this post, I talk about a 10 very effective lifestyle tips and advice to strengthen hair follicles naturally.
How to Strengthen Hair Follicles Naturally – 10 Effective Ways!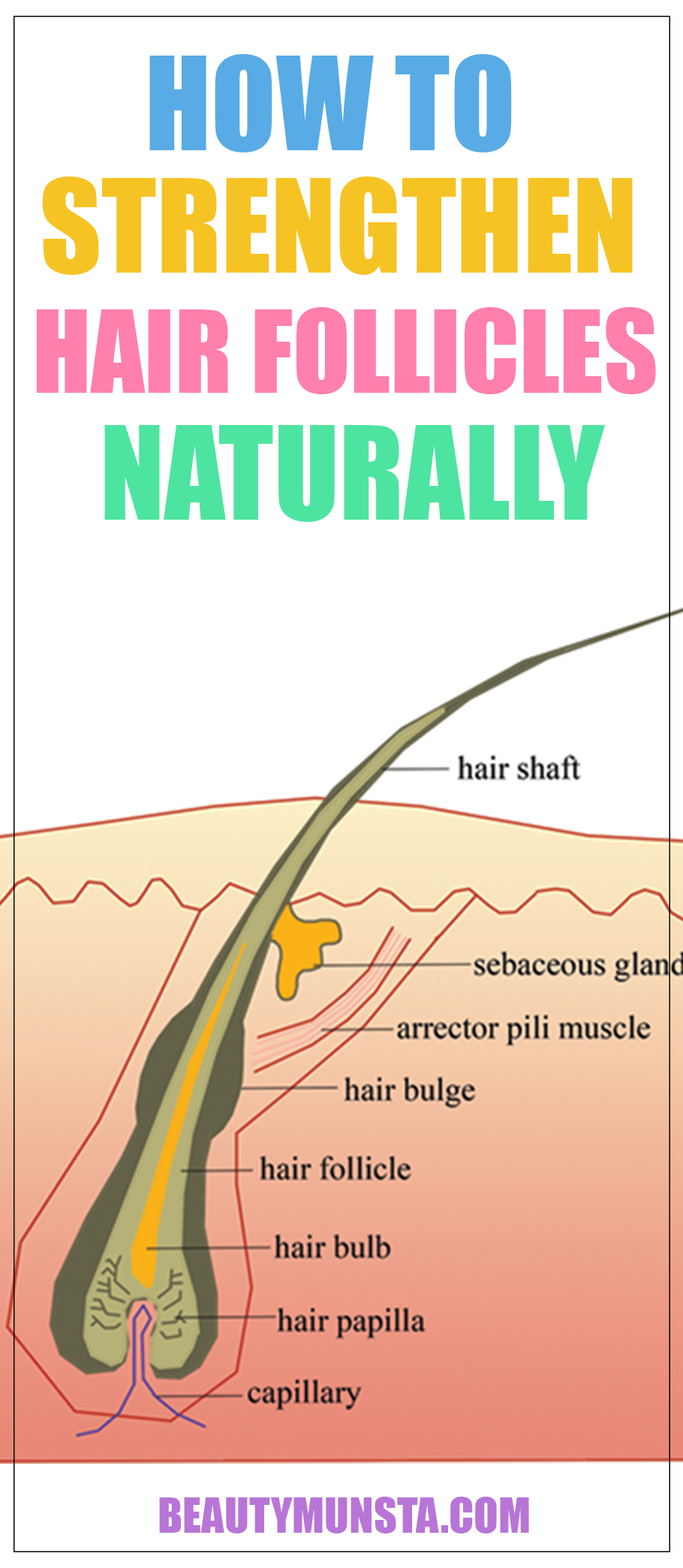 1. Eat Nutritional Foods + A Balanced Diet
As with any health problems, nutrition plays a BIG role especially when it comes to good hair health. If your hair is thin, shedding a lot and looks dulls, brittle or dehydrated, you can easily change this by fixing your diet!
Eating nutritional foods and a balanced diet will give you back a healthy head of hair within 6 months to a year, depending on your hair growth rate.
Remember, hair follicles are nourished through the nutrient-rich blood that flows through the capillaries near them. Each and every hair follicle feeds on this blood and if it is lacking in nutrients needed to promote healthy hair, then it weakens and causes hair loss.
Now, eating a balanced diet means eating enough of each and every food type to get the required amount of nutrients needed for optimum health but what are the top foods good for hair health?
Look at the list below:
Foods with Iron-rich protein – Foods like eggs, poultry and dairy are the best sources of iron-rich protein. For vegans, tofu, lentils, legumes and leafy greens are wonderful sources. Remember to also eat vitamin C rich foods with iron-rich protein because vitamin C helps the body absorb and utilize iron-rich protein better!
Foods rich in B-vitamins – B-vitamins such as biotin, are crucial for good hair, skin and nail health! Find biotin in eggs, peanuts, avocados and almonds, among others!
Foods rich in Vitamin A – Vitamin A rich foods are usually yellow/orange colored because of their rich beta carotene content, which is converted to beta carotene in our bodies. Eat squash, carrots, sweet potatoes, red bell peppers and other orange foods!
Foods rich in Vitamin C – This one's obvious – vitamin C is high in citrus fruits so juice up those oranges and squeeze some lemon in your salads!
Foods rich in Zinc – Zinc is vital for healthy hair and even promotes hair growth. Look for zinc in shellfish, red meats, spinach, pumpkin and sesame seeds.
Foods rich in Collagen – Collagen-rich foods are VERY good for strengthening hair follicles naturally as well as boosting hair growth. Find collagen in bone broth, gelatin-cuts of meat (usually with the bones & connective tissue) and gelatin powder.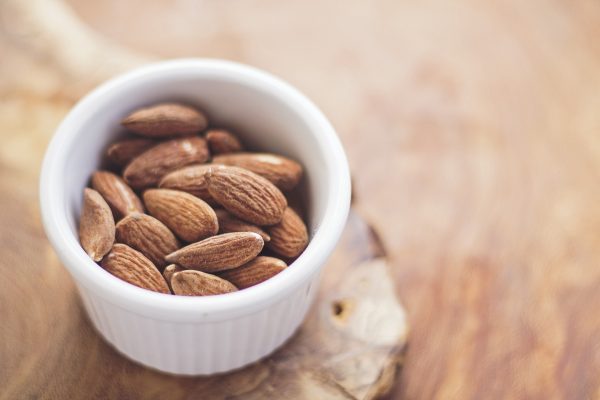 Related: 
2. Drink Enough Water
Eating nutritional foods goes hand in hand with drinking enough water. Being dehydrated not only shows in chapped lips but also dull, frizzy and brittle hair.
Keep a glass bottle with rubber protection or a stainless steel water bottle near you at all times and keep sipping whenever you feel thirsty.
No, I'm not going to tell you to drink 8 glasses of water a day because everyone has different needs and you don't want to drink a lot more water than you actually need to!
3. Handle & Style your Hair with Care
Let's face it – if you sport a super high ponytail or have your hair done in tight braids more often than not, you'll end up with a stressed and painful scalp.
This pain eventually fades away but the strain put on your hair follicles can weaken them, lead to hair follicle damage and inflammation as well.
It also leads to acute breakage in the areas that take the most hit, for example the hairs at the front and sides of your head in a tight and high ponytail.
Just get a simple hair style that doesn't pull at your hair but at the same time, makes you look nice and presentable.
That said, even if you get a good hair style, please ensure to brush or comb your hair gently.
Make sure to undo tangles with a wide tooth comb, use hair cream and do it when your hair is fully dry so you won't have to tug or pull to style.
4. Say No to Heat Tools
Admittedly, you can't forever stop using your blow dryer but what you can do is lay off the curling iron and hair straighteners or at least use them only when really necessary.
Overuse of heat tools can severely damage hair follicles and sometimes the damage cannot be reversed, leading to permanent dry and dull-looking hair.
I like to dry my hair naturally and only occasionally use the hair dryer and even then, I use it for a short time – just until my hair is no longer dripping wet.
My advice is do not blow dry your hair until it is fully dry because you risk stripping it of all its natural oils and moisture, thereby giving it a crunchy straw-like texture.
In addition, heat tools also easily cause frayed and split ends as well as frizz. If you're hair is already damaged by heat tools, then check out these olive oil hair masks that help lubricate and repair hair damage.
One last thing, avoid the strong sun and its UV rays – wear a hat when going out in the hot summer.
5. Limit Product or Chemical Use
If you haven't already made the switch to natural sufate-free shampoo or aren't making your own DIY shampoo, then you might want to consider it for healthy and strong hair follicles.
The thing with using conventional hair products everyday is that they lead to product build-up overtime.
Product build-up can make your hair look and feel icky as well as suffocate the hair follicles by coating the scalp and strands with a thin white film, that may not be seen clearly with the naked eye.
Also, over treating, bleaching and dyeing your hair can weaken your hair follicles over time so ensure to limit these as well.
For already weakened hair & follicles, make nourishing avocado hair masks to bring back natural moisture and shine.
6. Use Nourishing Hair Masks
Show your hair follicles some TLC by feeding them with nourishing hair masks using kitchen ingredients!
Yes, you heard that right! Those bananas in your fruit basket or those eggs in your fridge are actually POWERFUL 'products' that can strengthen your hair follicles and promote luscious long hair!
Check out my weekly egg treatment for hair, this moisturizing avocado olive oil hair mask and try out one of these 5 amazing coconut oil hair masks for a healthy scalp and beautiful hair.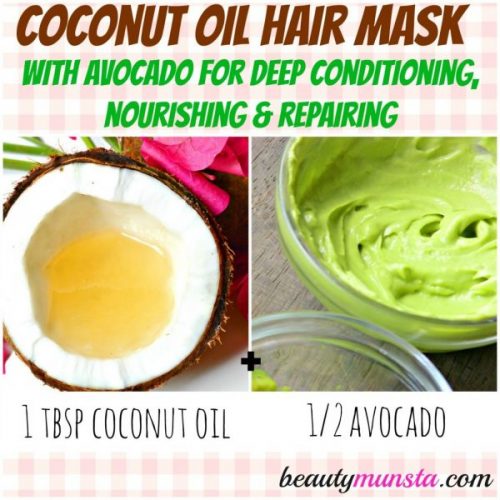 7. Get a Chlorine Shower Filter
The quality of your shower water can also affect your hair follicles! Chlorine and hard water not only contribute to product build-up but also lead to hair shedding. If you've been noticing clumps of hair in your drain, then it's high time you bought a good chlorine filter shower head.
8. Scalp Massages
Grab a partner and take turns in giving yourselves 5 minutes scalp massages to get the blood flowing to your hair follicles! Scalp massages help strengthen hair follicles by not only increasing blood flow but also relaxing a tired scalp as well as nourishing and hydrating it.
You can do your own soothing scalp massage for tired hair follicles or an invigorating one to improve circulation and promote hair growth.
Did you know that scalp massages also stimulate hair growth?! Here are two amazing scalp massage recipes:
► Invigorating Peppermint & Coconut Oil Blend
Combine 6 drops peppermint essential oil in ¼ cup of coconut oil. Store in a small glass jar. Apply on your whole scalp, then slowly massage in gentle circular motions for about 5 minutes. Wash your hair well using a natural shampoo after an hour.
►Soothing Aloe Vera & Lavender Blend
Mix 7 drops of lavender essential oil in 3 oz of (pure aloe vera gel). Apply it on your whole scalp and massage. This feels really great on a painful and inflamed scalp!
For more essential oil hair recipes, check out our exclusive Complete Guide to Using Essential Oils for Scalp & Hair with over 100 natural scalp & hair care recipes!
9. Use Wooden/Cow Horn Combs
Plastic combs/brushes can be really harsh on your scalp and end up hurting your hair follicles, causing inflammation and even wounds!
And if you have scalp scabs or pimples, then by all means do not use a plastic comb on your scalp! Instead of these, get a wooden or cow/sheep horn comb.
These natural combs are INCREDIBLY soothing for the scalp, take it from me. I just like the way my scalp is gently massaged when I use my cowhorn comb on it, compared to being scratched with a plastic one.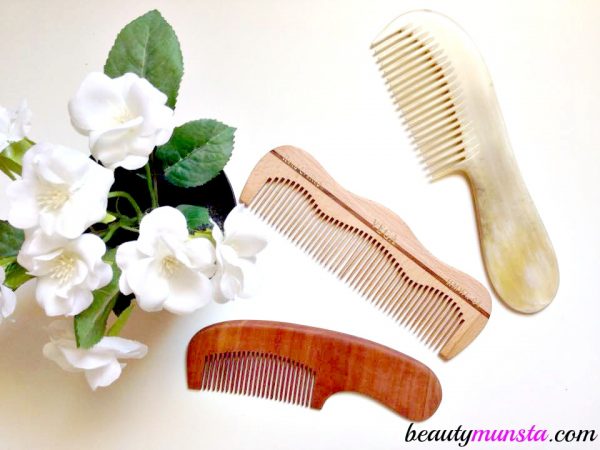 10. Balance Your Hormones
More and more women suffer from weak hair follicles and extreme hair loss because of hormonal imbalance.
Some contributors of hormonal imbalance?
Too much stress and too little sleep! Make sure to spend more time relaxing in Nature when you're away from school/work and get a full night's rest every day.
Also, ensure to avoid hormone-laden factory meat, chicken and eggs like the plague and always look for local organic versions + GMO-free food. Another thing to note is that in men, the DHT hormone, a derivative of testosterone promotes thinning of hair, balding and eventually kills off hair follicles.
The amount of testosterone is much less in women, however, if it increases for any reason, there will be hair thinning, shedding and bald spots.
One way to counteract the DHT hormone is through eating well, as already discussed above. Another remedy is massaging warmed olive oil onto the scalp which reduces DHT in the hair follicles.
Take Care
Please ensure you aren't allergic to any of the natural ingredients, such as eggs, coconut oil, etc, listed above before you apply them on your scalp/hair!
Do you have any other natural remedies, tips/advice for naturally strengthening hair follicles? Please share below!
Other Hair Growth Hacks