If you want to reverse hair loss, you need to go to the root of the problem, literally. Find out how to repair dry & damaged hair follicles naturally at home.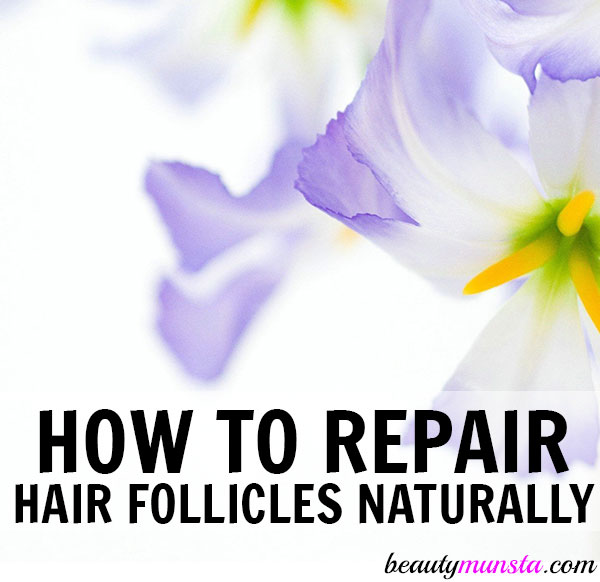 What are Hair Follicles?
Hair follicles are not the same as hair roots.
The hair follicles are small sacs of cells and connective tissue which surround the hair roots. They supply the roots with nutrients and oxygen in order for them to grow healthy hair.
When the hair follicles are damaged or clogged, they cannot supply the roots with nutrients or oxygen and the hair roots will starve.
Signs of Damaged Hair Follicles
How do you know for sure that you have damaged hair follicles? Here are some signs:
Inflammation in the scalp
Itchiness
Steady hair thinning
Hair fall
Weak, thin and breakage-prone hair
Dry scalp and dandruff
The Root of the Problem
Did you know the shape of your hair follicle influences the texture of your hair?
Aging of the hair follicle is one of the main factors that leads to hair fall and graying of the hair. Keeping your follicles healthy and youthful is very important.
Unfortunately, using conventional shampoos which contain DNA damaging compounds like SLS (Sodium Laureth Sulfate) can cause your follicles to age prematurely.
DIY Follicle Repair Shampoo
Conventional shampoos contain harsh chemical contents and toxic ingredients that damage hair follicles and make them dry and clogged. This is the truth.
Make your own shampoo using natural ingredients that will cleanse your scalp and nourish your follicles. Here's a recipe for a cooling and therapeutic homemade follicle repair shampoo:
Ingredients:
Directions:
Measure out the ingredients and pour them into a deep bowl.
Using a whisk, stir and combine all the ingredients together.
Now pour your diy shampoo into an old shampoo bottle or any other recycled container. Use a funnel to avoid spillage.
Use this shampoo in place of conventional shampoos. Not only will it leave your hair clean and fresh, but will also heal, soothe and repair damaged hair follicles.
Other Ways to Repair Damaged Hair Follicles
Eat for your hair: Your hair needs important nutrients like omega 6 and 9 fatty acids, proteins, zinc, folic acid, vitamins and others. Include plenty of nuts, like sprouted almonds, sea food such as salmon and tuna, leafy greens like kale and others.
Eating nutrient-rich food will supply your follicles with nutrients needed to grow healthy, strong hair.
Drink plenty of water Many of us are chronically dehydrated and don't even know it. Our scalp and hair need plenty of water to keep hydrated, moisturized and receive proper circulation of nutrients and oxygen.
Not drinking enough water can cause dryness, dandruff and increased breakage of hair.
Avoid heat: Heat is not good for the hair. Avoid exposing your hair to direct hot sunlight and heat products like blow dryers and hair straighteners/curlers. Also avoid washing your hair in hot steaming water. Only wash your hair in lukewarm or cold water.
Heat damage will cause the hair to become fickle, thin and prone to breakage. It also weakens the follicles and increases hair fall.
Avoid stress: Did you know stress is one of the leading causes of hair fall? Everyone has stress in their lives. But what matters is how you cope with stress. Having the right stress-coping strategies can help you manage stress and prevent it from affecting your life. Handle stress with counteractive measures like deep breathing, meditation, plenty of sleep and rest. This will help your hair cells repair and regenerate faster.
Nourish your follicles:There are so many healing oils that you can apply onto your scalp to repair dry and damaged hair follicles. Make use of them. Argan oil and coconut oil are amazing healers for the hair roots.