Learn how to use green tea for hair growth in 3 effective ways!
Green tea is best known for its anti-aging and weight loss properties but did you know that your cup of green goodness also promotes hair growth?!
How Does Green Tea Promote Hair Growth
By stimulating the hair follicles. It's contains caffeine that increases blood circulation in the scalp. This stimulates the hair follicles and encourages hair growth.
Cleansing the scalp. Green tea can be used as a mild shampoo on its own or mixed with liquid castile soap to gently cleanse the scalp. This removes impurities, paving way for new healthy hairs.
Balancing scalp oils. Since it is a natural astringent, green tea regulates excess sebum production on the scalp. This leaves your scalp free from excess oils and stale sebum that clogs hair follicles and discourages hair growth.
Fighting dandruff. Dandruff can lead to thinning hair. Green tea has astringent properties and a scalp toning effect. This banishes dandruff, leaving your scalp fresh and clean for hair to grow uninterrupted.
Strengthening the hair shaft. Green tea contains panthenol and a unique amino acid called theanine. Both of these compounds work together to strengthen the hair shaft and prevent hair breakage.
Okay, now let's explore the best ways on how to use green tea for hair growth:
How to Use Green Tea for Hair Growth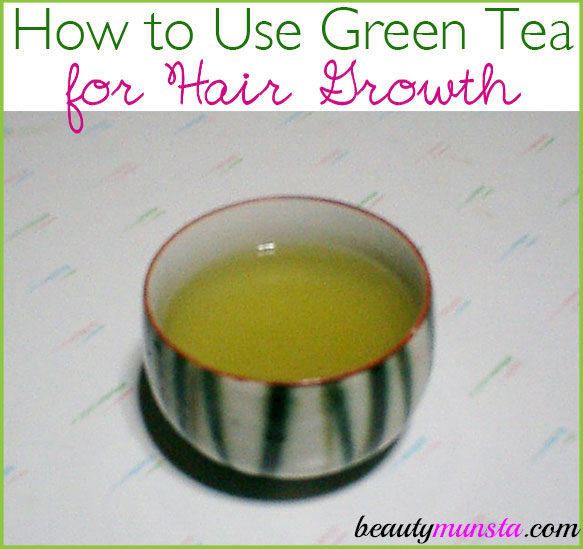 1. Hair Mask:
What you need
Directions
Dump the match green tea into a mixing bowl.
Next add the rosemary essential oil.
Now pour in the green tea tsp by tsp so that it's just enough to create a nice smooth spreadable paste. Don't add a lot.
Your mask is ready! Smooth it on your scalp and locks then tie up your hair and cover it with a shower cap.
Wait for 15 minutes then rinse off as thoroughly as you can. Shampoo using a natural sulfate-free shampoo.
2. Hair Rinse:

What you need
Directions
Steep 3 green tea tea bags in hot water for 15 minutes.
Now let it cool down completely then pour your green tea into a Pyrex cup.
Use as the final hair rinse on your hair in the shower.
3. Scalp Massage:

What you need
Directions
Place the aloe vera gel into a small bowl.
Next add the cooled green tea, freshly brewed and 5 drops of peppermint essential oil.
Mix well with a spoon.
Onto your clean scalp, rub the mixture with a little force until all areas are saturated.
Wait for 10-15 minutes for the goodness to sink in deep then rinse it off. You can use this scalp massage mixture immediately after shampooing your hair, before conditioning.
I hope you got good ideas on how to use green tea for hair growth! Which recipes are you interested in trying out?