One of the ways to encourage strong long thick and healthy hair is by making your own homemade shampoo for hair growth!
Everyone desires longer thicker and stronger hair. Fortunately, homemade remedies using natural herbs and essential oils can be used to promote beautiful hair. If you've got thinning hair, bald patches, receding edges and any form of hair loss, it's time to stop using conventional shampoos that come with a slew of unnecessary chemicals and start whipping up your own homemade shampoo for hair growth!
It's actually very easy to make your own shampoo right at home. It cleanses your hair thoroughly, makes it smell good, contains nourishing ingredients vital for healthy hair, doesn't contain chemicals or sulfates and can be improved/changed according to your tastes!
Without further ado, let's check out the recipe for homemade shampoo for hair growth:
Homemade Shampoo for Hair Growth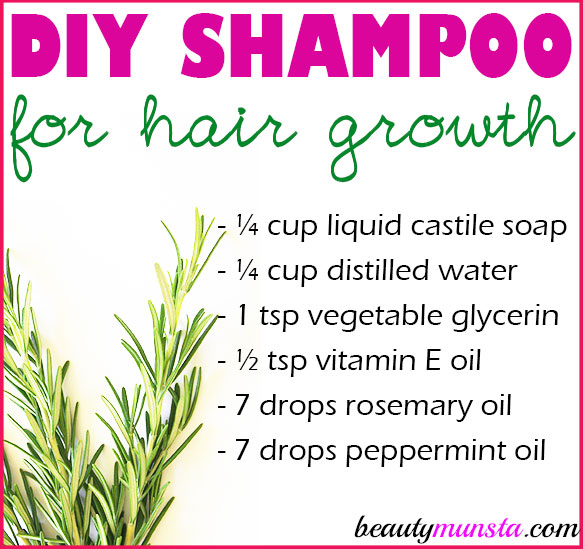 What you Need
Directions
Begin by measuring out the distilled water in a Pyrex measuring cup then pouring it into your flip top bottle.
Now measure the liquid castile soap and pour it as well into the bottle.
Next, add the vegetable glycerin directly and vitamin E oil directly into the bottle.
Finally, carefully add the rosemary and peppermint essential oils into the bottle.
Close the bottle and shake gently to combine everything together.
Voila! Your homemade shampoo for hair growth is ready!
To use, tilt the bottle on your wet head in the shower then work it in. After working it in your scalp and hair, let it sit for about 2 minutes. In this time, you can shave/wash the test of your body.
When the time is up, rinse off well with cool water then use a tiny amount of coconut oil to condition. If you have dry hair, use this DIY aloe vera leave in conditioner. If you hair oily hair, a simple DIY hair rinse for oily hair can act as a wonderful conditioner!
Use in place of your regular shampoo to see your hair grow longer and thicker!
Note: If you have no time to make your own shampoo + conditioner, please try out my favorite natural sulfate-free Maple Holistics shampoo & conditioner. It's effective for dandruff, hair loss and color treated hair too.
If you use this homemade shampoo for hair growth, you can expect to see results within 3-6 months!