Make this DIY green tea hair rinse for shiny, silky and luscious locks of hair!
Why make a green tea hair rinse? What are its benefits? Find out below:
Benefits of Green Tea for Hair
Green tea has been consumed as a beverage for centuries in China and Japan. But today, everyone in the world is raving about this special tea. It's super high in antioxidants and catechins that make it excellent for supporting healthy weight loss, promoting youthful skin and more!
The extract of green tea is also being added to anti-aging skin care products and hair care products too! Green tea has the following beauty benefits for hair, in particular:
Prevents premature graying of hair
Promotes silky strands
Makes hair shiny
Strengthens hair shaft
Reduces dandruff
Regulates excess sebum on the scalp
And more!
Read 15 Beauty Benefits of Green Tea for more info!
DIY Green Tea Hair Rinse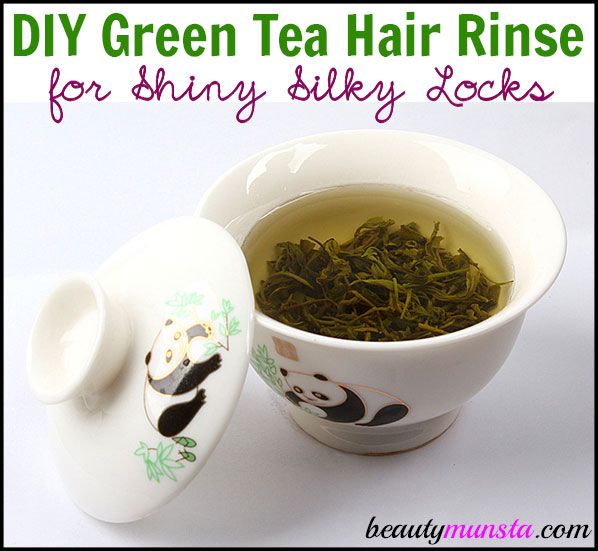 What you need
Directions
Steep 3 green tea bags in 3 cups of boiling water for 15-20 minutes.
Then let the green tea cool down completely.
Now mix in 2 drops of tea tree essential oil and 1 tsp olive oil for moisturizing properties.
Pour your DIY green tea hair rinse into a Pyrex measuring cup.
Take it to the shower with you and pour it onto your hair and scalp during the final hair rinse (after shampooing and conditioning).
Once your hair dries, admire how shiny, silky and luscious it looks!
Go ahead and use this DIY green tea hair rinse every time you wash your hair! You can replace your usual conditioner with this hair rinse!