Do you know black tea is good for your scalp & hair? Make this DIY black tea hair mask and witness its amazing benefits yourself!
Black tea and coffee are two of the most popular hot beverages in the world. But black tea isn't just good for your classic cup of morning tea anymore! It's also touted as an amazing hair care ingredient! Let's check out the beauty benefits of black tea below:
Super rich in antioxidants. Black tea is actually one of the teas with the richest antioxidants. Antioxidants are very good for hair health, they protect hair from free radicals that cause hair damaged, lifeless locks and premature graying!
Stimulates hair growth. Black tea is rich in caffeine that invigorates the hair follicles by increasing blood circulation in the scalp. This stimulates hair growth!
Makes hair soft and silky. Soften up brittle hair using black tea! It is a natural hair conditioner that promotes silky hair!
Covers up gray hairs. Yes, black tea is a natural hair dye. It helps cover up gray hairs, especially in brunettes/dark haired people.
Promotes shiny hair. If you use black tea hair rinses, you know how glossy your hair becomes! That's because black tea seals the hair cuticles, making light bounce off your hair strands. This makes your hair appear shiny!
Strengthens hair. Black tea promotes a strong hair shaft which protects your hair from easy damage & breakage!
Okay, now let's check out the DIY black tea hair mask recipe:
DIY Black Tea Hair Mask Recipe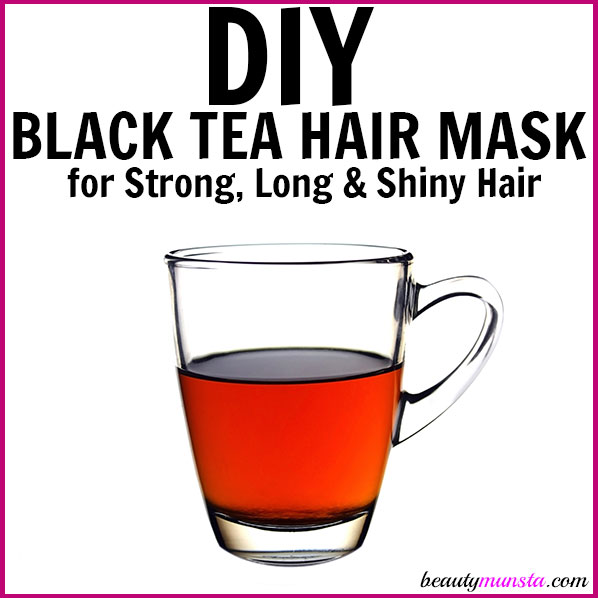 What you need
Directions
Into your spritz bottle, simply add all the ingredients.
Close the bottle and shake well to form a well combined mixture.
Use right before a shower! Stand in the shower then spritz the black tea hair mask all over your scalp and hair. If you're hair is dripping, wring it out to squeeze out the excess liquid.
Tie your hair up and in a shower cap. Now wait 5-7 minutes for the mask to work its magic. During this time, you can shave.
When the time is up, rinse off thoroughly with warm water then shampoo &condition as usual. Use a natural sulfate-free shampoo & conditioner preferably.
You can use this DIY black tea hair mask anytime your hair needs some hair growth boost, shine and strengthening! xoxo