If you're a die-hard fan of matcha green tea frappuccino, then you must try out this DIY matcha green tea hair mask!
We hear about how green tea is amazing for anti-aging, weight loss, etc. But green tea is also awesome for hair as well! If you're looking to boost hair growth, delay gray hairs, get silkier locks, then this DIY matcha green tea hair mask is for you.
Before we look at how to make a DIY green tea hair mask, let's check out some of the benefits of green tea for hair!
Benefits of Green Tea for Hair
Green tea is rich in antioxidants which make it good for fighting off free radicals that cause premature graying of hair
It makes hair shiny
It softens and naturally conditions hair
It promotes hair growth
It strengthens the hair shaft and strands
Decreases dandruff
Increases blood circulation to the scalp
And more!
If you want to read more beauty benefits of green tea, please check out my post: 15 Beauty Benefits of Green Tea
Now onto the DIY matcha green tea hair mask recipe!
DIY Matcha Green Tea Hair Mask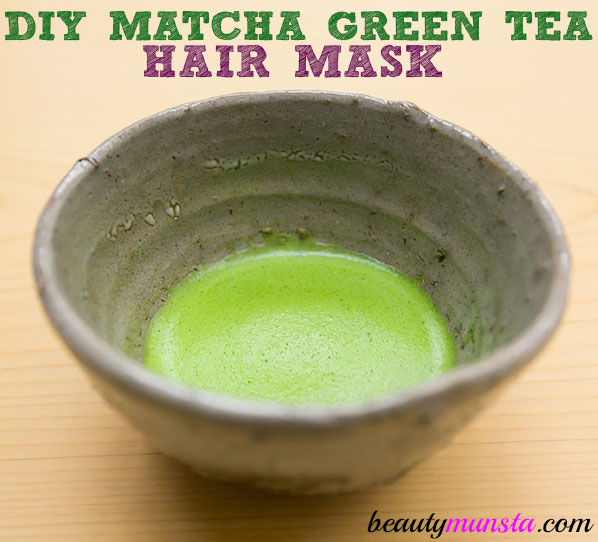 What you need
Directions
Crack a whole egg into your blender. Then add 1 tbsp matcha green tea, 1 tsp raw honey and 1 tbsp creamy coconut oil.
Blend until you get a creamy mixture.
Pour the mixture into a bowl then stir in the lavender essential oil.
Take the bowl to the shower with you. Stand over a sink, part your hair into two sections and start applying the mask on your entire scalp then hair length.
Now tie up your hair and cover it with a shower cap. Let the mask sink in for 15 minutes.
When the time is up, rinse off very well using cold water. Do not use hot water. Shampoo your hair using a natural sulfate-free shampoo and conditioner. You can also instead just apply a tiny amount of coconut oil on your hair length as a natural conditioner.
You can do this DIY green tea matcha hair mask any time your hair needs some TLC! Do it like once a week preferably for strong long shiny hair!