Check out this lovely green tea leave-in conditioner recipe!
Believe it or not, green tea is great for hair! It is full of antioxidants, catechins, vitamin C, b-vitamins and more that promote healthy hair. Some of the benefits of green tea for hair include:
Reduces oily hair
Cleanses the scalp
Fights dandruff
Prevents premature graying of hair
Strengthens the hair shaft
Prevents hair breakage
Seals hair cuticles
Softens hair
Conditions hair
Green Tea Leave In Conditioner Recipe
Store your green tea leave-in conditioner in the refrigerator to make it last longer!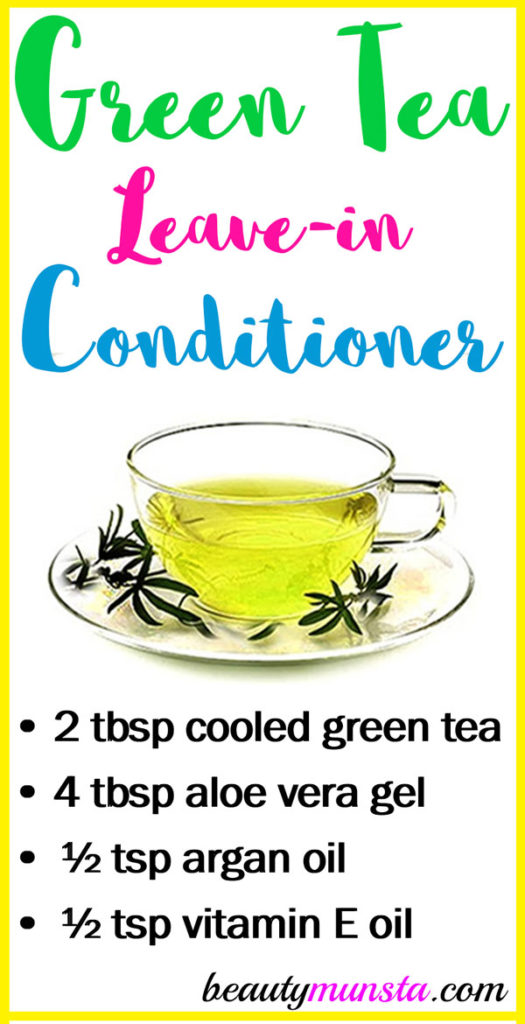 What you need:
2 tbsp cooled green tea
4 tbsp aloe vera gel
½ tsp argan oil
½ tsp vitamin E oil
5-10 drops palma rosa essential oil *optional or any of your fav smelling essential oils
Squirt bottle
Directions:
Make a cup of green tea, then get 2 tbsp and cool it down completely. Don't forget to drink the rest of your antioxidant-rich green tea!
Once cooled, add it to a spray bottle followed by 4 tbsp aloe vera gel, ½ tsp argan oil and ½ tsp vitamin E oil.
Finally, to add some scent to your leave-in, add 5-10 drops of your favorite essential oil. I love palma rosa oil. You can use geranium (floral heaven!), ylang ylang (long lasting fun scent!) and even lemongrass (amazing lemony, slightly spicy scent!!)
Cap the bottle and shake well to combine everything.
Spray onto freshly washed damp hair!

Okay, that's it! Please try this green tea leave in conditioner and let me know if you like it! xoxo