Protecting your hair before you use any heat tools is very, very important. You don't want to end up with fried hair, do you? So try this DIY heat protectant spray for better looking heat treated hair!
More and more people are starting to limit/avoid the use of heat tools a.k.a hair straighteners and curling irons. Because heat damage is very real and it can take a lot of money, pain and tears to get your hair back to its original glory.
So before you get ready to turn up the heat, use this DIY heat protectant spray to prep your locks and keep your ends from getting fried.
You can use this for all hair types: curly hair, straight hair, natural hair, fine hair and more!
The ingredients we're going to be using are pure aloe vera juice, grapeseed oil, sunflower oil and argan oil. Check out their benefits below:
Benefits of the Ingredients Used
Aloe Vera Juice – This thick and gooey extract is got from the succulent aloe vera leaves. It is very rich in nutrients like vitamin A, B, C and more plus minerals and plant compounds that are beneficial for hair health. It's great for protecting your skin from sun damage and also helps soothe sunburn. In this same way, aloe vera protects hair from too much heat from your heat tools.
Grapeseed Oil – Grapeseed oil is made by cold-pressing grape seeds after it's been used to make wine. It is a very light weight oil and it doesn't leave hair greasy. It provides a light moisturizing effect while protecting hair strands.
Sunflower Oil – This oil is amazing. It has a smooth texture and it is good for sealing moisture into the hair. After you curl or straighten your hair, it will leave your hair feeling soft!
Argan Oil – Argan oil has a silky consistency. It coats the hair strands and leaves them looking shiny and glossy after using heat!
Now let's get on with the DIY heat protectant recipe:
DIY Heat Protectant Spray Recipe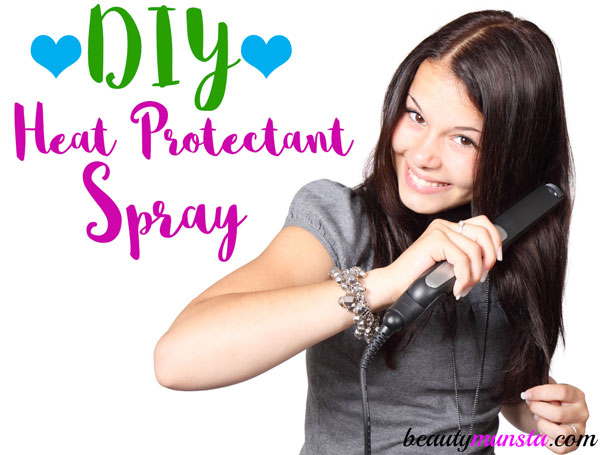 What you need
Directions
In a spritz bottle, pour in the aloe vera juice using a funnel.
Next add the sunflower oil, argan oil and grapeseed oil.
Close the bottle and shake well to combine.
Spray on your hair length until the product is well coated on your hair. Then up the heat and straighten/curl away!
Always use a heat protectant before using heat tools to prevent hair damage. Try this DIY heat protectant spray and let me know how it helped you xoxo!