Are you wondering if you should use aloe vera juice or aloe vera gel for your hair? Which is better? Let's explore the two in this post, 'Aloe Vera Juice Vs Gel for Hair!'
Aloe vera is a succulent leafy plant that grows in warmer climates. Since ancient times, the plant has been used for numerous natural remedies ranging from skin ailments to stomach problems.
What Are the Benefits of Aloe Vera Juice vs Gel for Hair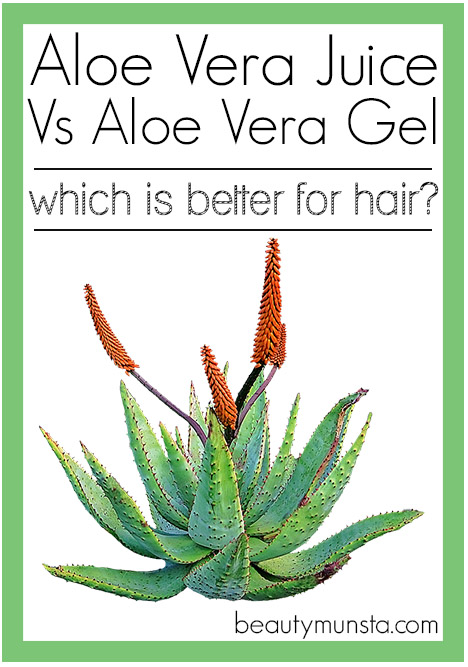 Let's have a look at aloe vera juice vs gel for hair, separately below:
Benefits of Aloe Vera Juice for Hair
Aloe vera juice is primarily extracted from the green leaves of the aloe vera plant. It can be ingested and is full of amazing nutrients such as calcium, sodium, iron, potassium, chromium, magnesium, manganese, copper, and zinc.
Drinking aloe vera juice is very beneficial for your skin, hair and nails. But how about using aloe vera juice topically on your hair. That's the information we are seeking in this post. Here are some of the uses and benefits of aloe vera juice for your hair:
Hair spray: Aloe vera juice is a super cool hair spray! Spritz it on your scalp to make it feel refreshed. If you have an itchy scalp, dandruff or sensitivity, then spraying aloe vera juice on your hair will be very soothing. It can also be added to hair sprays to for enhanced moisturization.
Lighter in consistency: Compared to aloe vera gel which is thick, aloe vera juice is lighter in consistency and so it can be easily used in natural hair care recipes.
For creamy DIY hair products: If you make your own DIY hair cream, then you will want to add aloe vera juice instead of the gel to make it creamier. If you use the gel, your product will have more weight and can be used to give a bit of hold when styling your hair.
Apple + Aloe Vera Juice: When consumed internally, aloe vera juice also works wonders on your hair from the inside out. You can make apple aloe vera juice as follows: Mix together 2 cups of iced water, juice from one lemon, 2 tsp aloe vera juice, 1 tsp apple cider vinegar, 2 tsp raw honey and toss in a few mint leaves. Pour into a tall glass and enjoy!
Benefits of Aloe Vera Gel for Hair
Easy to use: Aloe vera gel can easily be scooped out and used on your hair, scalp and skin. You can't do that with aloe vera gel, which has to be placed in a spray bottle for application.
Nice silky consistency: The consistency of aloe vera gel is gel-like and very soothing to use. Slather it on your scalp and hair to lock moisture in.
Post-styler/moisturizer: After moisturizing or styling your hair, it feels good to apply aloe vera gel on top to fight frizz and keep baby hairs away.
Gives weight to DIY hair creams: Unlike aloe vera juice which makes your DIY hair cream creamy, aloe vera gel makes it more solid by giving it weight.
Final Remarks
Both aloe vera juice and gel are amazing for your hair! They give your hair the same benefits but serve different uses due to their natural texture & consistency.
In conclusion, it depends on what you are going to use it for. You can purchase them both and see which one suits your preference/taste. But most natural hair lovers will find them stocking up on both!