Lay off the hair straightener for a while and try this easy homemade hair straightening gel !
It's kinda ironic when I hear curly haired people tell me they'd do anything for bone-straight hair and people with straight hair say they'd love to have more waves or curls in their 'boring' hair.
Everyone's hair is beautiful, girls, even if you think you have the most plain and unattractive hair – you don't! Someone out there wants to have hair like you, yes I'm serious.
Anyway, girlfriends, I'm not here to tell you to embrace your hair type because I know you probably already try to. And you don't need someone lecturing you to love yourself, right?
Okay, so curly/wavy haired beauties, hair straightening is not something you should do every day. So prevent hair damage, try limit overusing your hair straightener. And try this homemade hair straightening gel instead. You might just find out that it works so well!
Homemade Hair Straightening Gel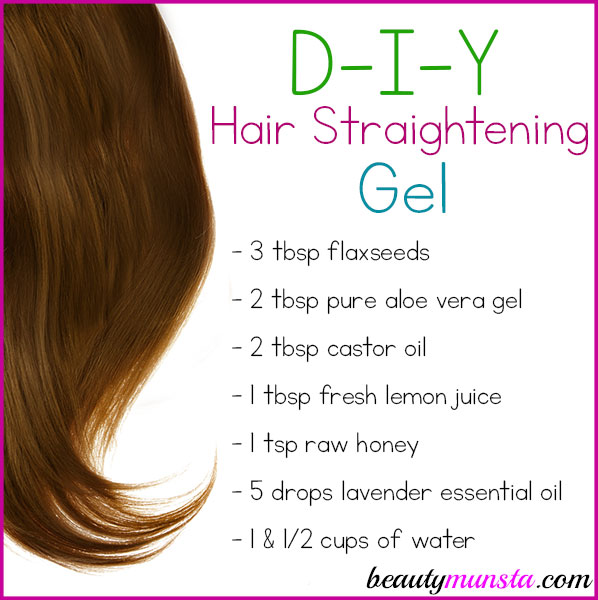 What you need
Directions
Bring 1 ½ cups of water to a boil on the stove top.
Once it starts boiling, add your flaxseeds and reduce the heat.
Let it simmer for about 3 minutes while you stir it occasionally to help release the flaxseed gel.
When 3 minutes are up, remove from heat and let it cool down completely.
Once cooled, pass it through a plastic fine mesh strainer to collect the flaxseed gel.
Now pour your fresh flaxseed gel into the clean container.
Add the aloe vera gel, lemon juice, castor oil, raw honey and lavender essential oil. Stir well.
Your homemade hair straightening gel is ready!
How to Apply Homemade Hair Straightening Gel
Part your freshly washed damp hair in the middle then section it into four equal parts.
Now get a little of the gel on your palm, rub your palms together then smooth them over your sectioned hair lengths, from root to tip.
Gently comb the section down using a wide tooth comb.
After you're done applying gel and combing down all the sections, rinse your hair lightly with cool water to get rid of the gel. Apply conditioner, if necessary.
Let your hair naturally dry (do not use a towel to dry it) then comb with a wide tooth comb. Your hair should look straighter, moisturized and much more manageable!
Use this homemade hair straightening gel twice a week to see your hair turn fall down your back like a waterfall – straight, sleek and shiny! xoxo