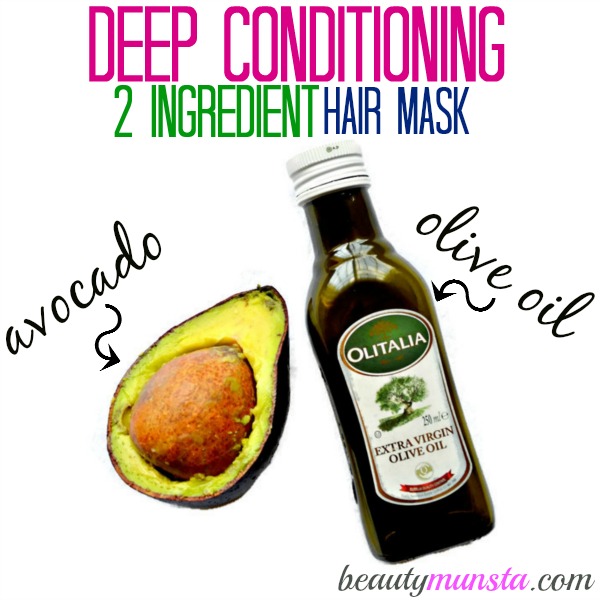 I'm all up for natural homemade hair masks because I want to know exactly  what I'm going to be slathering on my hair. And with store bought stuff, you'll never know the full list of ingredients. Ever. When I was still using store bought products, my hair actually did become soft and fluffy but afterwards it rapidly transformed into a dry, stiff frizzy mess and felt so moisture-deprived. Since then, I've never gone back to using store-bought hair stuff but turned into a kitchen beautician instead!
This olive oil and avocado hair mask contains just the two ingredients that it's supposed to contain – an avocado (preferably the good old overripe one that you were thinking of trashing) and 1 to 3 teaspoons of that olive oil sitting in your kitchen cupboard. Since my hair roots tend to be on the oilier side, I usually just use 1 to 2 teaspoons of any of the oils in my hair mask recipes but if you have dry, brittle, damaged and withered hair, feel free to add more olive oil. Let's look at what exactly makes olive oil and avocado good deep conditioning hair mask ingredients.
Benefits of Olive Oil for Hair
Olive oil is one perfect ingredient for damaged hair, in particular. It contains the goodness of healthy fat that will bounce lifeless strands back to life! Olive oil is magical because it works just as effectively for both dry haired beauties and those who want to tame wild frizzy curls. I know I said you can add in more olive oil if you have dry hair but remember, a little goes a long way and adding too much may weigh down your hair and make it look greasy.
Benefits of Avocado for Hair
Avocado, just like olive oil, is full of natural and good fatty acids that help seal moisture and condition hair. These buttery fruits are also jam packed with nutrients like vitamins and antioxidants that will not only nourish hair but also fight off free radicals that cause pre mature aging.
How to Make an Olive Oil and Avocado Hair Mask
This olive oil and avocado hair mask makes enough for thick mid-back hair length. If you have longer or really thick hair, you may double up the ingredients. Caution: You do not need to coat your whole hair with the hair mask! This will not only make your hair super greasy but also be a pain to rinse off. I find that just running your hands through the hair strands with hair mask covered hands after finishing your scalp is enough. In a nutshell, focus on getting the hair mask on your scalp more and don't mind if there's next to nothing left for your hair strands.
Ingredients
• 1 avocado
• 1 to 3 teaspoons of extra virgin olive oil (buy here)
Directions
1. Cut your avocado, pit and scoop it out into a blender.
2. Blend for 1 minute. I don't recommend mashing the avocado with a fork AT ALL. Some people complain of getting avocado bits stuck on their strands even after using a blender. Now how about if you don't use a blender? Horrors upon horrors.
3. Add a little water about 1 tbsp to ¼ cup, depending on the size of your avocado, and blend again until you reach a smooth consistency with no lumps whatsoever. I normally don't add water when blending my avocados for hair masks, but I found that it works wonders in blending it into a lump-less smoothie and it's great for application plus it's a genius way on cutting down the fat in this hair mask especially if you have oily hair.

4. Pour this avocado puree into a bowl and add 1 to 2 teaspoons of extra virgin olive oil.
5. Mix the ingredients in the bowl until well combined.
6. And it's ready! Get ready to slather on this deep conditioning & nourishing olive oil and avocado hair mask!
How to Apply this Olive Oil and Avocado Hair Mask
1. You will need to collect some other hair mask equipment like a shower cap, a hair clip and a hair dryer. Take those into the bathroom with you, including the hair mask bowl.
2. Wet your hair in the sink/shower. Scoop the hair mask using clean hands and starting working it in your scalp. Section your hair so you can cover all areas effectively. Once you're entire scalp is coated, move down onto your strands. Make sure you rub some on your hair ends.
3. Tie your hair up with the hair clip and cover with a shower cap. Heat using the hair dryer for at least 10 to 15 minutes. After this, leave the hair mask on for about 15 to 20 minutes. While waiting, you can either soak in the bath or shave or whatever needs to be done in the bathroom.
4. Once 20 minutes are done, start rinsing out the hair mask really well to get it all out. This is a very important part – if you don't rinse well, you might have bits of avo start in your strands when you come out of the shower. It may take about 7 to 10 rinses to get it all off.
5. Wring your hair and wrap up in a fluffy towel. I recommend leaving your hair to air-dry.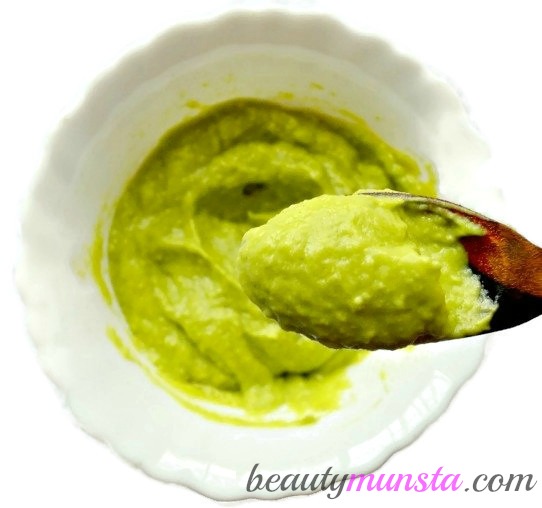 My Tip
If you do end up with bits of avocado in your hair, don't fret because once your hair is all dry, the bits will automatically fall off when you comb your hair.
All Natural Hair Care Guide with Essential Oils!
Want to know more about essential oils for hair and how to make scalp & hair care recipes with essential oils? Check out our Complete Guide to Using Essential Oils for Scalp & Hair Care that talks about the magical properties, benefits & uses of essential oils for your scalp and hair with over 100 recipes to make your own chemical-free hair products for a healthy scalp and beautiful hair.
DIY Herbal Hair Oil Infusions Guide with Recipes
Want to make your own herbal hair oils? Check out our DIY Herbal Hair Oil Infusions eBook that contains an A-Z list of healing herbs and spices to infuse for hair, what base oil to choose for your hair type, methods of infusing your hair oils plus 20 exciting hair oil recipes for dry hair, heat damaged hair, hair growth, even gray hairs, scented hair and more!
Where to Get a Natural Shampoo
If you are going chemical-free on your hair, but want to save the time of making a homemade shampoo, this Maple Holistics Sage Shampoo is a game-changer. It contains powerful herbs such as sage: for dandruff & itchy scalp treatment, rosemary: for hair growth and prevention of hair loss and spikenard for dandruff treament. It also has argan, jojoba and tea tree oils that all protect the scalp from germs, keep hair clean as well as hydrated and moisturized. This shampoo does not contain sulfates, so it will not lather the way you are used to, but you will quickly get used to it and notice the difference!