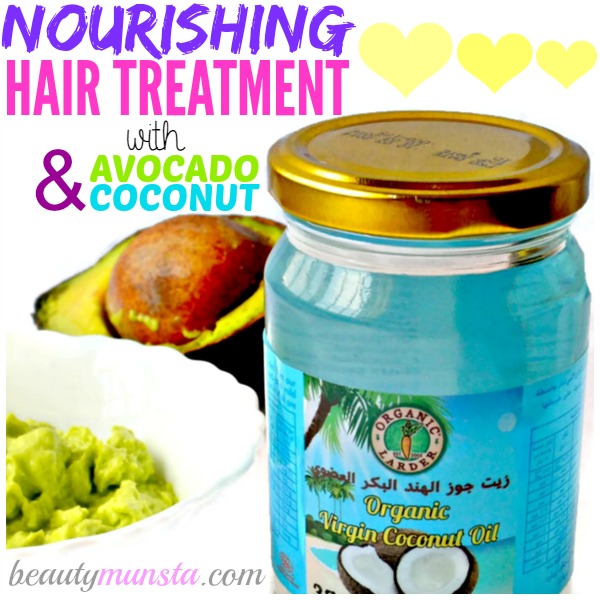 Hello Beauties! I'm back with another DIY avocado hair mask, this time featuring your favorite pantry staple: coconut oil! As you already know, coconut oil has amazing beauty benefits for luxurious hair and it smells oh-so-delicious! Combined with avocado, this hair mask is all about nourishing hair to stimulate hair growth and repairing dry & damaged hair. Avocado and coconut oil both contain healthy fats that provide deep hydration & lubrication to all hair types. If you want to give your hair some quality deep hydrating treatment, then you just have to try out this hair mask!
Benefits of Avocado for Hair
Being nutrient-dense, avocados provide hair with essential vitamins, minerals and fatty acids that will strengthen hair against breakage, help revitalize damaged hair and lubricate dry strands. If you have a dry and inflamed scalp, avocado is a natural remedy to soothe and calm redness, reduce itchy scalps and restore natural moisture & shine to your locks.
Benefits of Coconut Oil for Hair
In Ayurveda, coconut oil is a popular super food that is excellent in stimulating and promoting hair growth. It contains medium chain triglycerides that can easily penetrate deep into the hair follicles and provide deep nourishment. Coconut oil is also antibacterial & anti-fungal and helps fight dandruff, scalp acne, infections and inflammatory skin conditions. Rich in fatty acids, coconut oil will also add a beautiful sheen to lifeless locks.
How to Make an Avocado and Coconut Oil Hair Mask
Without proper directions, making a homemade avocado hair mask can create a huge mess that can take hours to clean up: whether it's over proportioning the coconut oil and ending up with slick hair or not blending the avocado and getting avocado bits in your hair! In this post, I'll show you the right way to make an avocado and coconut oil hair mask.
Makes enough for thick wavy mid back length hair. For longer hair, double up the ingredients and cut them down for shorter hair.
Ingredients
1 medium sized avocado
2-4 tsp of organic virgin coconut oil (buy here)
Directions
I started by scooping out flesh from the avocado and blending it alone in a high speed blender till I got a chunky puree. I then added about 1 tablespoon of water then blended again to get a smooth avocado mix that was just a little bit on the watery side. This is perfect if you have oilier hair like me because it tones down the fatty content of the avocados which when combined with the coconut oil, can make your hair a bit greasy.

Whip it up real good!

Place this puree in a small bowl and add in about 2 to 4 tsp of coconut oil. I added just 2 tsp because of my already oily hair. I used liquid coconut oil – you can do this by popping your coconut oil jar in a bowl of hot water till it liquefies.
Whip it up real good with a spoon to combine the ingredients well.
And that's it! How simple was that, huh?!
How to Apply this Avocado and Coconut Oil Hair Mask
The only tools I needed to apply this avocado hair mask were enough time, clean fingertips & a hair clip! 😉
Choose whether you want to apply this hair mask to dry hair or damp hair. Personally, I applied it onto dry hair. If you're going to apply it to wet hair, please be careful as wet hair is more prone to breakage.
Using your fingertips, scoop up some of the avocado and coconut oil hair mask and start rubbing it onto your scalp. Make sure you cover all areas of your scalp.
Once you're done with your scalp, smooth the remaining hair mask onto your hair strands and the ends of your hair.
Twist your hair and clip it up high on your head.
If you want, you can cover your head with a shower cap/saran wrap to trap heat and allow the hair mask to penetrate deep. I simply left it on my hair without using a shower cap.
Leave the hair mask on for about 10 to 25 minutes. Don't leave it on for longer, though as the hair mask will dry up and stick to your hair, which will make it hard to wash off.
When the time is up, show your hair under tepid running water and use your fingers to effectively wash off the mask. You will need to rinse thoroughly to get rid of the mask completely and remain with clean hair. At this point, you can even use natural sulphate-free shampoo to wash your hair.
Once your hair is squeaky clean, wring to remove excess water and wrap it up in a fluffy towel.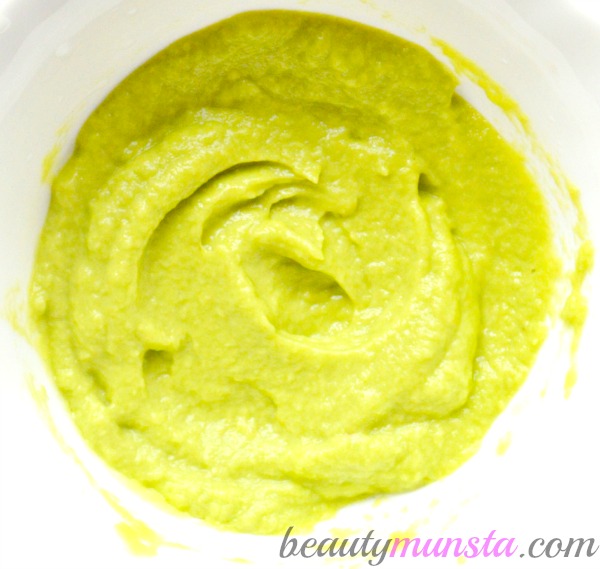 My Tips
Don't throw out overripe avocados. Use them to make this homemade avocado and coconut oil hair mask instead! It barely takes 5 minutes to whip up this creamy goodness!
If you're going to cover your head with a shower cap after applying the mask, you can also apply heat by using a hair dryer to allow the mask to penetrate deeper.
All Natural Hair Care Guide with Essential Oils!
Want to know more about essential oils for hair and how to make scalp & hair care recipes with essential oils? Check out our Complete Guide to Using Essential Oils for Scalp & Hair Care that talks about the magical properties, benefits & uses of essential oils for your scalp and hair with over 100 recipes to make your own chemical-free hair products for a healthy scalp and beautiful hair.
DIY Herbal Hair Oil Infusions Guide with Recipes
Want to make your own herbal hair oils? Check out our DIY Herbal Hair Oil Infusions eBook that contains an A-Z list of healing herbs and spices to infuse for hair, what base oil to choose for your hair type, methods of infusing your hair oils plus 20 exciting hair oil recipes for dry hair, heat damaged hair, hair growth, even gray hairs, scented hair and more!
Where to Get a Natural Shampoo
If you are going chemical-free on your hair, but want to save the time of making a homemade shampoo, this Maple Holistics Sage Shampoo is a game-changer. It contains powerful herbs such as sage: for dandruff & itchy scalp treatment, rosemary: for hair growth and prevention of hair loss and spikenard for dandruff treatment. It also has argan, jojoba and tea tree oils that all protect the scalp from germs, keep hair clean as well as hydrated and moisturized. This shampoo does not contain sulfates, so it will not lather the way you are used to, but you will quickly get used to it and notice the difference!