Got dandruff? Try making this DIY anti-dandruff shampoo with tea tree oil and other natural de-flaking ingredients!
Dandruff is a frustrating and embarrassing problem that can affect anyone. It's called by a type of yeast called Malasezzia. This yeast is naturally found on the scalp but due to imbalances in the body increased oil production on the scalp, dry scalp, hormonal fluctuations, stress and illness, it multiplies and causes dandruff flakes to form.
There are a lot of anti-dandruff shampoos out there in the market. Head and Shoulders, anyone? But if you want to try making your own natural and dare I say, more effective anti-dandruff shampoo, then try this recipe of mine! I promise you won't be disappointed.
DIY Anti-Dandruff Shampoo with Tea Tree Oil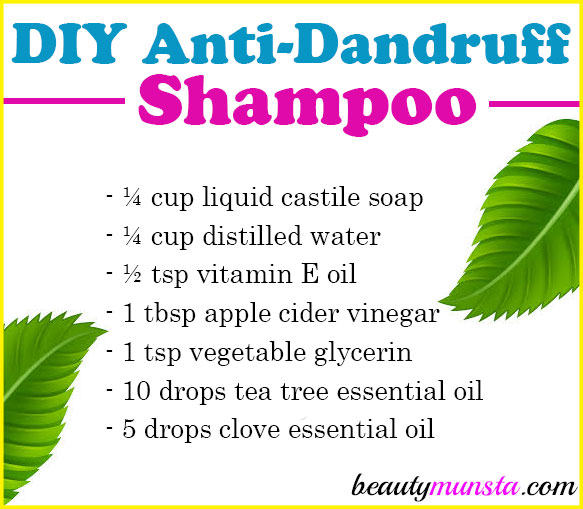 What you Need
Directions
Carefully measure your unscented liquid castile soap and distilled water and pour into a Pyrex measuring cup.
Now add the vitamin E oil, vegetable glycerin and apple cider vinegar.
Mix all ingredients up using a Pyrex measuring cup.
Once well mixed, add the essential oils, drop by drop.
Using a funnel, pour the mixture into the flip top bottle or an old shampoo bottle.
Close the bottle well and shake gently to combine all ingredients together.
And what do you know! Your anti-dandruff shampoo is ready for use! Store in a cool dry place, like your bathroom cabinet. You can even store it in the refrigerator. Don't get any water into your shampoo so that it can last long.
To use, pour a little on your scalp by tilting the flip top bottle on your head. Work it in your scalp and hair for 2 minutes, then rinse off with warm water first, then cold water. Use coconut oil/jojoba oil to condition your hair.
Use every time you wash your hair to see results! Remember to also drink enough water, take probiotics like yogurt or probiotic capsules and limit bread and cheese to banish dandruff!
Feel free to try this DIY anti-dandruff shampoo out and come share your results!