You ready to learn how to whip up a DIY eyelash growth serum without castor oil?
Castor oil is one of the best oils for promoting hair growth! Whether it's the hair on your head, eyebrows or even  eyelashes! But…what if you don't have castor oil, are allergic to it, hate its smell or don't like the way it's sticky and weighs down eyelashes?
Then it's okay, you can still grow longer fuller lashes without castor oil – by substituting it for other nourishing oils! There are quite a number of other hair growth boosting oils you can use such as:
Liquid coconut oil – in Ayurveda (Traditional Indian Medicine), liquid coconut oil is the best for hair growth. It's the recommended for many herbal hair growth treatments.
Argan oil – A smooth golden oil only extracted from Morocco, argan oil is touted for its amazing hair benefits. When applied to hair, it conditions and makes it extra silky. It's great for repairing eyelashes that have been damaged and thinned due to lash glue, mascara, eyeliner, etc.
Olive oil – Everyone has olive oil at home right? But the kind we want to use to growth eyelashes is Extra Virgin Olive Oil (EVOO). It is rich in Vitamin E, a powerful antioxidant that facilitates healthy hair growth.
Sweet almond oil – Sweet almond oil is recommended for repairing and sealing split ends. It makes hair stronger and more elastic. It also moisturizes lashes and keeps them healthy!
Vitamin E oil – Yes! Vitamin E oil is AMAZING for hair growth, even eyelash growth! It is a strong antioxidant that deflects oxygen stealing free radicals from the body. Vitamin E also which strengthens hair follicles and prevents your eyelashes from falling out.
DIY Eyelash Growth Serum without Castor Oil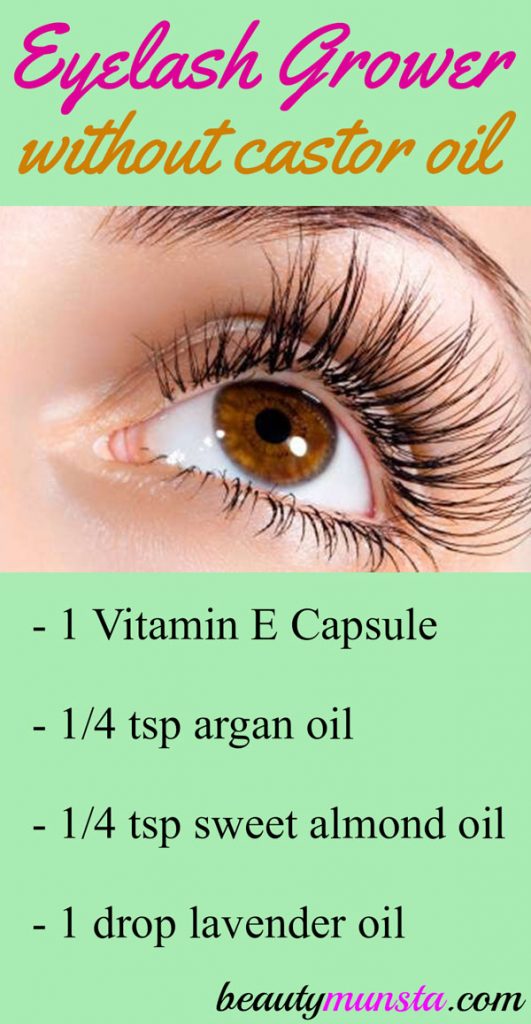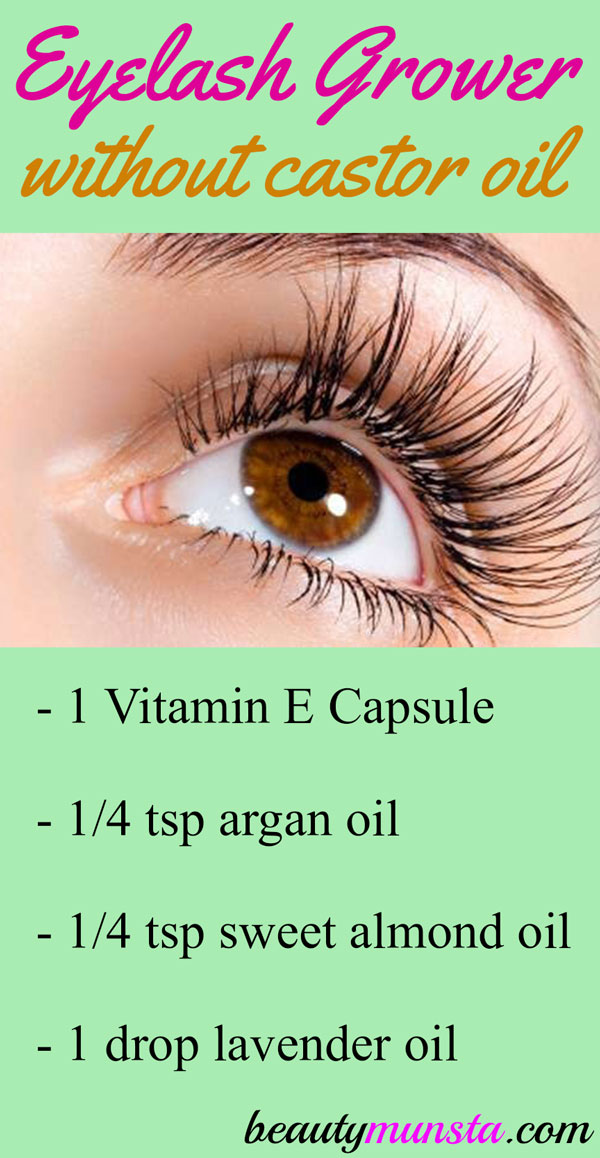 What you need:
Argan oil
Sweet almond oil
1 Vitamin E capsule
Optional: one drop lavender essential oil
Syringe
Empty clear mascara tube
Directions:
Prick one Vitamin E capsule with a safety pin and squeeze out the oil into a clear empty mascara tube.
Next, using a syringe transfer equal parts of argan oil and sweet almond oil into the tube.
Seal tightly and roll the tube between your palms to mix up the ingredients.
Apply just one coat 1-2 times a day when you're not planning on wearing mascara for at least 2 hours. When you're going to wear mascara, simply get a paper towel and wipe the oil off your eyelashes then apply!

Go ahead and make this DIY eyelash growth serum without castor oil and see healthy lash growth!